Maps of Stoke-on-Trent & North Staffordshire

| main map index |
William Yates map - the Ash Estate 1775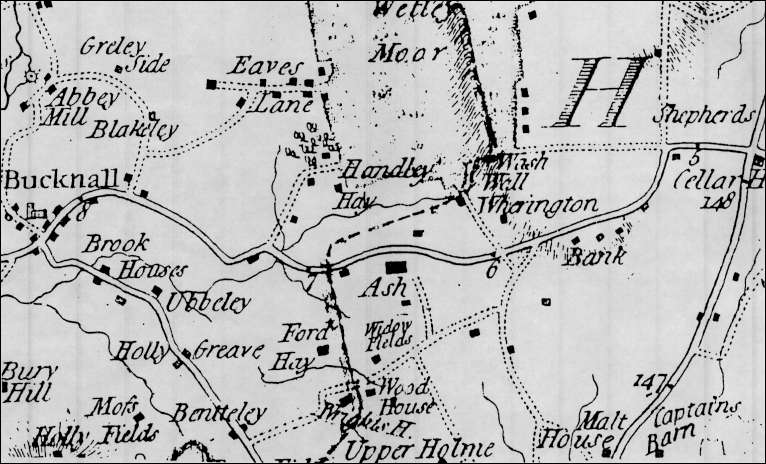 William Yates map - the Ash Estate 1775
The map above, is an extract of William Yates's map of Staffordshire 1775. (see larger map)

The map above, an extract from William Yates's Map of Staffordshire, shows the Ash estate and its vicinity in 1775.

The road running across the map was the Hanley to Cheadle road turnpiked in 1771. "Ash", a large Elizabeth house, stood on the south side of the road on the site now occupied by the Ash Bank Hotel. It was the chief estate in the township of Eaves, part of the parish of Stoke-upon-Trent.

The other important feature shown on the map was Wetley Moor. The east side of the moor, which lay in the parish of Cheddleton, was enclosed in 1738 but the rest of the moor, shown by the stippled area on the map, was still open waste land covered in furze and bracken.
Handley Hayes, an estate on the edge of the moor, was the site of a colliery which had been in existence since at least 1772. Coal carts from the colliery used the present Brookhouse Lane which led from the moor to the turnpike road.
The present Washerwall Lane can also be easily identified on the map leading from Wetley Moor to Werrington Bank. What is noticeable is how sparsely populated the area was with buildings confined to a few scattered farmhouses and labourers' cottages.


| main map index |