---
The Regent Theatre was previously a cinema opened by Provincial Cinematograph Theatres on 11 February 1929, its first presentation was a silent film, The Last Command. The foyer was luxuriously decorated in the fashionable Art Deco style, with similar splendour in the auditorium and its reputation grew for presenting Sunday concerts.
In 1930 the Provincial was taken over by the Gaumont British Picture Corporation, although it was not renamed the Gaumont until 1950.
In 1974 it was given a triple screen and in 1976 the Gaumont was renamed the Odeon Film Centre after the Odeon in Trinity Street closed down in 1975. In 1989 the building was closed (following the opening of a six screen Odeon at the Festival Park)
Following a three year, £23 million development of the city centre, The Regent was reopened on 22 September 1999 after being fully restored to its previously elegant Art Deco style and has already been visited by a host of distinguished guests including Sir Derek Jacobi. Her Majesty the Queen officially opened The Regent Theatre in October 1999.
The Regent Theatre was listed in 1989, and has re-opened as part of Hanley's new 'Cultural Quarter'.
---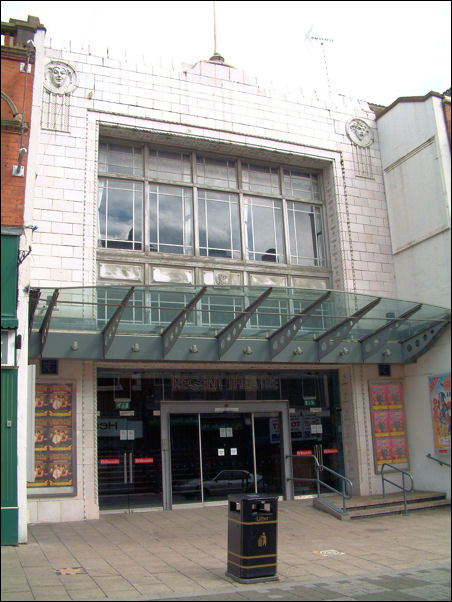 Regent Theatre entrance on Piccadilly
Two storey faience-clad elevation to Piccadilly with
masks of comedy and tragedy and 5-light first floor window