Greengates Pottery, Tunstall

a print of the Greengates Works in the 1780's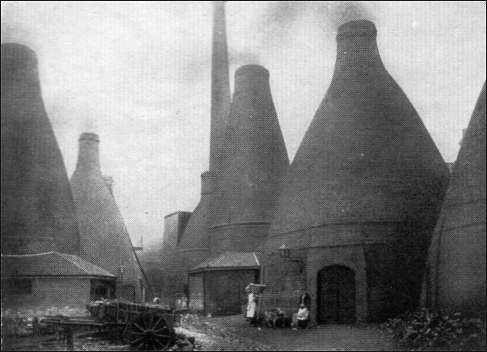 Some of the bottle kiln ovens at Greengates

Greengates Works in 1991
[from 'Potworks']
the frontage had partly subsided and was hidden from the road by a more recent building
(building now demolished)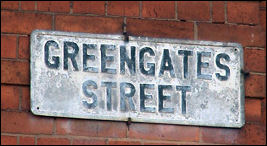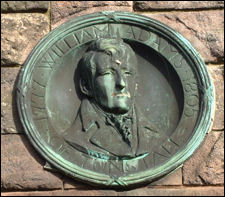 William Adams of Tunstall
1777 - 1805

William Adams of Greenfield
1833 - 1905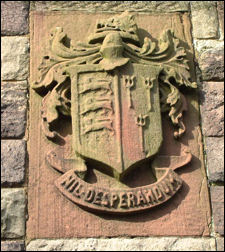 NIL DESPERANDUM
"Do not despair"
the family motto
the coat of arms, with a shield surmounted by a boar's head and a knight's helm and mantling.
The shield is bisected vertically, and bears three cats on the left hand side and three tridents on the right.
These are the arms of William Adams (1833-1905), impaled with those of his wife, Laura Eliza nee Worthington.

The Adams family had potteries in Staffordshire as early as 1650. At that date two brothers, William and Thomas had separate ventures in Burslem. Such family activity continued for many years. William Adams and Company, with large potteries in Tunstall was managed by members who were the 11th and 12th generations in direct descent from the original 17th century Adams of Burslem.
Whilst there is no longer an Adams pottery, some of their designs are still produced with their backstamp under the Wedgwood Group name. Adams joined the Wedgwood Group in 1966.
Attributing examples of china marked Adams to a particular man can be complicated and confusing because so many of them bore the same given name, William.

This is particularly true with collectible Adams china. In the latter part of the 18th-century and continuing into the 19th, there were three William Adams.

All were cousins and operated their own large potteries independent of the others. Further, with one exception, they were succeeded by sons of the same given name who, in the main, continued making the same kinds of wares. They were:
1) William Adams 1745-1805, of Greengate, Tunstall.

2) William Adams 1748-1831, of Brickhouse, Burslem and later Cobridge Hall, Cobridge.

3) William Adams 1772-1829, of Stoke-on-Trent.
Important also was:
4) William Adams 1798-1865, of Greenfield.
The three cousins made the standard kinds of Staffordshire pottery from Queensware to ordinary earthenware, transfer decorated in blue and other colours. William Adams (1) of Greengate and William Adams (4) are a special interest to collectors. The former made jasperware that equalled that of Wedgwood. William Adams (4) produced 30 different designs of American scenic and history china.
| | | | |
| --- | --- | --- | --- |
| From | To | Occupier | Comments |
| 1779 | | Adams | Greengates - the first large pottery works in Tunstall, founded by William Adams in 1779. |
| | 1826 | Adams | Benjamin Adams had not the artistic gifts of his father, and, having indifferent health, production fell off and he sold Greengates in 1826. |
| 1812 | 1836 | John Meir | |
| 1837 | 1897 | John Meir & Son | |
| | | | The works was repurchased by William Adams IV to expand his production. It became a unit of William Adams and Company, Tunstall. |
Note the overlap in occupation of the works between Benjamin Adams and John Meir - it was not uncommon for two (or more) potters to occupy different sections of the one works.