The light coloured mound at the front of the photo is slag from the Shelton works deposited at Tinkersclough.
Compare this photo with the 2008 Google map above, the Rose and Crown can easily be located on the photo
to the centre right, alongside the loop line railway bridge.
The back of Wedgwood's Etruria Hall stands almost in the centre, but
not so easy to see in its blackened state.
On the horizon can be seen the spire of Wolstanton Church.
"Toft worked at Tinkersclough, which is now a group of a few hundred houses and a couple of potteries. It was formerly a lane, or "clough," about midway between Shelton, Hanley, and Wedgwood's Etruria, and doubtless a convenient resting-place for travelling gipsies and tinkers; hence, probably, its name.
It is not positively known whether Toft—Thomas Toft; there were two prominent Tofts, Thomas and Ralph—had a factory of his own, or whether he executed orders for his dishes for other potters.
We incline to the opinion that he had a small pottery, and that it is still standing at the corner where the road from Hanley to Etruria Vale crosses the main street of Tinkersclough, once the " clough" itself. We are well acquainted with this locality, our family, for four generations having owned (and still owning) a row of cottages adjoining the pottery we believe to have been occupied by Toft. Forty years ago we remember well the quaint walls around the cottage gardens built of disused saggers, made more solid by being filled with "shraff." All the walls and many out-buildings at Tinkersclough were then built of saggers, and one or two are still standing.....
Fortunately there are many signed examples of both the Tofts in existence. One dish is mentioned by Mr. Solon as having been seen in a cottage in Hanley, inscribed in front with the maker's name in slip, and scratched on the back the inscription :
THOMAS TOFT
TINKERSCLOUGH
In the Willett Collection is a large yellow dish with a bird in dull red slip; this is signed " Ralph Toft," and bears the date 1676."
"Staffordshire Pots and Potters" -1906 - GW & FA Rhead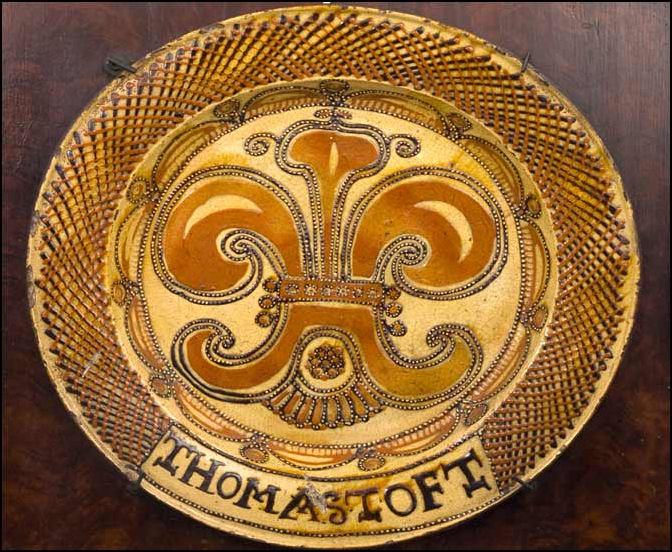 Thomas Toft Slipware Plate, manufactured c.1680
Thomas Toft is the best known of the 17th century Staffordshire slipware potters. He made his dishes in Burslem and designs attributed to him include mermaids, unicorns, and pelicans.

He also created dishes featuring King Charles II and his wife Queen Catherine of Braganza, and numerous coats of arms.

A cross-hatched rim was fairly typical of the style and has been copied up until the 20th century. Very little is known about Toft's life.

It is believed he was married in 1663 and was buried in Stoke on December 3 1689.

Slipware is a kind of coarse earthenware decorated with a coloured clay and water mixture of creamlike consistency called slip.