back to "The Grand Tour" index
Neville Malkin's "Grand Tour" of the Potteries
buildings of Hanley





next: Indoor Market, Hanley
previous: Telephone Exchange, Hanley
contents: index of buildings in Hanley

No 65 - St. John's Church, Hanley

Description: 'S. E. View of Hanley Church,' showing a brick building
of the Gothic revival (1788) with a western tower.
Date: 1835 - 1845 (c.)
[Reproduced by permission of the
Trustees of the William Salt Library, Stafford]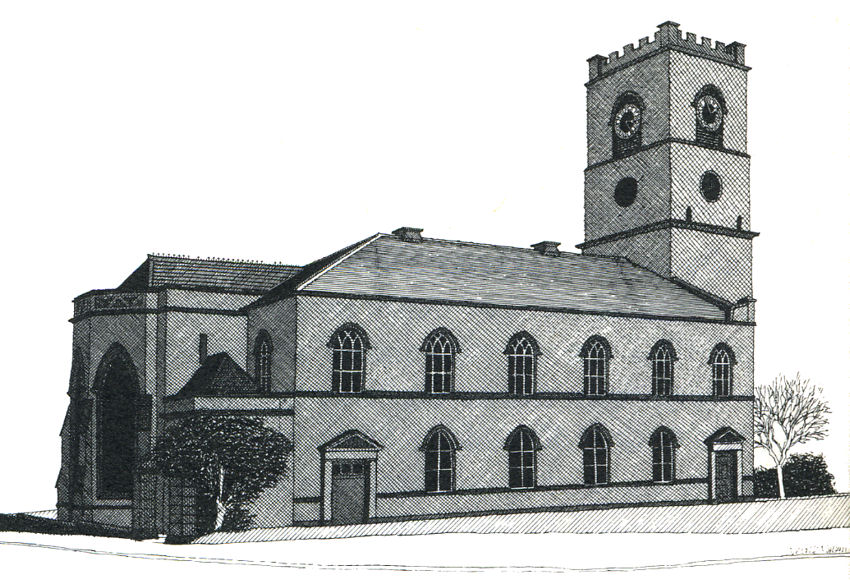 St. John's Church, Hanley
pen drawing by Neville Malkin - March 1975

St. John's Church, Hanley

photo: June 2008
"Early in 1737 that affluent and pious gentleman, Mr. John Bourne, of Newcastle, visited a friend at Hanley Upper Green. Realising how inconvenient it was to walk or ride along bad roads at least two miles to the nearest place of worship, he made an offer to donate £500 towards the erection of a chapel, provided the inhabitants raised the rest. This was cheerfully accepted, and, on a site given by John Adams, a chapel capable of accommodating 400 people, was immediately built and consecrated in September, 1737.

The chapel was later enlarged, at a cost of £140, but the rapidly-increasing population of the town made it necessary to consider building a much larger church. And so, under an Act of Parliament of 1787, the handsome brick and stone parish church of St. John the Evangelist was erected at a cost of £6,000 in 1788-90. The money was raised by voluntary contributions from the townsfolk, neighbouring landowners and gentry, and also from the sale of pews. The only structural addition appears to be the polygonal apse of 1872 by W. Palmer, but certain of the original embellishments, such as the stone pinnacles on the 100ft tower, have disappeared.

The first curate of Hanley, the Rev. John Middleton, must surely hold some kind of ecclesiastical record. He was appointed curate in 1737 and remained so until his death at the age of 88 in 1802. Besides the curacy of Hanley, which was his primary charge, he became Rector of Walkington, Yorkshire, and, subsequently, perpetual curate of Stone, because of a service he rendered to the residents of Trentham Hall. Although his income from his property and three livings was considerable, his only personal requirements were the bare necessities of life; he condemned those who indulged in the "fripperies and fooleries of fashion."




next: Indoor Market, Hanley
previous: Telephone Exchange, Hanley
contents: index of buildings in Hanley




back to "The Grand Tour" index

---