Josiah Spode II (1754-1827) and The Mount Estate (Penkhull)
Beech Grove, Penkhull - Home of John Harrison

The extract from the 1877 Ordnance Survey map below (reduced) shows Beech Grove built in 1792 for John Harrison.

The house was bought by Joseph Booth, pottery manufacturer at Cliff Bank in 1802. It was advertised to let in 1838: "To be let, The Grove House, situate at Penkhull, now held by the Rev William Ford. The House contains an entrance hall, dining-room, drawing-room, study, and sitting-room, two kitchens, pantry, two cellars, 8 bedrooms, brewhouse, large garden, and pleasure ground, and pump of good water. The house is quite dry and in good repair. Stable for two horses, with a loft over, and a gig house may be had if wanted."

The 1832 map on the introduction page shows the location of Beech Grove with the village of Penkhull.

The house was leased by Thomas Bailey Rose, the stipendiary magistrate for the Potteries.
The house was attacked and many of the contents burned during the riots in August 1842.

The map also shows the houses in Doncaster Lane which then included the new vicarage built for the incumbent of St Thomas's church in Penkhull.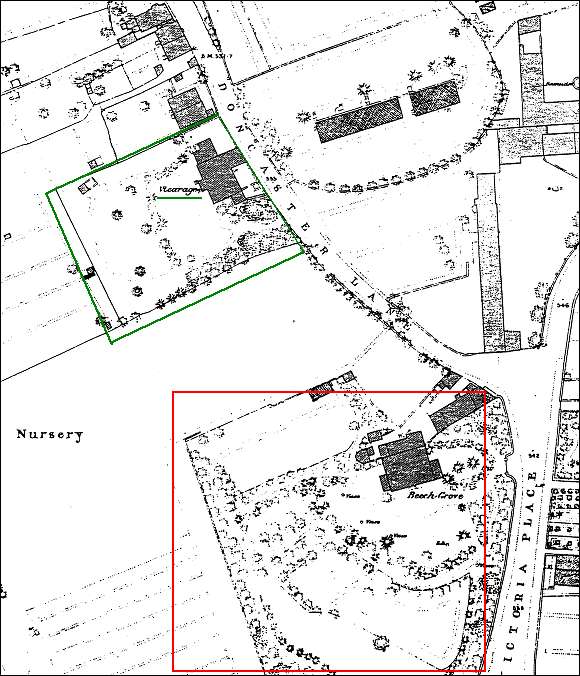 1877 Ordnance Survey map - shows Beech Grove built in 1792 for John Harrison.
Victoria Place is now St. Thomas Place
---
---
questions/comments/contributions? email: Steve Birks