Green square on the 1898 map shows this location where the canal goes under Church Street (Campbell Place) - there is still a rise in the road hear which points to the tunnel hidden below.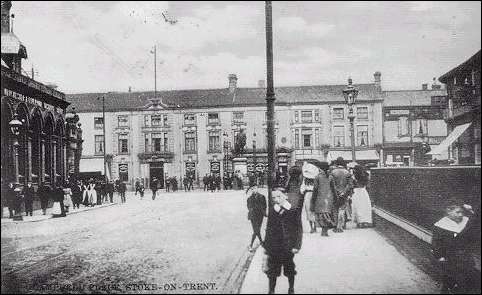 Campbell Place, Stoke (postmarked 1905)
This picture is taken from London Road.
The Campbell Monument (Statue of Colin Minton Campbell) can be seen in the background and so can the full facade of the Wheatsheaf Hotel. In the right hand foreground can be seen the wall below which the Newcastle canal passed under Campbell Place on it's way to the nearby Trent and Mersey canal.
The canal tunnel was drained shortly before the 1939 war and was used as an Air Raid Shelter.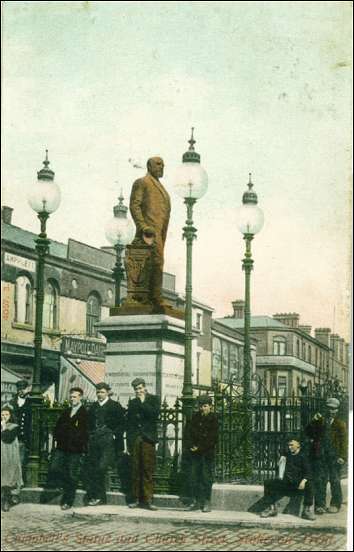 Colin Minton Campbell Statue
On the three sides of the base are the following inscriptions:
'Colin Minton Campbell, born August 27th 1827, died February 8th 1885'.
'A successful manufacturer, a leading townsman and generous friend'.
'High Sheriff 1869, Member of Parliament for North Staffordshire 1874 to 1887, Thrice Lord Mayor of Stoke 1880-1883.'
The statue was unveiled by the Duchess of Sutherland at a public ceremony in January 1887. The statue was originally in Campbell Place (as shown on this postcard) but it was moved in 1954 to a site outside the nearby Minton factory


>> In 2002 the statue was moved to the new Royal Doulton headquarters site in Forge Lane, Etruria.
The Minton works in Stoke were sold & demolished late 2002 to make way for a supermarket - in March 2003 the statue of Colin Minton Campbell was erected outside the main entrance of the Sainsbury's supermarket.