St Peter ad Vincula.
In the garden to the s are the picturesquely displayed remains of the medieval parish church. Piers, responds, and arches of the C13 were re-erected in 1887 by Lynam. Two responds are meant to indicate the length of the n aisle, two half-arches look like flying buttresses.

The railed area in front of the arches is
the tomb of Josiah Wedgwood I

The pier base of the earlier church can be seen through the arch
In the background is the current St. Peter's Church
built in 1826-9.
The new church is of the Commissioners' type and was built in 1826-9 to designs of Trubshaw & Johnson.
W tower, five bays of long three-light Perp windows, chancel of two bays with a five-light e window. Battlements and pinnacles. Three galleries inside.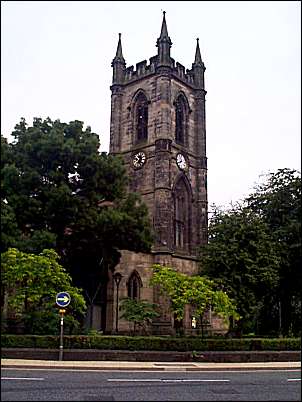 St Peter ad Vincula
Stoke Minster
photo: 2000
-reredos. Marble scenes; 1888.
-sculpture. Small c17 ivory Crucifix, called Spanish (pulpit).
- stained GLASS. The E window by David Evans, referred to in 1830.
- plate. Two Flagons, 1809 by Peter & William Bateman.

- monuments. Here are the monuments of three members of the greatest pottery families.
Josiah Wedgwood 1795 by Flaxman. Brilliant portrait, three-quarter view, in a medallion.
Josiah Spode II 1827.
Kneeling, mourning female figure.
John Bourne 1835.
Large, melodramatic angel. By Behnes.
- Also by Behnes John Tomlinson 1839 with a frontal bust on top.
John Chappel Woodhouse 1832. Profile bust.
on St. Peter's Church

---
N of the church is Brook Street, a terrace of various neo-Jacobean houses of yellow brick. It is of before 1830, and thus remarkably early.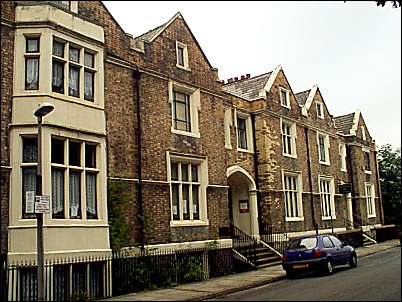 Numbers 2 to 6 Brook Street


These buildings are situated on the north side of Brook Street which crosses the line of the culverted Fowlea Brook - hence the name Brook Street.

architect: Henry Ward




---
Town Hall.
By Henry Ward, begun in 1834, but the wings completed only c.1842 (n) and after 1850 (s).
Originally the centre was built for a market. It was converted into the Council Chamber etc. in 1888. T
he King's Hall was added behind in 1910-11 (T. Wattis &J. A. Bowater). Nineteen bays' frontage, ashlar. The centre has a giant upper portico of unfluted Ionic columns and a big, heavy attic piled on top. The angles have three-bay pedimented pavilions.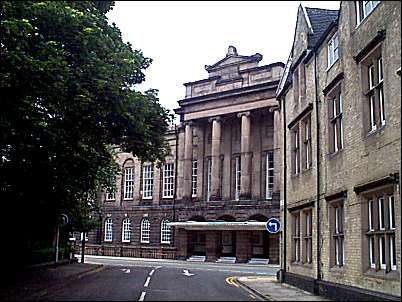 Stoke Town Hall
The view from Brook Street.
on Stoke Town Hall