It faced a large lake proposed by Capability Brown in 1759. That lake, altered when the mansion was built, was of impressive size and fortunately still exists. It sets the scale not only of the house but also of the vast parterre by W. A. Nesfield connecting house and lake. The pattern of the parterre was originally more complex than it is now.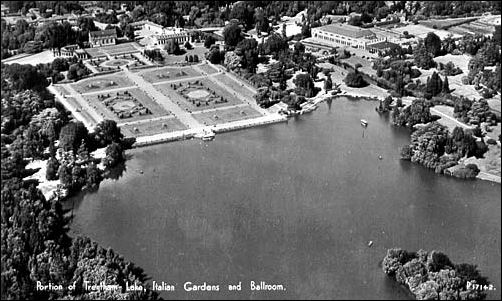 Aerial View of Trentham Gardens
1955 - 1965 (c.)

Trentham Lake
An employee marshals the rowing boats at closing time on Trentham Lake. The mile-long lake, designed by Capability Brown, forms the heart of Trentham Gardens.
photo: © Stephen McKay Sept 2006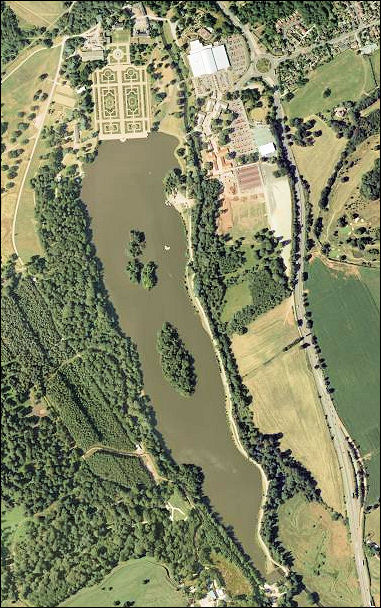 Trentham Gardens lake - with the Italian Gardens at the top
photo: MS live search

---
the vast parterre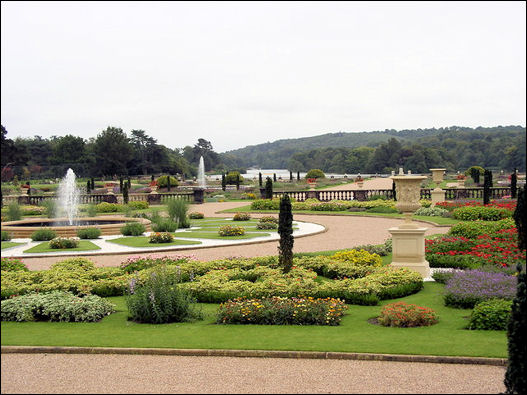 Beautiful Italian Gardens (parterre) at Trentham
photo: © Kevin Rushton Sept 2005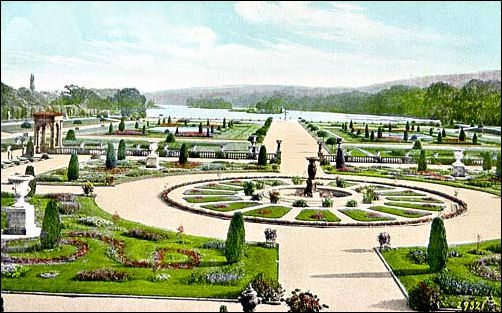 Postcard of the Italian gardens to the front of the hall
picture: c.1900-1910

---
The house was in the Italianate style, sub-species Italian Villa, though its scale was palatial and not at all villaesque. However, villa as against palazzo was the term to indicate a house of informal composition with an asymmetrically placed tower.
The type was created on a small scale by Nash at Cronkhill about 1802. Wyatville raised it to the grandest scale in the n wing of Chatsworth. This was started in 1820. Trentham came next, and Trentham formed the pattern for Prince Albert's Osborne, and on the strength of that august fane for other mansions in Britain and even in Germany.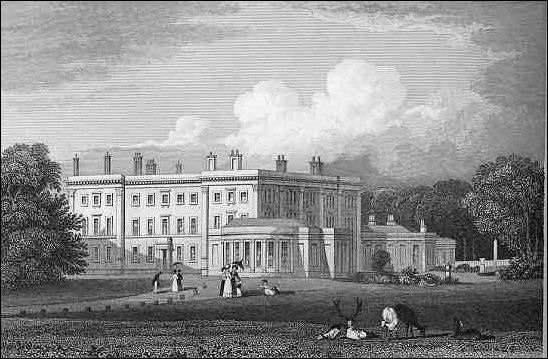 Trentham Hall in Staffordshire,
..... in the 1820s, before the 19th century expansion.
from Jones's Views of the Seats of Noblemen and Gentlemen (1829)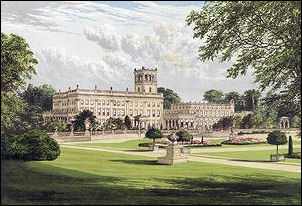 Trentham Hall in 1880
from Morris's Seats of Noblemen and Gentlemen. The front entrance is at the left, leading into the three storey main house. The two storey family wing is at the right, beyond the campanile.

---
The grand entrance was from the w, a semicircle between two five-bay wings and a porte-cochere in front of the centre of the semicircle. All this still stands. The porte-cochere is more ornate than anything of the rest. It has complex columns alternately blocked and a heavy attic similarly treated and with thickly carved coats of arms. The semicircle and the wings are one-storeyed with arched openings and un-fluted Ionic columns. This motif Barry took over from Charles Heathcote Tatham's Orangery built c.i8o8. This is in fact the r. wing of the two just referred to.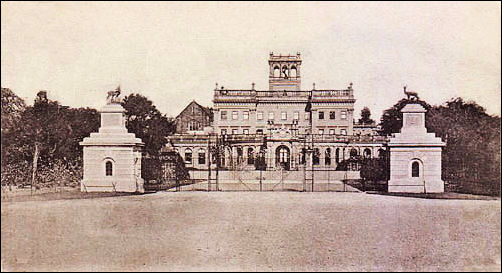 Trentham Hall - the Grand Entrance