ABBEY HULTON
Hulton Abbey, of which nothing is now visible above ground, was a Cistercian house founded in 1223. (Recent excavations have uncovered much masonry.)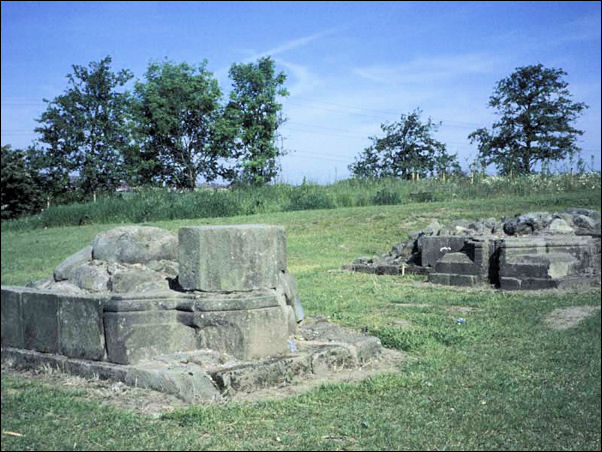 The Abbey was founded by Henry De Audley in 1219 and consecrated in 1223. Following the dissolution in 1538 the site was lost until 1884; it was located during a chance excavation, later being investigated and published by Lynam
photo: The Potteries Museum

---
BLURTON
St Bartholomew. Small, with a bell-turret. The core of the building is of 1626 - see the three-light mullioned windows. The church is however altered.
It was restored and enlarged by Lynam in 1867. - plate. Elizabethan Chalice and Paten.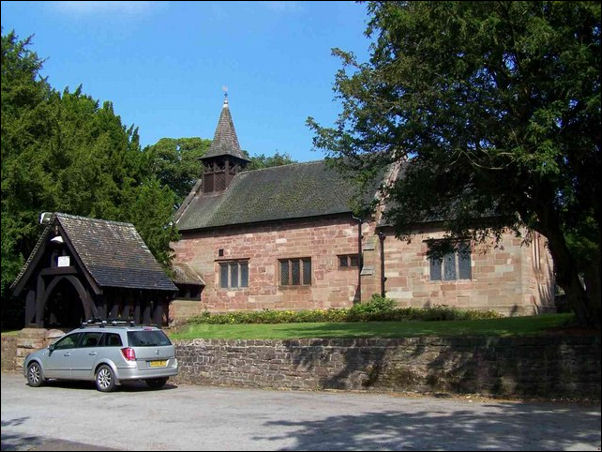 St. Bartholomew, Blurton
photo: © Geoff Pick Aug 2007

---
BUCKNALL
(St Mary. 1854-6 by Ward & Son of Hanley. E.E. cpdd)

Marychurch - Bucknall Parish Church

photo: Steve Birks - July 2001

---
HANFORD
St Matthias. 1868 by C. Lynam. Small, with a thin square sw tower accessible by an outer stair. Black brick columns and exposed red brick otherwise.
An enterprising job. The chancel, thickly ornate, is by Rushworth, 1862, and indeed more High Victorian in character than Lynam's work.

St Matthias - Hanford
photo: Steve Birks - Feb 2007


---

MILTON
St Philip and St James. 1865. Recently two bays were added at the w end, and a hall.

Postcard of St. Phillip and St. James, Milton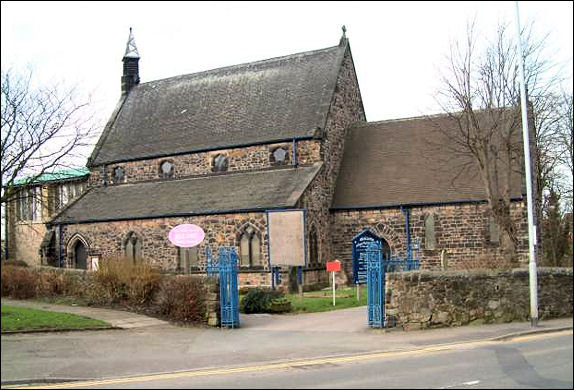 photo: Steve Birks Feb 2007

Methodist Church. 1862 by George B. Ford, Really repulsive.
The mystery is that this was designed as fitting and accepted as such. Gothic.

---

NORTON-IN-THE-MOORS
St Bartholomew. On the top of a hill with views to the e towards the Peak - nature, and yet factories and Stoke housing as well. 1737-8 by Richard Trubshaw.
The e half by J. H. Beckett, 1914. Brick, with a w tower. The w doorway has a rusticated surround of alternating sizes of the blocks. Ball finials.
The original building probably had just three bays and a short chancel. Square piers and low, flat ceilings. Beckett added transepts and a new chancel. - plate. Two Plates by I.P., 1737; Flagon by Richard Gurney & Co., 1747; Chalice, c.1747.

Church of St Bartholomew on Norton Lane
photo: David Proudlove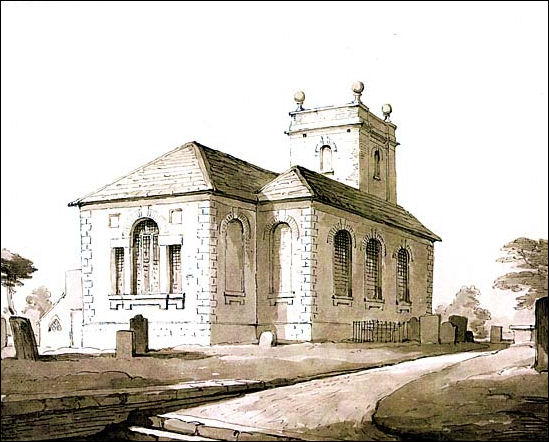 Built in 1737 by Richard Trubshawe, this undated drawing by T.P Wood shows a classical building with a short brick tower and ball finials.
© William Salt Library (Staffordshire Views VIII-108)

---
SMALLTHORNE
Ford Green Hall, by the railway crossing. Now a museum.
A lovely, timber-framed house with a two-bay Georgian addition. The timberwork is mostly closely set verticals, but higher up also concave-sided lozenges. The gables are plain white now. - Square brick dovecote.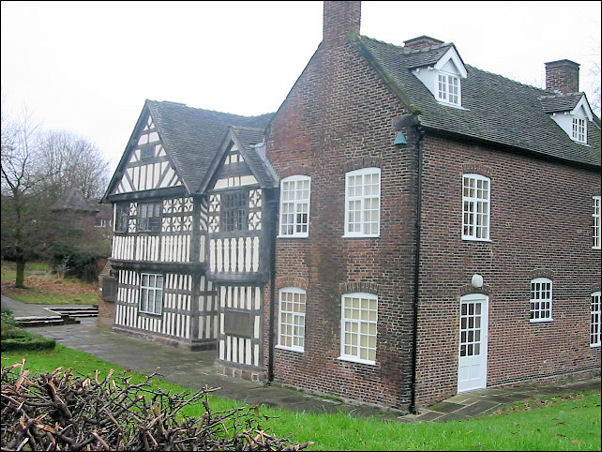 Ford Green Hall, Smallthorne, Stoke on Trent
The hall is a 17th century house and period garden open to the public. It is furnished with original and reproduction textiles, ceramics and furniture.
photo: Phil Eptlett Dec 2005