Fondeville & Van Iderstine

A J Fondeville

Fondeville & Co







Fondeville & Van Iderstine were importers of glass, china and eathernware in New York, USA - they were certainly in business, at least, from 1875 to 1910

They were agents for Keller & Guerin - French earthenware and Limoges - French China

Also they were agents for English manufacturers - John Sadler and the Stanley Pottery Co, both of Burslem, Stoke-on-Trent, Staffordshire, England.


Letterhead for Fondeville & Van Iderstine
dated 23 September 1910

F & VI
NY



F. & V.I.
ENGLAND
COPYRIGHT
APPLIED FOR

---

A. J. Fondeville were recorded as sucessors to Fondeville & Van Iderstine in a 1922


with the compliments of
A J Fondeville & Co
116 East 27th Street
New York
Importers of
Ambassador Ware Homestead Ware Chanticleer Ware Solian Ware

Made by Soho Pottery Ltd
Elder Works
Cobridge
England

---

Eugene L. Fondeville was registered as a porcelain distributor in 1942 in New York, USA.

Fondeville and Company distributed Rochelle Fine China and Laurelton ware which was made in the United States.

Also they distributed ware made in Portugal and in England.

Among the English ware was Embassy ware, Ambassador ware, Paragon bone china, Burleigh ware and Susie Cooper ware - all produced in England in the 1940s.

FONDEVILLE
ENGLAND
Ambassador Ware
REG US PAT OFF

---

Ambassador Ware was produced by Simpsons (Potters) Ltd. of Cobridge, Stoke-on-Trent


FONDEVILLE
BURLEIGH WARE
ENGLAND

---

Burleigh Ware was produced by Burgess & Leigh of Middleport, Stoke-on-Trent

- Burgess & Leigh -


CHANTICLEER WARE
FONDEVILLE
ENGLAND

---

Chanticleer Ware was produced by Simpsons (Potters) Ltd. of Cobridge, Stoke-on-Trent


EMBASSY WARE
Bone China
SR
FONDEVILLE
ENGLAND

Embassy Ware was produced by Samuel Radford Ltd. of Longton, Stoke-on-Trent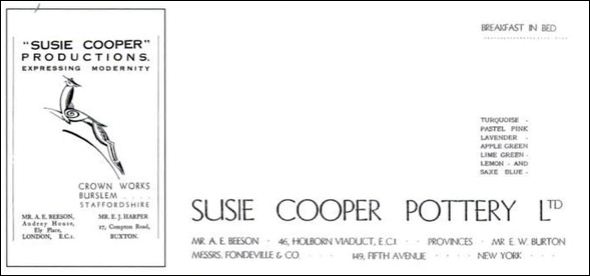 1930s advert for Susie Cooper pottery
Messrs Fondeville & Co of Fifth Avenue, New York are recorded as distributors
---
questions, comments, contributions? email: Steve Birks
---