Sampson Hancock (& Son

s)


Sampson Hancock & Sons (Potters) Ltd







Location and period of operation:
| | | | |
| --- | --- | --- | --- |
| S Hancock & Sons | Stoke | 1891 | 1935 |
| S Hancock & Sons (Potters) | Stoke | 1935 | 1937 |
Earthenware manufacturer at Bridge Works, Stoke, Stoke-on-Trent. One source records that around 1920 china manufacture was commenced.
Sampson Hancock, a prominent Wesleyan Methodist, started potting in 1857, operating independantly and in partnership with others

In 1891 he established the business of Sampson Hancock & Sons.

Sampson died in 1900 and the business was continued by his three sons - Jabez, Harry and Arthur.

In 1935 the business was in financial difficulty and was made bankrupt. It was restarted as S Hancock & Sons (Potters) Ltd. and moved to the Gordon Works, Hanley - which was renamed the Corona Works.

The restarted company was not a sucess and it finally closed in 1937, having been put into receivership on 23rd March. By this time it was a smaller enterprise, employing around 150 people
Previously: Benjamin & Sampson Hancock (1876-81)
---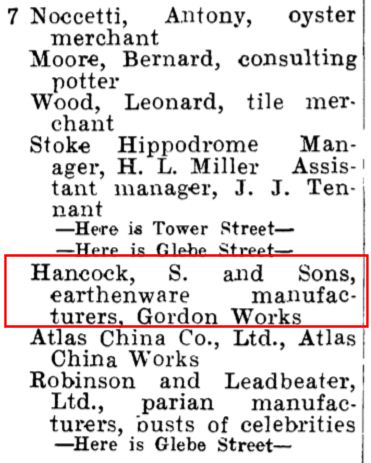 Hancock, S and Sons,
earthenware manufacturers,
Gordon Works
from..... 1907 Staffordshire Sentinel
'Business Reference Guide to The Potteries, Newcastle & District'
---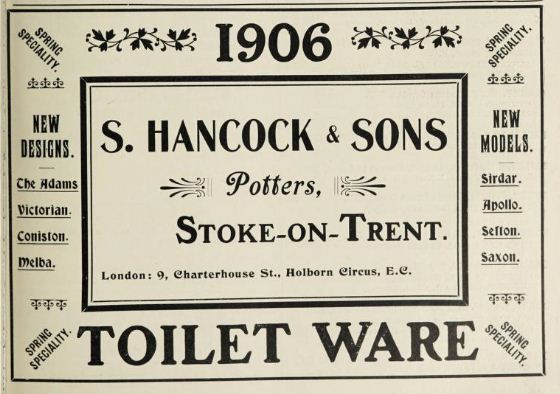 S. Hancock & Sons
Potters
Stoke-on-Trent
Pottery Gazette - January 1906
---
Factory Locations:
1857 - 1870 Victoria Street, Tunstall
1881 - 1891 Bridge Pottery, Shelton (noted in Jewitt)
1892 - 1920 Gordon Works, Wolfe Street, Shelton
1920 - 1930 Gordon Pottery, Old Burton Place Works, off New Street, Hanley
1923 - 1937 Corona Pottery, Hanley
Company History:

The company was founded by Sampson Hancock, a prominent Wesleyan, in 1857 and was renamed S. Hancock & Sons (Potters) Ltd. in 1935. . Sampson Hancock died on 9th May 1900 and was succeeded in the business by his sons, Jabez, Harry and Arthur.

They produced tablewares and fancies for the popular market - its main income being from semi-porcelain and earthenware tablewares, toilet wares, vases and vitreous hotel wares. Many of the products, including ironstone china, were for export markets.

After WW1 the company increased its production of ornamental and decorative wares. These included children's wares and doll's heads. Boxed teasets for children were being produced by 1917 featuring popular nursery rhymes and pictures of children. Two designers of this type of ware were Molly Hancock and Edith Gater (see Designers below).

The company also produced a range of crested wares, these being marked with the trade name The 'Duchess' China or The 'Corona' China and Grosvenor Ware. These may have been produced in quantity to see the company through the war years when skilled labour was unavailable. Pieces included animals, small decorative dishes and Great War commemoratives, or had English or Welsh crests. Crested ware appears to have been made until the 1920s.

One of the main decorative ranges produced by the company was Morris Ware. This included many tube-lined patterns which resembled the Moorcroft productions and may have been intended to compete with that company. George Cartlidge was the first designer of this type of ware but the range continued with other designers. Morris ware was much praised in the trade press of the time which noted that foreign buyers at the British Industries Fair had shown interest in the range and it is now actively collected.





Tube-lined Morris Ware




---

Designers and Artists:
The company employed many different designers who each produced new ranges of wares and frequently signed their wares.
Francis Xavier Abraham - Art Director in the 1920s. Responsible for the introduction of Rubens Ware and Titian Ware, and later designs of the Morris Ware range.
Previously Art Director of W.T. Copeland & Sons late Spode.

George Cartlidge - Trained at Hanley School of Art (1878) and taught art before working for Sherwin & Cotton (1882-1900) and then setting up his own company Adams & Cartlidge (Ltd.). Both these companies specialised in the production of tiles. He worked for Hancock's c. 1918-1926 designing Morris Ware. He later worked on his own from a studio at his home in Rudyard and in America.

Edith Gater (nee Smith) - 1930s. produced tube-lined wares. Other patterns include Springtime. Also contributed designs to the Morris Ware range.
Later worked for Cauldon Potteries designing tube-lined wares. During the war left pottery to do war work and afterwards went to work at Thomas Cone.

Molly Hancock - youngest daughter of Jabez Hancock. Designed children's ware, including Elf and Bunnies and Little Bo Peep. Patterns included Cherry Ripe and Cremorne.
---

Coronaware
S Hancock & Sons
Stoke-on-Trent
England

"Spring Time"
Hand Painted
F.X. Abraham Des
photos courtesy: Pam Scott
---
Initials & marks used on ware for identification:
S.H.
S. HANCOCK
S H & S
S H & SONS
Corona 1898-
Duchess China 1911-
Grosvenor Ware
Royal Coronaware 1912-1937
Ivory Ware
Morris Ware
Rubens Ware
Titian Ware
---
click for more information on the ware produced and the marks
used by S. Hancock & Son....
---
Questions, comments, contributions? email: Steve Birks
---
Some of the data kindly supplied by The City of Stoke-on-Trent Museum.