Public Monuments and Sculpture in Stoke-on-Trent & Newcastle-under-Lyme


|

Index of all Stoke-on-Trent art |



Another Gift - stainless steel sculpture
at Kingsway, Stoke

Location: Corner of Kingsway and Glebe Street, Stoke
Date of installation: 2005
Artist: Liz Lemon
Commissioned by: Stoke on Trent City Council
Project partners: Stoke-on-Trent City Council, Stoke Approach, Advantage West Midlands, Keele University.




more photos of the sculpture

---


A view of the whole sculpture, Glebe Street to the left
and Kingway in the front




Description:
A startling piece of art – sited on the corner of Kingsway and Glebe Street, Stoke – is made from stainless steel. Called Another Gift, the work consists of twists and turns of steel stretching to around five metres in height.

Background:
Following a £1-million boost to accessible public art in Stoke-on-Trent, three ambitious sculpture projects are nearing completion across the city. The ambitious £300,000 public art project has brought together three professional artists transforming sites in Etruria's Cavour Street, Kingsway in Stoke and Hanley Park to boost the transformation of Stoke-on-Trent. The trio talked to city residents before drawing up final designs
Liz Lemon's startling piece of art, sited on the corner of Kingsway in Stoke, allows pedestrians to walk in and out of its twists and turns and admire the scrolls of steel, with trees planted around the edge of the design. Liz's Another Gift reaches almost five metres in height.
The art installations are designed to inspire emotions and thoughts in observers. Art is an essential ingredient to an expanding and creative city and improving our everyday views should mean a stimulating challenge for residents and visitors alike.
Liz Lemon, artist working to commission in public art, and part-time lecturer, BA Fine Art, Staffordshire University.

A view of the sculpture from St. Peter's Church grounds
Glebe Street runs between the gravestones and the sculpture
and Kingway stretches out behind.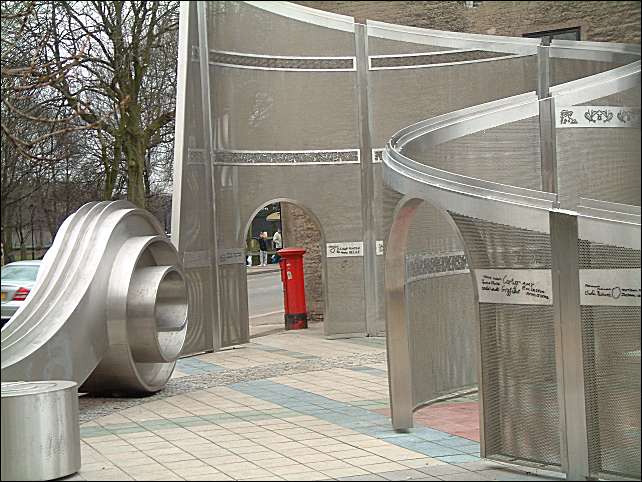 A view through one of the arches to Glebe Street

Photos: Feb 2006

more photos of the sculpture

Materials:

| Part of work | Material | Hight |
| --- | --- | --- |
| Scroll, Screen and spiral | Stainless Steel | almost 5 metres |

|

Index of all Stoke-on-Trent art |
---
questions/comments/contributions? email: Steve Birks
21 February 2006