Inscriptions: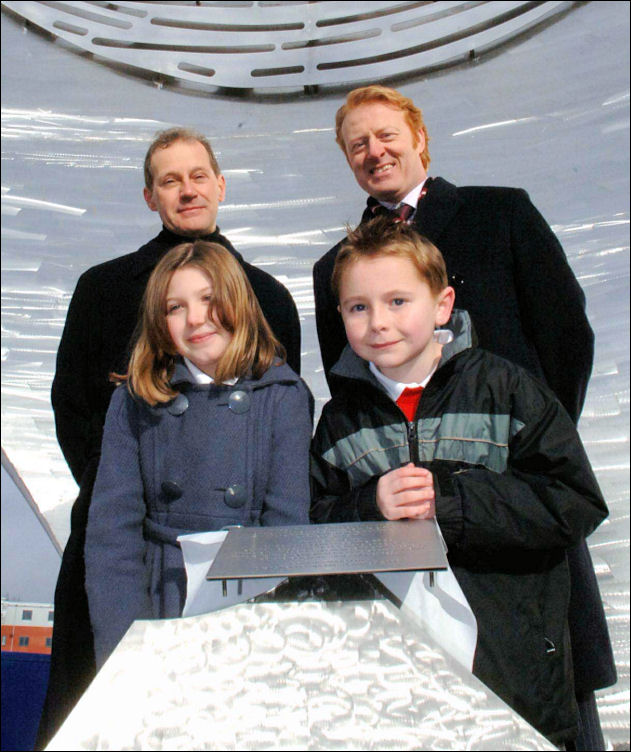 the inscription
Frozen in time, a finger print on an ancient Roman ceramic shard, is evidence of the human link, before our time, of intent and skill.
'Tunstall Shard', by Sculptor Robert Erskine FRBS, acknowledges the generations of people in Tunstall, whose occupations and skill created Tunstall's fine reputation for outstanding quality, so characteristic of its industries.
Commissioned by Dransfield Properties Limited, 2008.
Description:
The sculpture, is based on a shard of pottery from Roman times, that was found in an underground oven when the Wedgwood site was being redeveloped. And it shows the fingerprint that can be seen on the original shard and which is thought might date back hundreds of years.
The sculpture is 300 times larger than the shard it is based upon. Fabricated in Stainless Steel at the works of Midas Technologies, Peterborough, it stands 35 ft high by 27ft wide, and weighs 7.5 tons.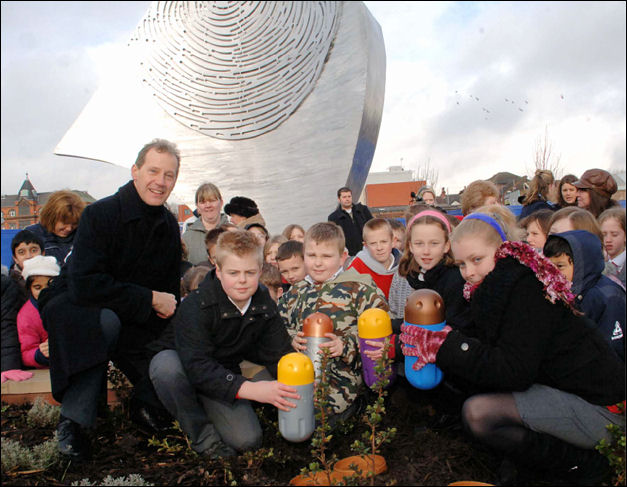 children from Mill Hill School burying the time capsules
Background:
Situated at Jasper Square retail park, Scotia Road, Tunstall and Commissioned by Dransfield Properties for Phase 4 of their retail development in Tunstall.
On the day of the unveiling a number of local children from Mill Hill School placed Memory Capsules with data about Tunstall regarding, time, history, and the future, in a special chamber adjacent to the sculpture.
The design:
Tunstall Shard is created in wrought Stainless Steel, with a unique applied surface, which mimics the shading and tone of the original drawings and sketches for the sculpture. Additionally the surface will absorb as well as reflect the ambient light, especially on a clear sunny day. The front elevation faces Scotia Road which is due west, so at sunset dramatic lighting effects will result.
The designer Robert Erskine said:
"That evidence of human endeavour and creativity has left its mark in Tunstall is without doubt. From earliest times activities in iron and ceramic production have been undertaken around the town. There are few locations in Europe where both these important entities took place. The knowledge to develop these industries ultimately became technologies."
"When archaeologists discover ancient earthenware shards, traces of fingerprints left on their wet surfaces by the individual who created the original, are often found. It is this 'human link' from before our time that is so significant. Frozen in time, the fingerprint is universally recognised as evidence of life and existence. For this reason, it forms an important feature of the sculpture, so characteristic of creating earthenware and ceramic objects."

The Jasper Square retail park is on the site of the former Wedgwood Alexandra pottery works which was built in 1886. The works were closed in October 2003.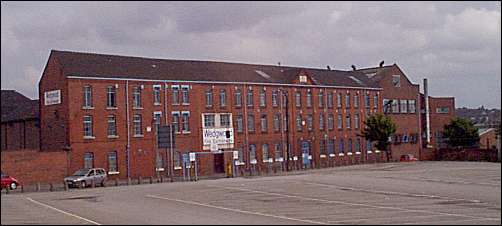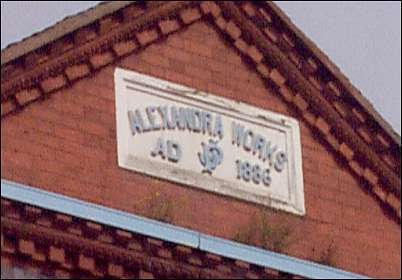 Photos of Wedgwood's Alexandra Works, Tunstall
Oct 2000