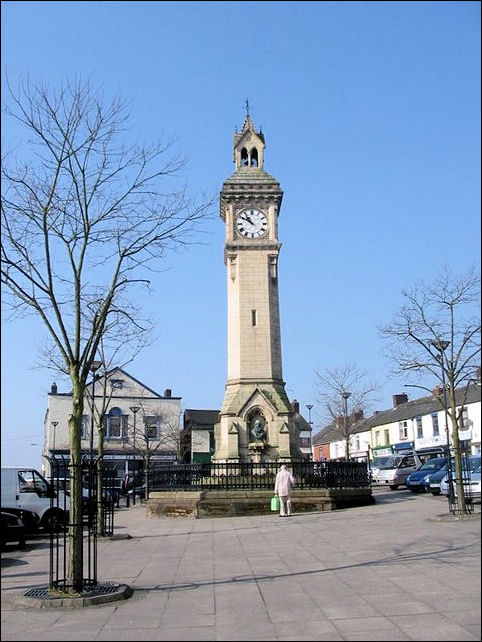 Tunstall Clock Tower
(photo taken in opposite direction that the one with the Town Hall in the background)
with the old Methodist New Connexion Chapel in the background
photo: © Clive Wooliscroft Mar 2007
and licensed for reuse under this Creative Commons Licence


Inscriptions: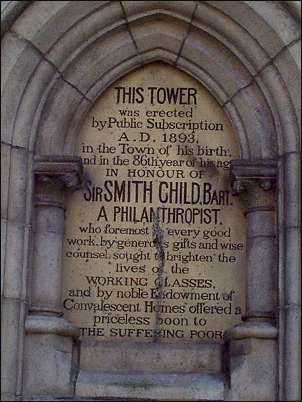 main inscription, (plaque above door)
THIS TOWER
was erected
by Public Subscription
AD 1893
in the Town of his birth,
and in the 86th year,
IN HONOUR OF
SIR SMITH CHILD, BART.
A PHILANTHROPIST,
who, foremost in every good
work, by generous gifts and wise
counsel, sought to brighten the
lives of the
WORKING CLASSES,
and by noble endowment of
Convalescent Homes offered a
priceless boon to
THE SUFFERING POOR.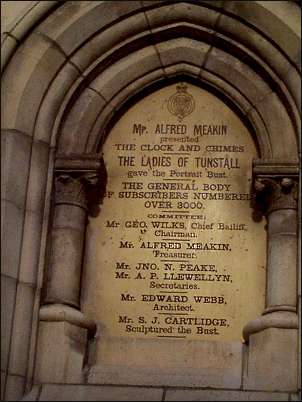 second inscription
Mr ALFRED MEAKIN
Presented the Clock and Chimes
THE LADIES OF TUNSTALL
Gave the Portraint Bust
THE GENERAL BODY
OF SUBSCRIBERS NUMBERED
OVER 3000

COMMITTEE;
Mr GEO. WILKS, Chief Bailiff, Chairman
Mr ALFRED MEAKIN, Treasurer
JOHN NASH PEAKE
ARTHUR P. LLEWELLYN
Secretaries.
MR. EDWARD WEBB
Architect
Mr S.J. CARTLIDGE
Sculptured the Bust

Description:

Situated in the centre of the square, the clock tower has four faces. At its base, on the side opposite the wooden door giving access to the clock mechanism is a niche containing a bronze bust of Sir Smith Child, said at the time to be an 'excellent likeness'. The tower is surmounted by a stepped roof and, above that, a tabernacle with two Gothic arches on each side and crocketed gables and spire.
Background: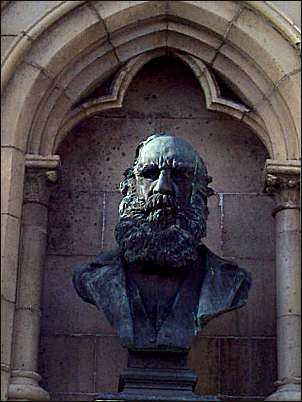 Sir Smith Child of Newfield Hall, Tunstall
Sir Smith Child (1808-1896) was a local MP from 1851 until 1874, when he retired from active politics. He was High Sheriff for Staffordshire in 1865, and was made a baronet in 1868.
Throughout his life, he was a major benefactor in the Potteries, making contributions to many charitable institutions. He contributed every year to the North Staffordshire Infirmary, also serving as President and Vice-President on its management committee. In 1877 he built and endowed the Smith Child ward, originally intended for incurable patients, but finally opened as a children's hospital.
He also supported the Samaritan Society and the Cottage Hospital in Longton. The Victoria Institute in Tunstall was built largely as a result of his efforts. Moreover, he was the first to give to the victims of the Talke colliery disaster fund in 1868. He helped start the North Staffordshire Miners Permanent Relief Fund in 1870, and gave to the Leycett colliery disaster fund in 1880.
The clock tower was unveiled by Alfred Meakin, treasurer of the Memorial Committee in the presence of Sir Smith Child's son, John Child, Sir Smith Child himself being too ill to attend.
There was a sizeable Masonic presence at the unveiling ceremony, with some 40 members of the Smith Child Lodge in attendance.
The tower was restored by Stoke-on-Trent City Council in 1993.