Fenton's town hall | Buildings of Stoke-on-Trent

Buildings of Stoke-on-Trent

[ Web Site Index ]
Town Hall, Fenton

At the beginning of 1886 William Meath Baker offered to build a new town hail for Fenton. In April 1888 he submitted plans to Fenton Local Board of Health for three new streets which were subsequently names Station Street, Baker Street and Gimson Street.

The new town hall lay at the centre of the new development. It was a large two storied building of red brick with stone dressings, designed in a combination of late Gothic and Tudor styles by Robert Scrivener & Sons. The main block of six bays has a small central gable and is flanked by lower gabled side wings with oriel windows to the upper floors.
The area in front of the town hail was laid out as a square.

Entry in N. Pevsner's 'The Buildings of England':

"TOWN HALL, 1888-9 by R. Scrivener & Son of Hanley. Brick, symmetrical, Gothic - but with a number of little originalities which help to relieve the portliness of the building."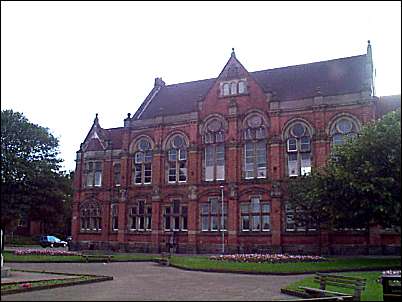 Built in 1889 at the expense of William Meath Baker to be part
of the new centre of Fenton.
Today the building is used as the Magistrates Court
photo: July 2000

Crest on Fenton town hall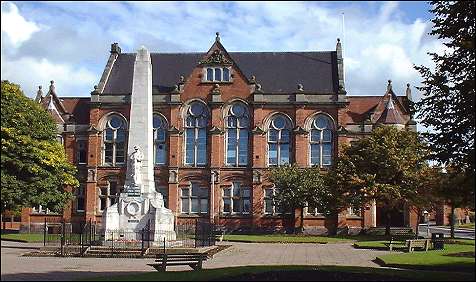 Fenton War Memorial
Standing in Albert Square in front of the
old town hall (now used as a magistrates court)
photo: c.2000 (Peter Bennett)

old postcard of Fenton Town Hall

the spire was removed at some stage as it was unsafe.

28/01/2002