William Meath Baker's involvement in the development of Fenton
Fenton Town Hall:
At the beginning of 1886 William Meath Baker offered to build a new town hail for Fenton. In April 1888 he submitted plans to Fenton Local Board of Health for three new streets which were subsequently named Station Street, Baker Street and Gimson Street.
---
Victoria Square:
In the mid 1880s William Meath Baker demolished the cottages on the east side of his factory fronting High Street (now City Road) and what later became Victoria Square. Here in 1885 he constructed 30 houses with ornate frontages decorated with moulded brickwork and terracotta tiles.
Four years later the Fenton Local Board of Health Board built public urinals in the Square.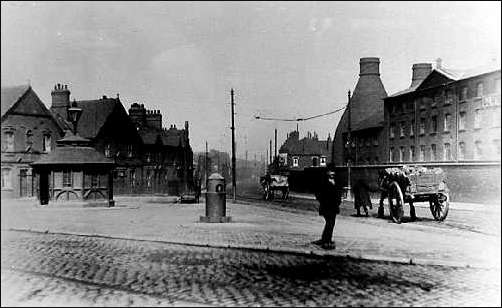 Victoria Square c.1915
On the left are the houses W.M.B built - the public urinal in front.
In the centre of the picture is a drinking fountain presented by his uncle William Baker IV
[this in now in Fenton Park]
---
Hitchman Street:
In the meantime William Meath Baker submitted plans for a new street off Victoria Road in December 1889 which was named Hitchman Street. Here on a triangular site which also faced Victoria Road he built 12 houses and a shop in the same style as the houses fronting High Street and Victoria Square.

Hitchman Street - July 200
[Mrs. Hitchman was William Meath Baker's aunt]
---
Ashleworth Terrace:
Below Christ Church on Church Street, William Meath Baker built a row of 12 houses called "Ashleworth Terrace" decorated with his monogram and the date of construction, 1891, on the front. The houses were built in an ornamental style with small gardens in front and were let to middle class tenants including several pottery manufacturers, schoolmasters and
commercial travellers.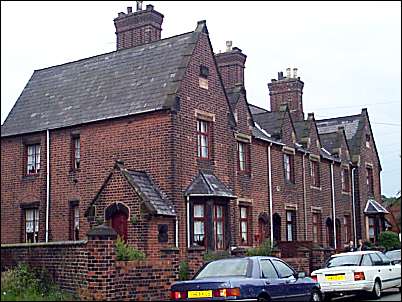 "Ashleworth Terrace" Church Street (now Christchurch Street)
---
In the early 1930s William Meath Baker began to wind down his interests in Fenton.
In 1931 Fenton House was sold to the parish. The factory ceased trading during the great depression in 1932.
The premises is now occupied by Kames Kent (Ceramic Materials) Ltd. though all the buildings on the site date from after 1932.
William Meath Baker died in 1935 but his descendants still (2000) own some property in the area including the houses in Hitchman Street and Victoria Place.

source: Andrew Dobraszczyc's notes