Hanley Green - a bit of a shocker
---
"Hanley wasn't much noticed before the early 1700's. In fact up here on the hilltop life would have been pastoral and remote. You have to remember that Hanley was junior in status and development to Shelton whose boundaries came right into the town centre as they do today." These interesting observations are made by social historian Steve Birks. I've been following the ancient road from Chell to Hanley and I've come to the end of St John Street where it meets the top of Huntbach Street.

"The location embraced of a group of hilltop settlements, here and down the other side to Birches Head," says Steve. "In fact looking along Huntbach Street from this height into the town centre, it's hard to imagine how beautiful it must have been; and how the ages have altered this landscape."

Huntbach Street, formerly Market Street, ascends out of the city centre up the hill known archaically as Hanley Green. This 600 foot promontory is the highest point for miles and divides two valleys which carry Trent tributaries southwards. The gradient of the headland is particularly steep; shaped like the bow of a ship it plummets into Bucknall New Road.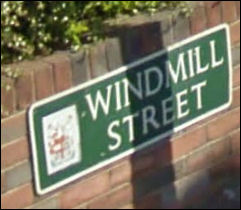 Windmill Street

"This elevation makes the top of Huntbach Street particularly appealing", continues Steve. "It was here for instance in 1795 that a windmill was built that was still being used in 1837. Then in 1848 a property owner, William Dodd, bought the mill and converted it into an observatory equipped with telescopes and camera obscurer."

Dodd appears to have been an eccentric character using the old mill as his house where he served summertime teas to guests interested in astronomy. He bought many of the houses around Windmill Street and also owned a pub near to his house called the Mill Tavern.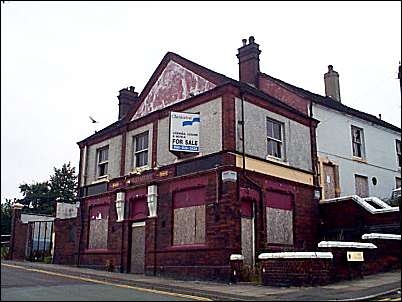 Observatory Public House
Bucknall Old Road, junction Dyke Street
photo: 2000

The Observatory in 2009 - a community meeting place


"This district was full of pubs at one time," says 84 year old resident Reginald Plant. "I've lived up here since 1950. I've seen a lot of properties knocked down and the pubs along with them. One of the last was a pub just round the corner called the Observatory. The building's still there but it's been converted into a social welfare clubhouse – temperate naturally. The Electric Bar at the top of Huntbach Street is the only pub left now."

Locating the Electric Bar is easy even though it's currently dwarfed by the enormous steel and concrete skeleton of a new combined community welfare and health centre. The puzzle is why the sign over the door says Queens Arms. A helpful local passer-by responds to my query.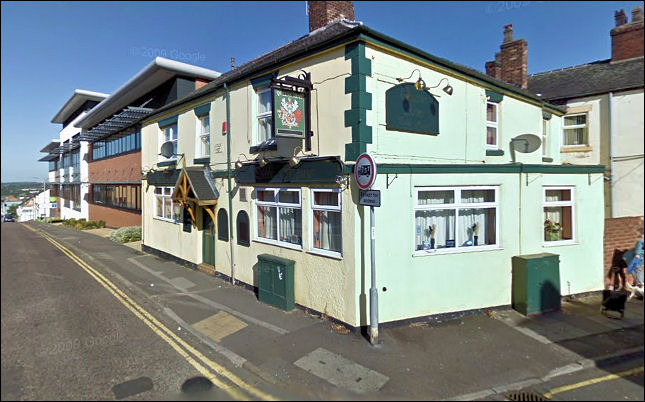 Queen's Arms - corner of Huntbach Street & St. John Street
'the Electric Bar'
photo: Gogle Street View

"Electric Bar – you're standing in front of it," he says nodding to the Queen's Arms. "It's always been known as the Electric Bar because it was the first pub in Hanley to have electric lighting."

Pub local Loz Donaldson has been using the pub for 20 years.

"Nah, it has nothing to do with electric lights. It got its nickname because it had two rails around the bar, at the top and bottom. These rails were electrically heated so workers could warm their hands and feet when they drank at the counter," says Loz convincingly.

"I heard that as well," his brother Andy agrees.

What is certain is that the old Bass pub had a reputation as a watering hole for homeward-bound workers.

"It still has that reputation," comments landlady Julie Watson. "We don't open until after 4pm and cater solely for drinkers."

Her husband Tony nods agreement.

"It's always been a worker's pub and I think that's why it's stood the test of time," he says. "It's local and our trade depends on local custom. As for the name – well I was told that an earlier licensee had a metal leaning bar made to go around the top of the bar which he connected to an electric circuit to give customers a shock."

Loz and Andy disagree.

"Tony and Julie have only been here for a few months. You should ask somebody who used to keep it before," advises Loz.

Richard Hughes from Shelton kept the pub for a good few years before Tony and Julie.
"You can take it from a reliable source," says Richard helpfully. "A hand and foot rail had been fastened to the bar and connected to an electric supply. When drinking hours were up at night the landlord used to switch on the power and everybody leaning on the rail got a shock. It was a way of saying 'time gentlemen please'."
George Gwilt was licensee from 1970 to 1992.
"The bar rails had been removed in 1954," says George. "But I had customers who remembered it well. I was told that a licensee during the war had it fitted specifically to give his customers an electric shock for a bit of a laugh. It was a feature, everybody knew about it and would come from all around just to put their hands on the rail and ask the landlord to switch the power on. Apparently American forces based here thought it was a real amusing attraction and they used to come up in droves just for the shock. It must have been a big crowd-puller."
John Walklate, age 65, thinks differently.

"It doesn't matter what anybody says," John smiles philosophically. "I've used the pub since I was 17. The truth is that somebody wired it up wrong in the first place. It's lucky nobody was killed."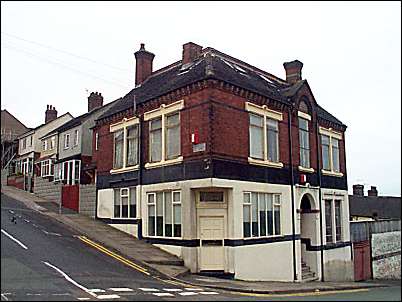 Prospect House 'incredibly defying gravity'


From the Electric Bar the ancient lane tumbles into Dyke Street at the bottom of which a corner house reveals the sheerness of the hill by incredibly defying gravity as it rises to double its own height from its south to east side. Here dark alleys hang steeply between terraced streets sharing space with 1960's tower blocks looming vertically from the hillside. One end of the ancient lane is marked by cobblestones in Lindop Street where, like a time-travelling trespasser, it spills into Bucknall Road only to disappear into a jungle of concrete and tarmac and roaring traffic.

Fred Hughes