The Co-operative Society in Stoke-on-Trent
"Whether you celebrated your birth or wedding at Co-op restaurants, or were buried from a Co-op chapel of repose; whether you wore clothes tailored by the Co-op, rode Co-op bicycles, drank Co-op milk or went on a Co-op holiday, life-long interaction with the Co-op throughout the 20th century was inevitable from cradle to grave."
---
The Co-op Movement had its roots in Brighton where a local reformer, Dr William King, advocated the principles of self-help trading in home produced goods.
In 1844 a group of Rochdale textile workers set up an independent business encouraging cooperation and providing the customer with a dividend on each purchased item, the accumulation of which went into shared profit.
One of the earliest co-op traders in Stoke-on-Trent was a Burslem potter James Colclough who opened Stoke-on-Trent's first co-operative store, in Newcastle Street Burslem.

The Burslem Co-operative Society was founded in 1901 - it become the most successful mutual commercial enterprise Stoke-on-Trent has ever known. They opened their shop on 22nd February, 1901, at 8 Newcastle Street, Burslem.

Originally there were two hundred members, who had each subscribed 4s., and had promised to make this 4s. into a £1 as soon as convenient.

In the first balance sheet Issued by the Society In 1901, the amount of share capital plus Interest was £175.

By 1932, the amount of share, loan, and penny bank capital of the Burslem & District Industrial Co-operative Society was £1,209.533. They had 50,000 members and 112 shops.
---
Newcastle Street
(Market Place)

2 Shaw, Arthur, messenger & caretaker

4 Dawson, Joseph, printer and bookseller, stationer and picture framer, and registrar of marriages

8 Crabtree, Edwin, grocer and provision dealer

10 Burslem Industrial Co-operative Society, grocers and general dealers

General manager, H. A. Wood

Ford and Sons, earthenware manufacturers

—Here is Blake Street—
from: 1907 Staffordshire Sentinel 'Business Reference Guide to The Potteries, Newcastle & District'
---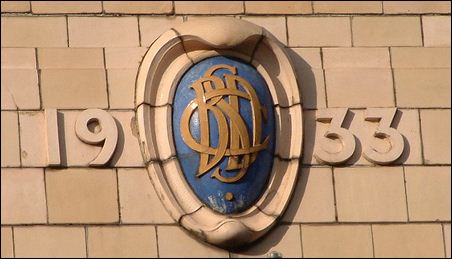 BDCS - 1933
Burslem & District Co-operative Society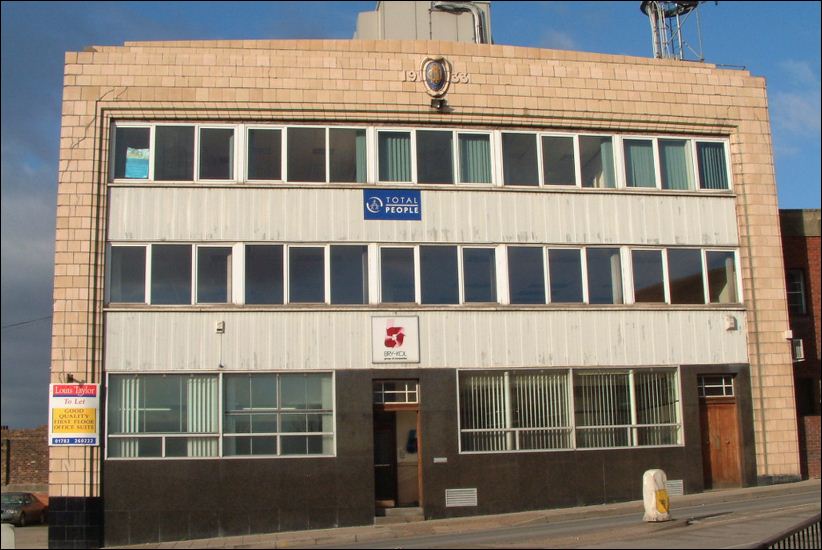 Burslem & District Co-operative Society headquarters on Newcastle Street, Burslem
built in the Art Deco style in 1933 to replace the original headquarters at 10, Newcastle Street

---
click the following links for more Co-op history in Stoke-on-Trent...
A Biography of Sir Frederick Hayward b.1876 d.1944
Sir Frederick 'Fred' Hayward, was an important figure in the co-operative movement of Staffordshire and held important roles in the Co-operative Union and the International Co-operative Alliance. He served as Lord Mayor of Stoke-on-Trent. In 1901, Hayward was one of the founder members of the Burslem Industrial Society.

Fred Hayward - Co-op unionist, the peoples' delegate
In 1910 Hayward was a pro-federation Burslem councillor, known as the 'quiet man' of federation, whose strong organisational skills were recognised when he was made mayor in 1925, the same year that King George V conferred the title of 'city' upon Stoke-on-Trent.


---




The 1932 opening of the Co-operative Emporium in Burslem

a copy of the pamphlet (and a transcription) accompanying the opening of a new Co-operative 'Emporium' in Burslem in September 1932.

---

'Cooperation ' - The Burslem & District Co-operative Society Ltd

Part of the 'Grand Tour' of the Potteries - an article by David Proudlove of the heritage of the Society in Burslem.

---




Co-operative Wholesale Society Ltd
The co-op operated a china manufacturing business at the Windsor Pottery, Longton




Crown Winsor
Following the voluntary liquidation of Shaw and Copestake (SylvaC) in 1982, the pottery was later fully taken over by United Co-operative Society and run under the name of Crown Winsor.

---




1957 advert for the Burslem and District Industrial Co-operative Society Ltd - from a Stoke-on-Trent City Handbook

---




Burslem Co-operative Society, Model Bakery, Newport, Burslem
The bakery was on the Burslem Branch Canal of the Trent & Mersey Canal.

---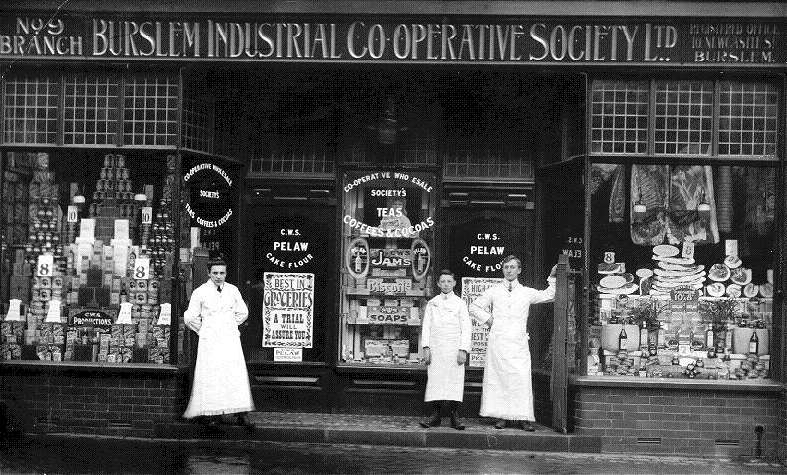 No. 9 Branch. Burslem Industrial Co-operative Society Ltd
Number 9 branch was probably at Bradeley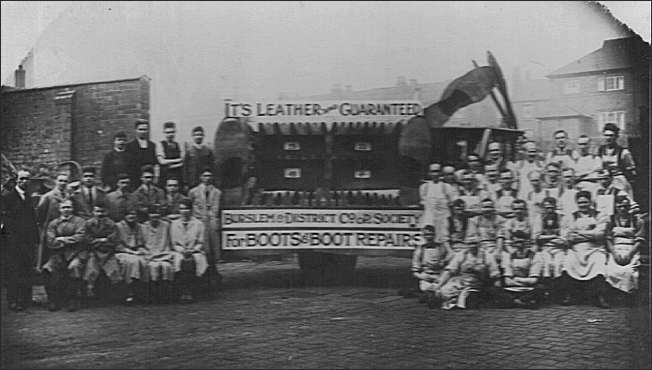 Burslem & District Co-op Society
For Boots & Boot Repairs

---