| | |
| --- | --- |
| Crown Winsor | |
Location and period of operation:
| | | | |
| --- | --- | --- | --- |
| Crown Winsor | Longton | 1984 | 1989 |
Following the voluntary liquidation of Shaw and Copestake (SylvaC) in 1982, the pottery was run by a workers co-operative trading under the name of Longton Ceramics. Eighteen months later the enterprise was fully taken over by United Co-operative Society and run under the name of Crown Winsor. In 1989 Crown Winsor closed and the site was subsequently taken by Portmeirion Potteries Ltd

The Co-operative society already owned the Windsor Pottery works and the Crown Clarence Pottery works and so the name "Crown Winsor" came into being.
Crown Winsor continued to produce some of the original SylvaC models as with the pensive little pink piggy bank, below left, who has the "Crown Winsor England" mark. The original with the "SylvaC Made in England" mark can be seen below right.


Pig produced by Crown Winsor using the original Shaw and Copestake "SylvaC" moulds.


Original SylvaC pig
---

CROWN WINSOR 8ins. Plate C.R.S. Golden Jubilee 1936-1986


Manufactured to commemorate the 50th.aniversary of the formation of the CRS (Co-operative Retail Serives Ltd).

Printed on the reverse. "Produced for the Co-operative Retail Services Ltd to commemorate the formation of the Society on 11th September 1934". Together with Crown Winsor name and trade mark
---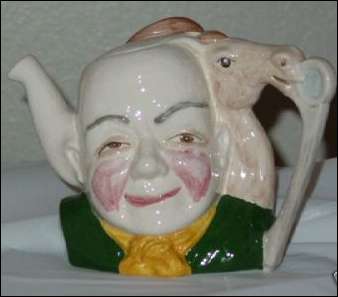 This teapot of a jockey and horse is 6" high and 10" wide.
It carries the Crown Winsor back stamp.
---

Initials used on ware for identification:
CROWN WINSOR
---

related pages...