Many politicians over the years have been given jobs they were plainly unsuited for. Even one of Arnold Bennett's fictional aldermen reasoned that they'd made him chairman of the arts committee because he knew nothing about art.
This certainly couldn't be said about Horace Barks (1895-1983) whose uninterrupted 44 year stint was mostly served as chairman of the genuine museums and libraries committee. And it was because of his individual appreciation of the subjects that Stoke-on-Trent has the outstanding services recognised today. The basalt plaque at the entrance to the City Central Library claims that Barks was the 'Father of the City Libraries and Museums' - a remarkable statement - but true.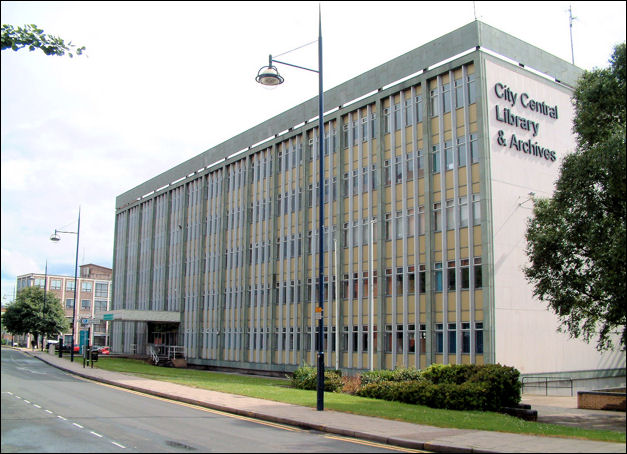 City Central Library & Archives
Housing the Horace Barks Reference Library
Barks was born in the Staffordshire village of Ipstones, near to the pub where the canal engineer James Brindley was laid low with the fever that killed him in September 1772. Horace's childhood friend was Agnes Catherine Johnson who became his wife and lifelong companion in 1915. They came to live in Smallthorne when the First World War ended, befriended by a village society that marked them as community leaders.
Serving on the Western Front, the heroic young infantryman was wounded on three occasions and was consequently posted to a railway battalion out of harm's way. Here he learned the rudiments of rail administration which helped him to get a job as a train guard riding 'The Knotty' in Stoke. This connected him to the powerful trade unions and led him to join the Labour Party in 1921.

In 1930 he became a councillor for ward 27 which included Smallthorne. He made an instant impact as a rebel, often voting against his party but managing to avoid punishment by using his celebrated clever wit and intelligent judgement.
It was during the lean years of industrial depression that the Horace and Agnes endeared themselves to the villagers by providing relief for the unemployed setting up a daily soup kitchen at their home. The Smallthorne community never forgot this unselfish generosity. And when Horace was made an alderman in 1948, his wife took over his council seat and even managed to increase the majority by a margin that has never been surpassed in Stoke-on-Trent. So safe was the Barks' seat that often no other party bothered to stand against them. Horace was made Lord Mayor in 1951, which was entirely in accord with the dawn of the New Elizabethan Age in the year of the Festival of Britain.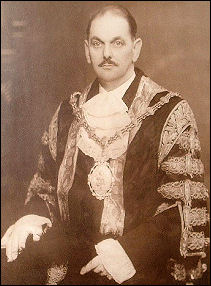 Horace Barks
Lord Mayor of Stoke-on-Trent 1951-52
First and foremost Horace was a peace-loving internationalist, stemming no doubt from the pointlessness of trench combat. He was also blessed with an insatiable thirst for knowledge and was a voracious consumer of books. He discovered adventure in language and unsurprisingly studied Esperanto, the accredited international language. His enthusiasm drove him to launch a regular series of courses at the Wedgwood Memorial College Barlaston from 1960 and the establishment of an Esperanto library. In 2001, the headquarters of the Esperanto Association of Britain was transferred here along with its collection of more than 15,000 books and its annual summer festival.
It was, however, his desire to centralise and improve the city's museums and libraries that made him the automatic choice as chairman of the primary heritage committees. Under his guidance a massively improved stock and turnover of books in lending libraries was initiated together with a mobile service for the growing outlying housing estates. His greatest achievement lay in the construction of the City Central Library which opened in 1970 incorporating a state-of-the-art research and archive department fittingly named the Horace Barks Reference Library.
Creating an archetypal learning centre and library was not easy at a time when most money was earmarked for town centre reconstruction and social housing development. Barks often fought bloody battles for the arts' share of the City's rates, and there is little doubt that an individual with lesser passion would have baulked before such powerful leaders that Stoke-on-Trent had then. But it was through his measured determination that the city gained its highly-regarded reference and first-class records service.
Horace Barks, alongside his legendary arts and heritage director Arnold Mountford, also led the concept and institution of the Potteries Museum in 1956 resulting in its award-winning manifestation in 1981.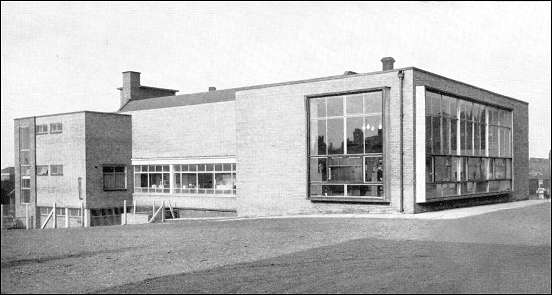 City Museum and Art Gallery, Hanley
From a 1957 Stoke-on-Trent Handbook
His love of literature naturally drew him to the works of Arnold Bennett helping to found the society which today carries international status in literary organisations. He was also a skilled cartoonist leaving many examples of sketches of his fellow councillors drawn on agenda papers and sometimes on official documents to the consternation of town hall staff.
In the end his promotion of internationalism was commemorated by naming a new street Esperanto Way and a public house The Green Star - or as they say in Esperanto, La Verda Stelo, the movement's official symbol - near to where he lived in Smallthorne. He was awarded the OBE for civic service and made a city freeman in 1974.
Horace Barks, the Lord Mayor of Stoke-on-Trent in the 1950's was known as "Mr. Esperanto" because of his passion for the language. He persuaded Bass Worthington brewery to add the words 'la verda stelo' to the side of 'The Green Star' - giving the Esperanto translation to the name.
Esperanto is a language created by Dr. Zamenhof from Poland in 1887. It was developed as an international language to enable people from all over the worlds to communicate with each other.
The Green Star is on the corner of 'Esperanto Way' and nearby is Zamenhof Grove'