In 1974, a former Labour leader of Newcastle-upon-Tyne who enjoyed pop-idol celebrity under the name of T. Dan Smith, was sent to prison for six years for civic corruption. Smith had long been suspected of shady-dealing when he was part of the critical Northern Economic Planning Council. But lax discipline and accessory dealings maintained a wall of silence. It was after the changes to local government administration in 1973 that rumours of endemic civic corruption began to reveal the extent of backhand transactions and cut-price deals in council planning and building estimates.
Early in 1977, the autocratic Labour leader of Staffordshire County Council, George Newman, had his tyrannical management curtailed when a jury at Stafford assizes sent him to prison for 15 months for corrupt activity. He was replaced, after his calamitous downfall, by his deputy, Arthur Cholerton.
Cholerton was also at the time leader of Stoke-on-Trent City Council, a position forced upon him after the city's previous leader, James Westwood fell from grace in the 1976 city elections. The impressive Westwood had been an instinctive administrator who was close to realising his dream of making Hanley the hub of a regional Stoke-on-Trent.

But he too had been caught up in the public's perception of civic indiscretion. A police enquiry into allegations of planning irregularities in Stoke-on-Trent had found the evidence unconvincing and no charges were brought against anyone. It nevertheless left a residual feeling of enmity.
It fell to Cholerton to pick up the reins of the two lost leaders. But the public were still angry. In 1977 the electorate killed off more Labour councillors, this time in the county elections, and Westwood was once again a casualty. Labour had hit rock bottom and needed a strong leader to change its fortunes. That leader was Arthur Cholerton.

Arthur Cholerton
Lord Mayor of Stoke-on-Trent 1971-72
While Westwood's city reconstruction plans were in danger of tumbling Cholerton set about creating a strong team from a depleted force resulting in what many consider to be the finest council since 1910. It was a congress of many talents; some, like Joe Monks-Neil, dazzled in changing the city's environmental landscape, while others became skilled in driving economic advancement. Foremost among these was Cholerton's city deputy, Ronald Southern.
This excessively industrious livewire was born in Manchester in 1930. He was raised in an orphanage following the separation of his large family after his father's early death. At fifteen he became a merchant seaman.
Southern came to Stoke-on-Trent in 1954 and joined the Labour Party soon after becoming a councillor for Norton and Ball Green. He fell in line with his heavyweight mentors Albert Bennett, Cholerton and Westwood and was seen their natural successor alongside a future county leader William Austin. Southern's career, though, was accelerated by Westwood's abrupt demise. And it was to Southern that Cholerton turned to put Westwood's projects back on track.
By 1981 Cholerton's consummate leadership had settled the ship. Labour regained control of the county while in the city a new concept of private and public partnerships began to open up opportunities for urban renewal. But his immense energy and commitment began to take a toll on his health, and in 1982 he handed the city leadership to Southern.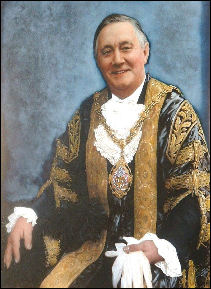 Ronald Southern
Lord Mayor of Stoke-on-Trent 1977-78
It was now time to deal in probability rather than possibility and Southern was one of the first council leaders to grasp the importance of the innovative Urban Enterprise Zones. He sensed the value of partnership and pioneered the establishment of the embryonic Stoke-on-Trent Regeneration Board using its power to override important local authority planning controls.

He took a giant leap in pushing the city-centre model that resulted in the redevelopment of the key Town Road and Market Square sites culminating in the assembly of the Potteries Shopping Centre in 1988.
But first, Southern used the government's garden festival proposals to liberate de-industrialised city locations. The council linked up with private investors alongside the new regional development agencies and turned 200 acres of blighted land formerly occupied by Shelton Steel into Britain's second National Garden site. Southern chose as his principal collaborator the regeneration company St Modwen who followed it up by redesigning the site into a hugely successful regional business and retail park.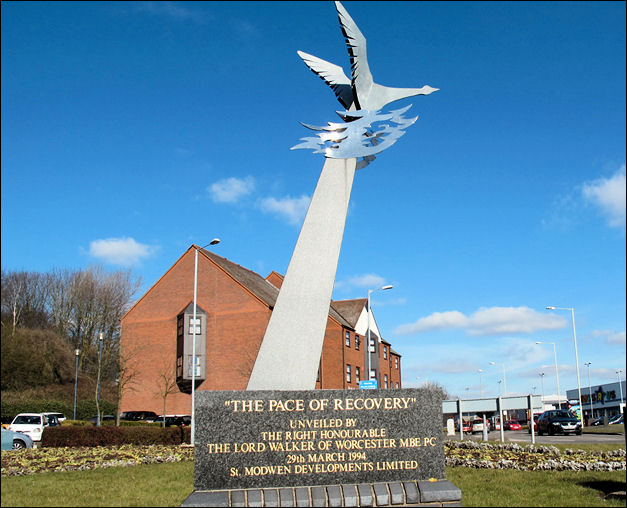 "The Pace of Recovery"
at the entrance to the Festival Park Site
"Southern chose as his principal collaborator the regeneration company St Modwen who followed it up by redesigning the site into a hugely successful regional business and retail park."
The eighties turned out to be the decade of reconstruction - ten years that saw the much-delayed plans to modernise Stoke-on-Trent come to fruition. Other initiatives followed - the inner ring road was completed in 1986. And towards the end Southern promoted the new Civic Centre in a legitimate attempt to regenerate the town of Stoke.
The leadership of Cholerton and particularly Southern, witnessed the completion of many Stoke-on-Trent delayed modernising projects. New partners and new investors were suddenly keen to trade where old industries fell into decline. Of course it would never achieve a Utopian end by itself, as history will recall, but it was a brave start.