It came about that, after one of the box-rope floggings by the drunken "handler" for whom I worked, I was sent to work at the lower bank, where chinaware was manufactured. Here I found circumstances as different as could be imagined.
There was no trace of the drunken rowdyism which prevailed at the higher works. The atmosphere was a perfect contrast to the one I had left. Throwers, turners and handlers worked quietly every day, not doing as much on Monday as on other days, for Saint Monday always received some regard. But there was no drinking followed, either at the beer-shop or on the premises. " The Foaming Quart" might have been a thousand miles away. " Old Rupert," the handler I worked for, was kind and considerate.

He never stormed, never swore, and certainly never flogged. On some fine spring days he would set himself and myself "a task" to do so much work, and when done to go bird-nesting. The work was done early in the afternoon, and off we went to the Highlane, and roamed through the fields and woods.
Many a charming ramble have we had, for Old Rupert knew the name and habits of every bird we saw. He very rarely took an egg out of a nest, but he liked to see them, and visited many nests until their young ones had flown away. I cannot tell the sense of sweet release from my previous slavery and terror that came over me in Old Rupert's service. He was poor, he was ignorant, and sometimes he got too much drink on the Saturday, largely tempted to do this no doubt by having to go to the public-house and wait for his wages.
But his cottage away up out of the town at Highlane, with fields and woods for miles around, was the centre of a very simple and enjoyable life. Sunday, with no church or chapel near him, was, I am afraid, simply a day of rest and recreation. To me he was simply an amiable and lovable pagan. He never breathed a word about religion, and yet there was a winning gentleness in all his life. I know this—his goodness to me was better than the religion of some I knew.
The old china bank to which I had removed was uplifting to me in another way. There were several men employed there who were really artists. They modelled specially beautiful figures in Parian. Occasionally they came across me, and sometimes I was in the places where they worked, though at times, when they were engaged on very special work, which "the master" did not wish to be known about until it arrived in "the showroom," they were locked up.
But when I met these men their gentleness and refinement brought a new strange influence upon me. In my two years of working life I had met with nothing but coarseness, even though it might, at times, be free from brutality. But now the speech of these men, and their looks and their ways, gave me a dim insight into another order of life. They came to their work as well dressed as "the master" himself.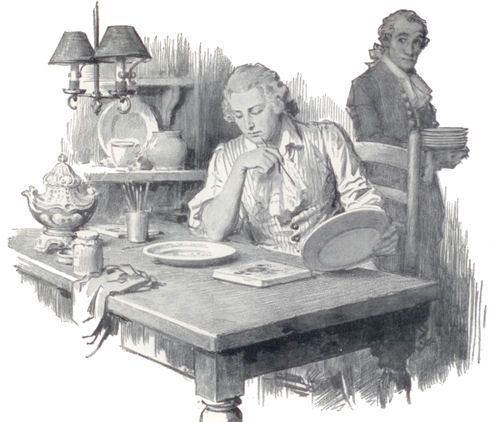 It was common in those days for "Bailees" and painters and gilders, as well as these modellers, to go to work in tall hats and swallow-tailed coats. But there was something about these men felt to be more distinctive than their dress. I did not know what it was then. I know now it was their culture and its simple refinement. To be spoken to in kindness, and with apparent interest and solicitude to please—this to a boy who had been mainly kicked and cuffed and sworn at for two years before he was ten years old was a new world, another atmosphere, and also charming and uplifting.
Old Rupert was kind, but this new kindness of these artists breathed with a grace which fell about me like sweet, soft sunshine. All this was a strange, sweet contrast to what I had met so far in my working life, but I little knew then how it was to stand out in even more vivid contrast to the experience so soon to be mine. Unfortunately for me this bright interlude suddenly closed.

One morning in the late autumn of 1842, instead of going to work with Old Rupert, right in the middle of the week, I was taken to the workhouse at Chell. This was a surprise to me, as I didn't know what it meant. I knew for weeks we had had scant food. I knew when Old Rupert saw my little bundle of food, which was to last till eight o'clock at night, he would eat less of what he had brought for himself and give me the remainder.

the face of Arnold Bennett watches over a family wending their way to the workhouse
- from a mural in the Potteries Shopping Centre -
But I had to go, "not knowing whither I went." I was awed and wistful about the changes I saw going on, but where my parents went I must go. My elder brothers could keep themselves, and my youngest brother was taken care of by two sisters. I, and a younger brother and a baby sister, with my father and mother, had "to go to Chell." I had heard that phrase before. It was often used in those days in bitterness and contempt and loathing.
I have often wondered if the word carries to other ears, and in these later days, all the inward repulsiveness of the words "Poorhouse," and "Bastile." Chell, Chell, Chell, was ever in those days a cruel word, with a metallic harshness in its utterance. The district, so called, was pleasant and healthy, with green fields stretching far away, and yet there was a building upon it which cast a blighting shadow, and this by no means from the structure itself, but from the poverty, the suffering, and the harshness it symbolised, and now I was going to Chell, "dumb-driven," not having said good-bye even to my dear friend Old Rupert. I remember I had earned tenpence for the work I had done, and I knew Old Rupert would see my parents or I had this tenpence whenever we came out of the workhouse.
But this I never received, and for this reason. Before I left the china bank there had been talk of a large teapot, as tall as myself, I was told, which was being made for the showroom. This teapot I had never seen, and I suppose it must have been put in the "greenhouse" to dry the week I went to Chell. Somehow it got damaged. It was supposed wilfully, and all who had to use the greenhouse were fined for the damage done, so went my last poor earnings in the first era of my working life. While somebody else was using my poor tenpence, "the Parish" had taken me up in its arms.
It is always said, "that life has its compensations." But I found "parish" compensations to be more bitter than what I had lost. I know I ought to have been grateful for my country's institutions. But ingratitude is a stubborn factor in all " ill-regulated minds."