As I shall now have need to refer to my father, to explain how it came about that I had to go to Chell, I may as well say a word or two about my parentage, and even touch part of my ancestry.
My father was a "painter and gilder." This sixty to seventy years ago was somewhat of an artistic pursuit.
The tide of "cheap and nasty," which Carlyle was then beginning to denounce, had not as yet touched the decoration of china ware. My father was led into this business because it was only when growing up into a young man that he found he would have to seek employment outside his father's business.

His father was a general dealer in china and earthenware, buying the productions of manufacturers and selling them in warehouses in Liverpool and Birmingham. He frequently went to London too, and many years after I came into possession of his coachbox covered with brown hairskin, with his initials, "C. S.," in brass-headed nails on the top of a semi-circular lid.

Bethesda Methodist Chapel - c. 1893
An incident which occurred when I had gone to Hanley, to be received as a local preacher on trial, in the yard vestry of Bethesda Chapel, gave me an insight into my grandfather's position which I had never known before. When my name was read out to the meeting, a Mr Mort, a gentleman well-known in Hanley, came and sat by my side and inquired if I had any relationship to the "late C___ S___ , of Brownhills." I told him I was his grandson. My grandfather had died nearly four years before this time, in the eighty-eighth year of his age. Mr Mort then expressed his great joy at meeting the grandson of one whom he had known and esteemed. "I knew your grandfather," he went on to say, "when he commanded more ready money than any man I knew in the Potteries." This was a revelation to me in view of what I had gone through in my early life.

I was led to inquire into this matter, and then my father told me that his father's business had been ruined by the profligacy, neglect and deception of one of his sons. This son had remarkable faculty for business, but being away from home, and in a great town, had been tempted and yielded, and so brought ruin upon his old father. This of course is an old story, but it is a link in my own.

I remember some things left to the old man from the wreckage of his fortune, and which used to excite my curiosity and make me feel that my grandfather must have belonged to another order of life from my own. I remember a great beaver hat, a large overcoat, with deep fur collar and cuffs, his knee-breeches and silk stockings, his frilled shirt, worn now on rare occasions, and his low shoes with their silver buckles worn frequently. I remember seeing the old man, in the few last years of his life, sitting in the sunshine at Brown-hills, on the roadside, just below the house which was once his own, and which was then quite in the country.
Though he had a fair distance to walk there from where he then lived, Brownhills, in his last days, always seemed his favourite resort. Whether it had an inner charm which he saw, in spite of outward changes, I don't know, but he always seemed to look upon the passers-by with a strange, far-away look. He knew but few in his later years, but if his old friend and neighbour, John Wood of Brownhills, came to talk with him, a new brightness seemed to come into his eyes, and a new animation into his life. It was interesting to see the antique courtesies of the two old men, and how they both seemed to revive in each other's fellowship.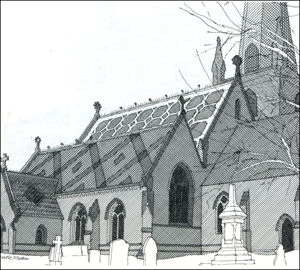 St. Margaret's Church, Wolstanton
I remember his funeral, and his burial in Wolstanton Churchyard, and I wondered he had chosen to be buried in such an old graveyard with so many hoary gravestones, instead of in the spick and span churchyard of Tunstall.
I don't wonder now. I have since found that my wonder was the unripe fruit of my youth.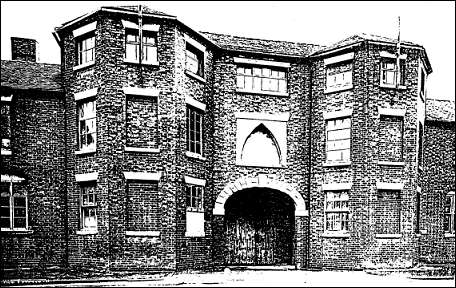 the three-story factory entrance to the Longport works
My mother was the daughter of James Mawdesley, once an exciseman, and afterwards manager of the china and glass works of Davenport's of Longport. After the peace following the victory of Waterloo, Mr Davenport determined to celebrate this victory by a demonstration of his own workpeople. These walked in procession from Longport to Burslem, with a band of music which was connected with the works. I have been told that Mr Davenport and my maternal grandfather walked at the head of this procession, wearing glass hats which had been made at the works specially for this occasion. I have dealt with this incident to show the curious play between one generation and another.
My maternal grandfather was honoured by his employer, while my father was ruined by the same employer's son. This was done with such calculated deliberation and with such force of animus that, as I shall show, it gave me a residence in Chell, where I began early to have experience of the new Poor Law.
I never knew then the amount of statesmanship its beneficient care of me involved. Had I known it, and if I could have detached myself from early sufferings so as to admire the general wisdom of the measure, I might not have suffered or complained so much. But philosophic patriotism does not readily mingle with the violence done to a boy who is forced from his home, who sees his parents turned out on the high road, who sees their silent tears and hears sobs on that highway which could not be suppressed.