OVEN MEN AND PLACERS
The most obvious risks to this group of people involved the effects of drastic temperature changes on the body. The transitions from hot to cold (and vice versa) disrupted the rhythmic action of the heart and gave circulatory complaints which sometimes led to death. The practice of sending placers into still warm ovens to remove ware also led to serious ailments. In order to clear an oven speedily men worked while the saggars were still hot. After thirty minutes in this environment the nose would bleed and eyesight would blur. In the long-term blindness was a familiar consequence. Hot dust in the ovens would scorch the lungs and produce respiratory ailments later in life.
The temperature fluctuations that bottle ovens were subjected to led to rapid expansion and contraction of the brickwork. Unless regular checks and repairs were made the whole structure rapidly became unstable. There is evidence that in odd cases workmen were killed by falling brickwork.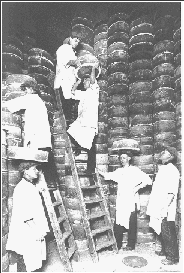 To protect their heads and to keep the SAGGARS in place,
the PLACERS wore rolls made from old stockings
which were wedged into the front of each man's cap.

Because the floor of the oven was sloping, the heavy BUNGS had to be wedged with pieces of broken SAGGAR, to enable them to stand upright. Because the temperatures within the oven varied widely, it was necessary to place the different types of ware in carefully selected locations.
"Terribly skilled jobs, you see. If the smoke got in it, it was all up with the ware inside, you see. Sulphur and all sorts of stuff out of the coal would disfigure that"
There is evidence that men often had to enter ovens which were too hot, because the factory owner required the ware urgently. In such cases, to protect themselves to some extent, the men wore wet rags over their hands and faces.
"You'd let your fire out on your ovens and you were supposed to wait forty eight hours until It 'd go cool - ours used to be opened after twenty four hours and it would still be red hot inside it. Then men would climb on inside and they used to have five overcoats on and about three jackets wrapped around their wrists, and he'd have to lift the saggars down with his padded arms ".
---
Examples of "placers" from the 1881 census for the Potteries area:-
1881 census:
Dwelling: High Lane
Census Place: Burslem, Stafford, England
| | | | | |
| --- | --- | --- | --- | --- |
| Name | Marr | Age | Sex | | Birthplace | Occupation |
| William HANCOCK | U 19 M | Boarder | Tunstall, Stafford | Potters Placer (Oven) |
1881 census:
Dwelling: 34 Keelings Lane
Census Place: Stoke Upon Trent, Stafford, England
| | | | | |
| --- | --- | --- | --- | --- |
| Name | Marr | Age | Sex | | Birthplace | Occupation |
| Sampson CLARKE | M 20 M | Head | Stoke, Stafford | Glost Oven Placer |
| Albenia CLARKE | M 21 F | Wife | London, Middlesex | |
| Sampson Henry CLARKE | U 6 m M | Son | Hanley, Stafford | |
---
---