| Index of all listed buildings |


Listed Buildings in Stoke-on-Trent and area
Tunstall Market
---
Area
Tunstall
Street
Butterfield Place
Heritage No.
161 A
Grade
II
Date Listed
15 March 1993
Building: Tunstall Market
Location:

STOKE ON TRENT SJ85SE BUTTERFIELD PLACE, Tunstall

Description:

Market. 1857-58. By GT Robinson of Leamington. Neo-Classical style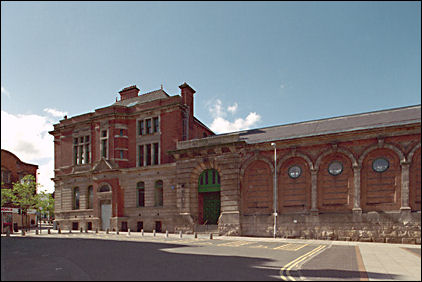 Tunstall Market (behind the Town Hall)
photo: © Clive Shenton May 2002

---

Market. 1857-58. By GT Robinson of Leamington. Neo-Classical style.

Channelled ashlar entrance block, the rest of brick with blue brick bands and stone dressings. Entrance bay to the west with concave moulded archway and massive entablature over, 6 blind arcaded bays to the east, with stone dressings and keystones, heavy stone cornice and rusticated plinth.

Wrought-iron roof trusses on cast-iron columns inside.





next: Christ Church, Tunstall
previous: Canal Milestone, North of Limekiln Bridge, Trentham

| Index of all listed buildings |
| Tunstall | Burslem | Hanley | Stoke | Fenton | Longton | Other areas |
---