Listed Buildings in Stoke-on-Trent and area
Christ Church, Tunstall
---
Area
Tunstall
Street
High Street
Heritage No.
162 A
Grade
II
Date Listed
15 March 1993
Building: Christ Church, Tunstall
Location:

STOKE ON TRENT SJ85SE High Street, Tunstall

Description:

Parish Church of 1831-1832, Faced with coursed and squared rubble, with Welsh slate roofs.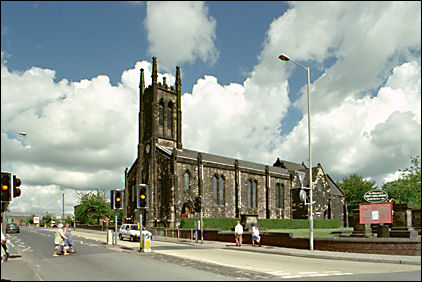 Christ Church, Tunstall
photo: © Clive Shenton Aug 2001

---

Parish Church. A Commissioners Church of 1831-1832 by Francis Bedford, with extensions by A.R. Wood.

Faced with coursed and squared rubble, with Welsh slate roofs. West tower with flanking aisles to nave, aisle chapels and enlarged chancel of 1884. West tower of 3 stages, with west doorway in chamfered arch with simple hood mould. Lancet light and clock over, and paired bell chamber lights.

Angle buttresses form cusped finials to parapet. Blind west windows to aisles, which are divided into bays by thin pilaster buttresses with gablets, each bay containing paired lancet windows.

South door with moulded arch beneath angled hood mould suggesting vestigial gable. South aisle chapel, and chancel with 3-lights. Decorated east window with panelled frieze below and central buttress with gablet. North vestry. Inside, the chancel arch with marble shafts carried on corbels. Boarded ceilings in chancel, painted with quatrefoil frieze. stained glass and fittings (altar, reredos etc) are early 20th Century.
(The Victoria History of the Counties of England: RB Pugh: Staffordshire: Oxford: 1963-).
---

Christ Church - Tunstall
photo: Clive Woolliscroft - March 2007
Christ Church. 1830-1. By F. Bedford, Another big Commissioners' church (cost £3,146) outside the town centre proper, w tower with pinnacles and spire; embraced.
Nave of three wide bays with pairs of lancet windows. The transepts and chancel are of 1885-6 by A. R. Wood.
Pevsner: The Buildings of England


more on Christ Church, Tunstall