Listed Buildings in Stoke-on-Trent and area
Clock Tower, Tunstall
---
Area
Tunstall
Street
Tower Square
Heritage No.
167 A
Grade
II
Date Listed
29 Oct 1986
Building: Clock Tower and attached railings
Location:

STOKE ON TRENT SJ85SE TOWER SQUARE, Tunstall

Description: Clock Tower, 1893 - yellow terracotta square chamfered pier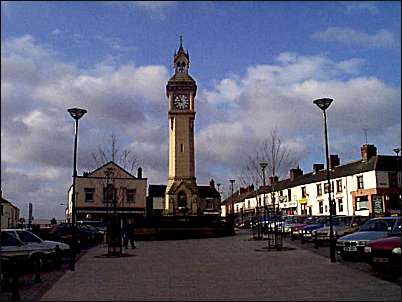 Clock Tower - Tower Square, Tunstall
In the centre is the clock tower, erected in 1893, in a yellowish brick.
The tower stands on the site of the original town hall.
to the left is the former chapel of the Methodist New Connexion

---

Clock Tower. 1893, paid for by public subscription in commemoration of the Smith-Child family.

Yellow terracotta in imitation of ashlar masonry. Square chamfered pier on wider base with gableted pilaster buttresses.

Small shouldered archway to doorway giving access to stair in one facade, the others having recessed arched panels bearing inscriptions of donors names, and facing the Town Hall, a bust set in a foiled niche with ornate hood mould over.

The clock itself is set in a square stage with gableted cap surmounted by a small fleche. The tower is raised on steps and surrounded by cast-iron railings, cast in Barnstable.
---



Sir Smith Child of Newfield Hall, Tunstall


THIS TOWER
was erected
by Public Subscription
A. D. 1893
in the Town of his birth
and in the 86th year of his age
IN HONOUR OF
SIR SMITH CHILD BART
A PHILANTHROPIST
who foremost by every good
work by generous gifts and wise
counsel sought to brighten the
lives of the
WORKING CLASSES
and by noble Endowment of
Convalescent Homes offered a
priceless boon to
THE SUFFERING POOR

photos: Steve Birks Aug 2001

---

Sir Smith Child: "He contributed annually to the Staffordshire Infirmary, served as president and vice-president of its general management committee and was elected a patron in 1895. In 1877 he built and endowed the Smith Child ward, originally intended for incurable patients but eventually opened as a children's hospital. Two years earlier he had founded the North Staffordshire Incurables Fund, for sending . patients on holiday. He also supported, in Tunstall, the local Nursing Society and the Samaritan Society, and at Longton the Cottage Hospital.

His benefactions extended to other fields. He supported the Tunstall Choral Society; the Victoria Institute, Tunstall, was built largely as a result of his efforts and support and accommodated, at various times, a museum, an art school, a technical school, a high school for girls, a library and a reading room. Nor were his benefactions confined to Tunstall. He supported the establishment of the Wedgwood Institute, Burslem, gave £200 to the North Staffordshire Chamber of Commerce to encourage the teaching of Spanish and Portuguese, the languages of the expanding pottery markets in South America, and £1,000 towards the establishment of a girls' industrial school at Lichfield."

Source: People of the Potteries.

---


on Sir Smith Child




next: Lodge at Harecastle Tunnel
previous: Former Chapel of the Methodist New Connexion, Tunstall