| Index of all listed buildings |


Listed Buildings in Stoke-on-Trent and area
James Kent Kilns, Fenton
---
Area
Fenton
Street
Fountain Street
Heritage No.
41a
Grade
II
Date Listed
20 Aug 1979
Building: Three calcining ovens in the works.
Location:

STOKE ON TRENT SJ84SE

Description: Calcining bottle ovens - C1900, brick with iron bands.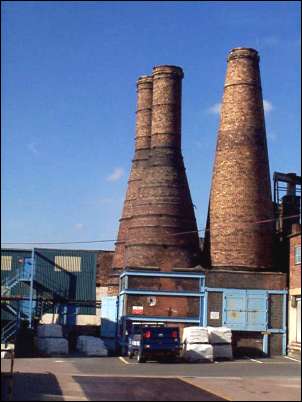 3 bottle kilns
photo: Steve Birks - Nov 1999

---

3 bottle ovens in premises occupied by Bayer U.K. Limited (Formerly Listed as: FOUNTAIN STREET, Fenton Three bottle kilns in yard of premises occupied by James Kent Ltd.) Formerly one of the Baker Pottery Works.

3 calcining kilns. c1900. Brick with iron bands.

Pair of free-standing kilns with square bases and one taller conical hovel.

Since at least the early 1920's this site has been occupied by the flint mill of James Kent Ltd. of the Old Foley Pottery.

---

| Index of all listed buildings |
| Tunstall | Burslem | Hanley | Stoke | Fenton | Longton | Other areas |
---

Related Pages
---
Lower Lane and the Baker family
Lower Lane was an area of Fenton which lay along the Newcastle-Uttoxeter road (now City Road) as it passed from Longton through to Stoke. In 1775 Lower Lane and Lane Delph were among the most populated parts of the area.
---