| | | |
| --- | --- | --- |
| | Stoke-on-Trent - Potworks of the week | |
Advert of the Week
Photo of the Week
W. Baker & Co, City Road, Fenton
The factory occupied by Bourne, Baker and Bourne (and later by William Baker), stood on the north side of the turnpike road from Longton to Stoke.
This area of Fenton was known as 'Lower Lane'

Three flint kilns at the works of W. Baker & Co, City Road, Fenton
Bakers pottery works were in operation from 1839 to 1932
the three calcining kilns are in James Kent (Ceramic Materials) Ltd works
on the site of one of Bakers factories.

picture: Willow Arts

Most of the original factory has been demolished but part of the entrance
and factory frontage have survived in what is now City Road.

the kilns are c1900, brick with iron bands. Grade II listed status
known locally as 'salt, pepper and vinegar' because of their tall slender shape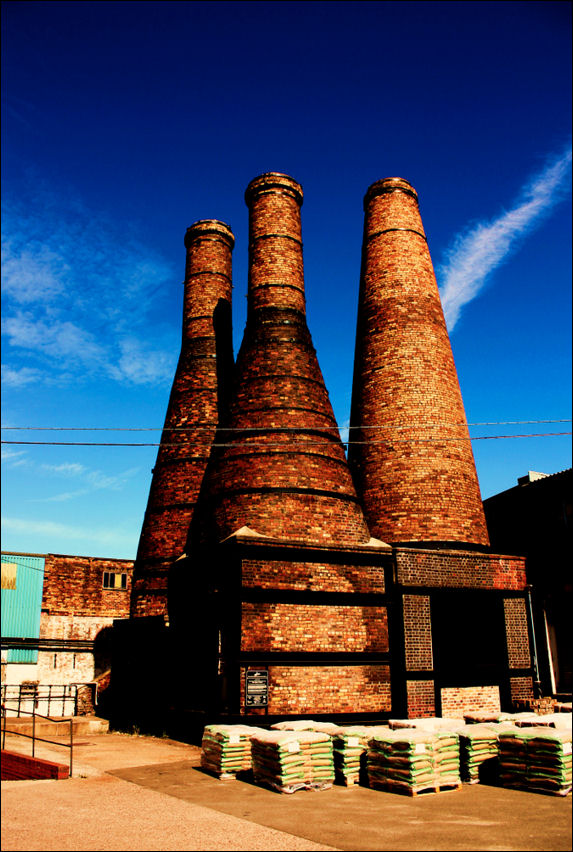 photo:
Ian Pearsall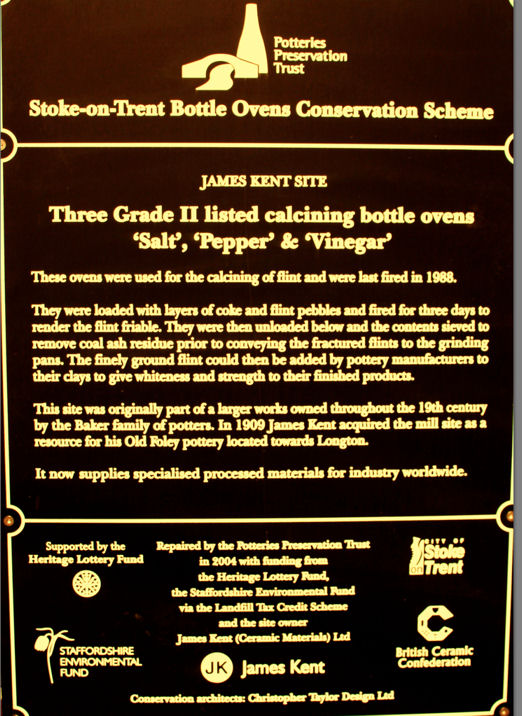 Stoke-on-Trent Bottle Ovens Conservation Scheme
JAMES KENT SITE
Three Grade II listed calcining bottle ovens
'Salt', 'Pepper' & 'Vinegar'
These ovens were used for the calcining of flint and were last fired in 1988
They were loaded with layers of coke and flint pebbles and fired for three days to render the flint friable. They were then unloaded below and the contents sieved to remove coal ash residue prior to conveying the fractured flints to the grinding pans. The finely ground flint could then be added by pottery manufacturers to their clays to give whiteness and strength to their finished products.
This site was originally part of a larger works owned throughout the 19th century by the Baker family of potters. In 1909 James Kent aquired the mill site as a resource for his Old Foley pottery located towards Longton.
It now supplies specialised processed materials for industry worldwide.