Listed Buildings in Stoke-on-Trent and area
Falcon Pottery Works, Hanley
---
Area
Hanley
Street
Old Town Road
Heritage No.
52 B
Grade
II
Date Listed
25 May 1989
Building: Falcon Pottery in occupation by Weatherby's
Location:

STOKE ON TRENT SJ84NE

Old Town Road, Hanley
Description:

POT BANK, 1906, SITE ESTAB. 1891, BRICK WITH PLAIN TILED ROOF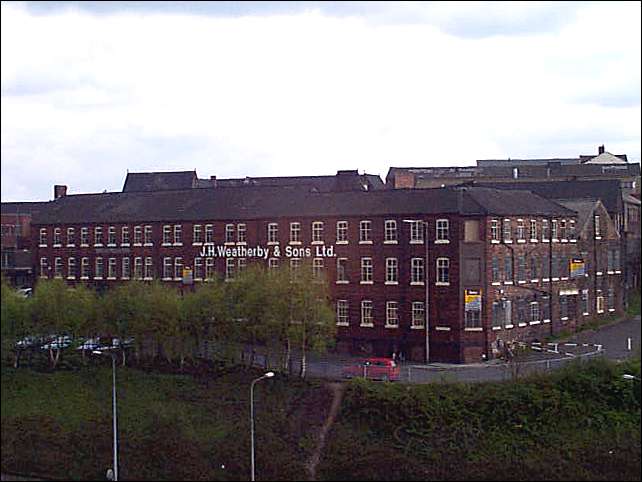 Weatherby's Falcon Works
---
Pot Bank. 1906, with use of site established by 1891.
Brick with plain tiled roofs. Extensive workshop ranges loosely grouped around yard. Entrance range of 3 storeys and 23 bays, with entrance arch to the yard towards the left of elevation, with cast-iron lintel and mosaic lettering: "Falcon Pottery".
Blue and red brick cambered heads to windows, and blue brick bands. This facade fronts a rougher brickwork in side elevations, suggesting that it is perhaps the refronting of an earlier range.
Squat bottle kiln in courtyard, a circular hovel over downdraught oven, adjoining an earlier range of buildings. The remains of one of the few surviving muffle kilns in the City are also housed on this site.
The works extends back from Old Town Street, with 8 bays in the side elevation of the frontage range, and a further 3-storeyed range of 12 bays beyond, a later addition.
---



Falcon Pottery, the entrance to the yard.


Frontage of the works in Old Town Road, Hanley

photos: Steve Birks 2001

---

looking down Old Town Road with a view of the frontage and bottle kiln
photo: Steve Birks Feb 2008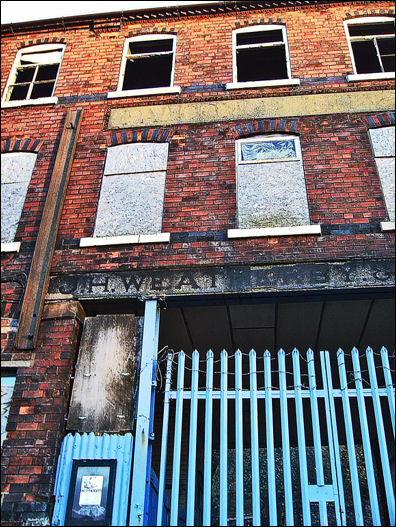 J H Weatherby & Sons Gates
photo: © Chris Oldham 2007
more on Weatherby








next: Regent Theatre, Piccadilly, Hanley
previous: Bottle Oven at Falcon Pottery, Old Town Road, Hanley