Listed Buildings in Stoke-on-Trent and area
Enson Pottery Works, Longton
---
Area
Longton
Street
Chelson Street
Heritage No.
84 A
Grade
II
Date Listed
20 August 1979
Building: Enson Pottery Works
Location:

STOKE ON TRENT SJ94SW CHELSON STREET

Description: Mid late 19th Century - 4 bottle ovens and two story works range.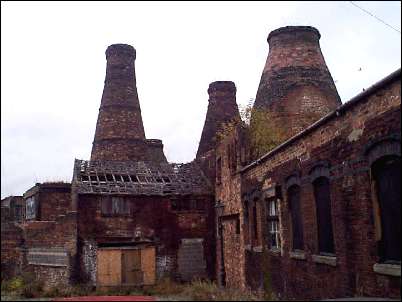 Bottle Kilns at Enson Pottery
photo: Steve Birks Oct 1999
taken from Short Street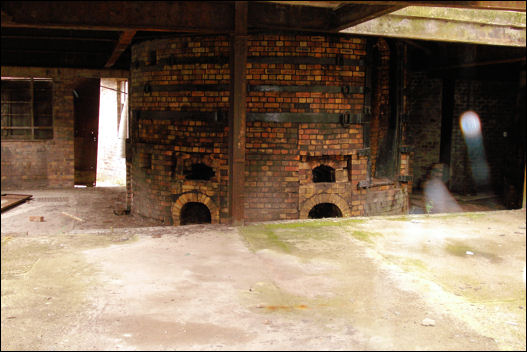 this kiln at the Enson Works is in the range (inside the works) with only the top of the bottle
protruding through the roof
The 'bonts' are clearly visible running round the oven
around the base are the firemouths
The inner part is the kin proper. It is a round structure with a domed roof, the CROWN, and its wall are approximately one foot thick.
Iron bands known as BONTS, set about twelve inches apart, run right round the circular oven to strengthen it as it expands and contracts during the firing.

---

Pottery works (Enson Works)

(Formerly Listed as: CHELSTON STREET, Longton Three Bottle Kilns in rear range .... of premises occupied by Ashdale Pottery)

(Formerly Listed as: SHORT STREET, Longton Bottle Kiln in rear range of premises occ. by N Staffordshire Electric Co)

Pottery works. Late C19 with later rebuildings. Brick with tiled roofs. Courtyard plan. 2-storeyed, with arched entrance. 2-storeyed rear wing built in 2 phases with integral bottle oven. 3 further kilns in complex behind, all incorporated in buildings, one built or rebuilt in 1937.
---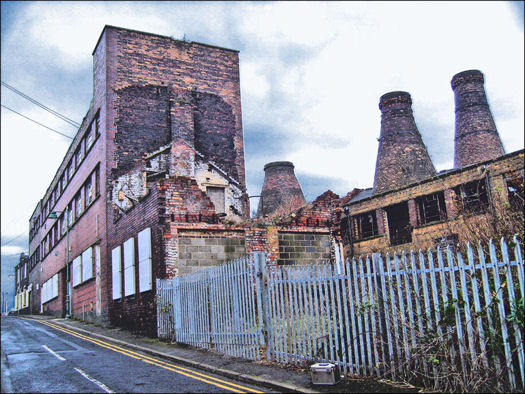 Chelson Street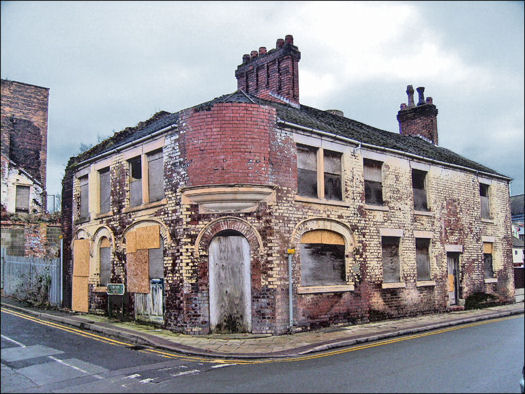 Frontage of the works on Chelson Street & Normacot Road
Pottery works, 2-storeyed, with arched entrance.
photos: Chris Oldham 2007
---

Bottle Ovens of the Enson Works
photo: Nov 2002 Linden Cooke


Enson Works at Short Street
Sid Kirkham

---

Short Street Cottages








next: Bottle Ovens at Commerce Works, Longton
previous: The White House, Chadwick Street, Longton