Listed Buildings in Stoke-on-Trent and area
Two Bottle Kilns, Commerce Street, Longton
---
Area
Longton
Street
Commerce Street
Heritage No.
99 A
Grade
II
Date Listed
07 march 1989
Building: Two bottle ovens at the Commerce Pottery Works
Location:

STOKE ON TRENT SJ94SW COMMERCE STREET

Description: Pair of circular hovels within a workshop range, mid 19th Century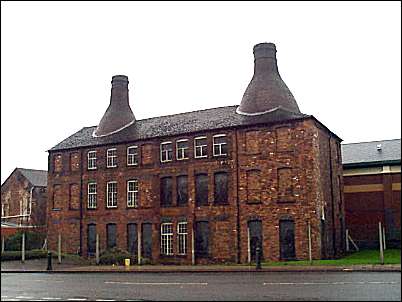 Two remaining bottle kilns at the Commerce Street Works

Pair of circular hovels within a workshop range
photos: Steve Birks Jan 2001
---

Commerce Works (Formerly Listed as: LONGTON COMMERCE STREET, Longton (West side) 2 Bottle Kilns at Ashdale Pottery Products)

Pottery works. Late C19.

Brick with plain tiled roofs. Courtyard plan. Entrance range of 3 storeys and 4 bays, with doorway and central archway to rear. Wide windows with flat-arched heads with hood moulds.

Long 3-storeyed range to rear may be slightly earlier, and houses 2 updraught kilns in circular hovels, with adjacent square section chimney.
---


aerial photo: MS Virtual Earth 2008





next: Longton Lane Farm, Longton
previous: Enson Works, Chelson Street,, Longton