Cobridge pottery manufacturers listed by Samuel Scriven in 1840
| | |
| --- | --- |
| Class | CORBRIDGE (sic) |
| 2 | Harding and Coxson. |
| 1 | Alcock and Co. |
| 1 | Wood and Bromfield. |
| 2 | Goodwin and Sons. |
| 2 | Goodwin and Co. |
| 2 | Hughes and Co. |
| 2 | Dillon and Co. |
| 2 | Jones and Co |
---
William Brownfield's Cobridge Works in Waterloo Road was built in 1808 and was occupied by several important firms before it was taken by Robinson, Wood & Brownfield (c.1836-41) and then by, Wood and Brownfield (1841-50).
From November 1, 1850, we find Brownfield working on his own account: however, up to 1871 he produced only earthenwares, his best-known products being perhaps the host of moulded jugs which often bear his initial mark 'WB', frequently within the Staffordshire knot device.
William Brownfield's entry in the 1861 Census returns shows that he was then aged 48, was an Alderman, a Country and Borough Magistrate. By trade he was an 'Earthenware manufacturer' employing 177 men, 114 women, 88 boys and 73 girls, a total of 452 persons. He was also a 'Flint Stone Merchant'. At one time the firm employed 500 people.


Impressed mark on William Brownfield ware
the initials WB are at the bottom of the circle and the pattern name "CASHMERE" and town name "COBRIDGE" are also included. in the centre is a faux registration diamond.
c.1850-71

William Brownfield was a Liberal and supported J. C. Ricardo's candidacy in the parliamentary election for Stoke upon Trent in 1841.
He was also a member of Bethesda Methodist New Connexion church. He served as a market trustee and commissioner for Hanley and was chief bailiff in 1844. He favoured Hanley's incorporation as a borough and 1858 became Hanley's mayor in succession to John Ridgway. He was a borough and county magistrate and later a deputy lieutenant. He was a director of the Staffordshire Potteries Waterworks Company and of the North Staffordshire Railway.

Reproduced from the Pottery Gazette, 1886

---
Samuel Scriven interviewed employees from Stoke-on-Trent pottery works for the Royal Commission on Children's Employment in 1841. Some of the evidence taken at Messrs Wood and Brownfield's works — is reproduced below.
Messrs. WOOD and BROWNFIELD's Earthenware Factory, Cobridge.
No. 208. Sarah Morris, aged 28, and Ann Bradbury, aged 35:
We are the superintendents of the apprentice girl's painting department, and have 24 females of all ages in the same room ; out of that number there are 10 children under 13 years of age. Most of them can read, but few write. They come at seven in the morning, and leave at six; they - are allowed half an hour for breakfast one hour for dinner. Some that live away off stay to get their dinners in the work-rooms ; they cook them on the stove-pots; always take their hour, and sometimes play before they begin work. Some live pretty well,—others but middling. Their general conduct is tolerably good. We keep our eyes upon them, and check anything like misconduct. They get their regular holidays at wake times. We have no other rewards except that of putting them forward in their trade. Have no punishments by making them paint extra pieces, because they do piece-work, and all try to do as much as they can. They get here half the price of journeywomen for the first five years. We think that taking an equal number of girls from the painting-room and from other occupations in the same sphere of life, in point of moral conduct the painters would prove superior.
No. 209 Robert Humphries, aged 8 :
I turn jigger for William Massey. Have been to work about six months. Can read a little, not much—cannot write. Went to Catholic day school ; go now to Sunday school ; go to the Methodist Chapel every Sunday. My father has been dead four years. My mother lives at home ; her does nothing. I have a brother six years old ; he goes to school. I get 10 1/2d. a week ; only work three days a week. I get for breakfast milk-meat and dry bread ; gravy and tatees for dinner, - sometimes onions. I come at hafe-past six ; go home at hafe-past six ; get my supper, and go to bed very tired.
These premises are extensive, rooms better than common.
February 11th. (1841)
---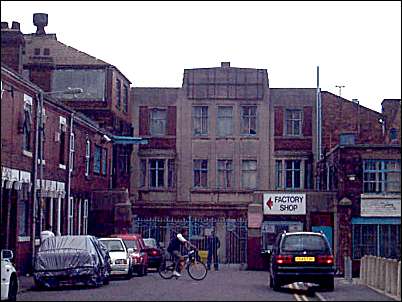 Crane Street (off Waterloo Road) - and part of Churchill Pottery
(on the site of the Brownfield Pottery)
- photo 2001 - now (2008) demolished to make way for housing

Brownfield Terrace
Waterloo Road - on the opposite side of the pottery works

Brownfield Terrace 1889
- plaque on house -
---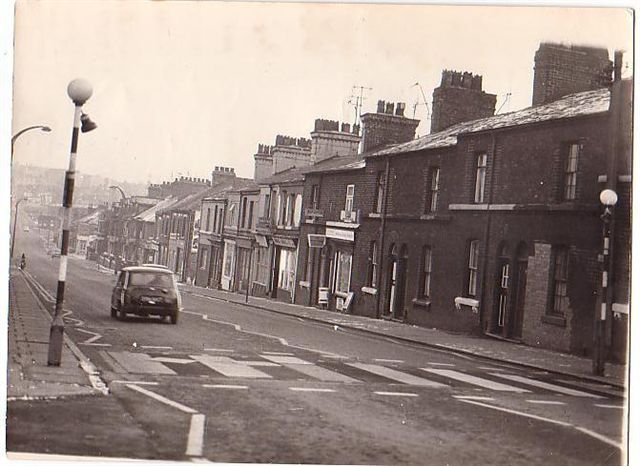 Waterloo Road, looking downwards to Vale Place and Hanley
near to Brownfield Terrace
"This picture was taken of Waterloo road, looking towards Vale Place, the shop on the right with the waste bin outside was where I lived with my parent from about 1935-6 until the death of my father Harry Chell 1943, the shop was a news agents. From Portland Street to Cobridge traffic lights there were three newsagents shops, our family then moved to Windermere Street."
Alan Chell