St. Paul's - the church in Dale Hall
The original St. Paul's church was described as a "large and handsome Gothic edifice, with a lofty tower". Due to subsidence this church was demolished in 1974 and was replaced with the most uninspiring shed of a building which at the best looks like a row of racing pigeon huts!

St. Paul's parish church - Burslem
Church Square
photo: August 2008
this church replaced the original 1828 church which was demolished in 1974
the church in 2000

---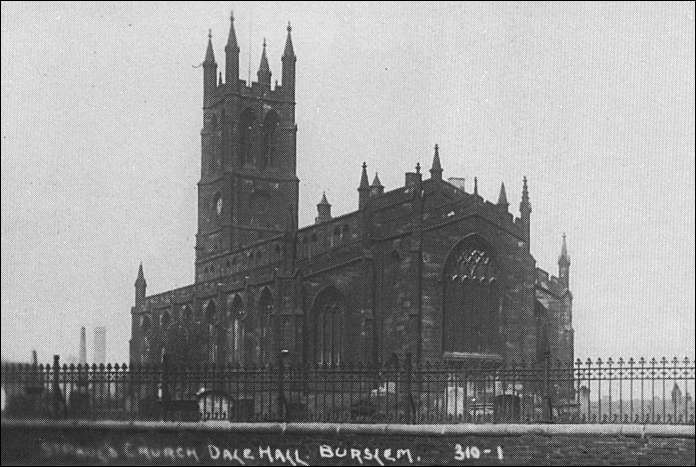 Postcard of St. Paul's Church c.1920
"St Paul's church stands in a cemetery of three acres, between Burslem, Longport, and Dalehall. It is a large and handsome Gothic edifice, with a lofty tower. The first stone was laid 24th June 1828 and the fabric was completed by the close of 1830.
The perpetual curacy is in the patronage of the rector of Burslem, and incumbency of the Rev PB Ellis, BA."
[From History, Gazetteer and Directory of Staffordshire, William White, Sheffield, 1851]
The church was a large building in Hollington stone, in the Perpendicular style, consisting of a shallow chancel, clerestoried nave, aisles and an embattled western tower 115 feet high, with pinnacles, containing a clock and one bell.
St Paul's originally formed a district chapelry to St John, Burslem, comprising Longport and Dale Hall. It was created an ecclesiastical parish on 24th January 1845.
St. Paul's Church was built in 1828. As it was being constructed, Enoch Wood had chambers built into the walls that he filled with pottery made by his family. The pottery included printed and painted earthenware, and figures In 1974 the church was subsiding and had become dangerous. On the demolition of St. Paul's Church, Enoch Wood's pottery was discovered and a portion of it was given to this museum.


1832 Map of Burslem
showing the location of St. Paul's Church

from The Potteries Museum
---

North East View of St. Paul's Church - 1841
showing the church standing by itself among moorlands, with a west tower, and a clear view of the east window.

© Staffordshire Past Tracks


---
Although the present St. Paul's is uninspiring the impressive churches of St. Josephs, Burslem and St. Margaret's, Wolstanton dominate the Dalehall area and can be seen between the housing.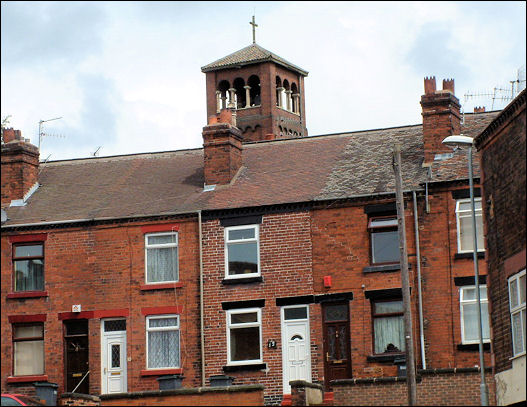 St. Josephs, Burslem behind the terrace housing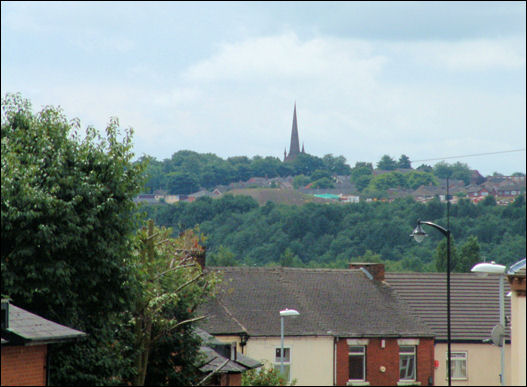 St. Margaret's church, Wolstanton