---
1895 map showing location of The Sytch

1895 map showing location of The Sytch
Sytch - a small area centred on Westport Road (was called Liverpool Road), Burslem.
Westport Road is a steep road running from Burslem down to Brownhills.
Bottom Church = St. John's


Church to the left = St. Paul's


Square = St. John's Square


---
1832 map showing location of Sytch Hollow & Burslem Mill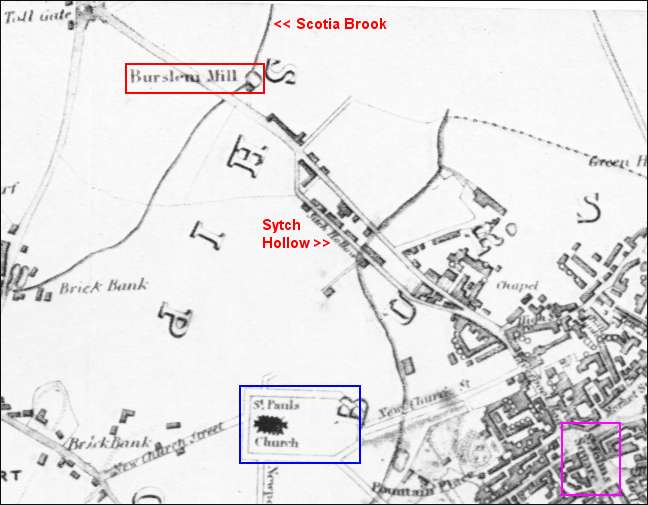 From a map of 1832 by T. Hargreaves showing location of Sytch Hollow
Burslem Mill located on Scotia Brook and just to the east of Liverpool Road was also called "Sytch Mill"
and Scotia Brook was also known as "Sytch Brook"
NOTE: on this map the spelling is "Sitch Hollow"

Church, bottom centre = St. Paul's


Square, bottom left = St. John's Square


---
1800 map showing location of Hill Top, the Sytch & Sytch Brook

1800 map showing location of The Sytch & Scotia (Sytch) Brook

---
1750 map showing location of Hill Top, the Sytch & Sytch Brook

1750 map showing location of The Sytch & Sytch Brook

---
---