James Hayward, a potter, was for many years a prominent member of the executive of the Pottery Workers' Society and a director of the Star Mutual Building Society.
father: John Hayward
mother:
James Hayward b.1849

wife: Letty Bennett b.1849

children
4 sons:

William b.1874
Fred (later Sir Fred Hayward) b.1876
Harry b.1878
Albert James b.1891

1 daughter:

Mary b.1883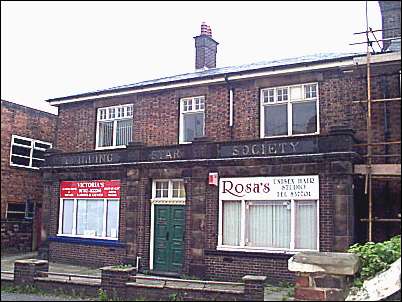 This Georgian house, in Wedgwood Place Burslem,
had a frontage added at a later date when it was occupied by
the Star Building Society.
photo: May 2000
James's son Albert James Hayward was involved in the Halesowen Co-operative milk society but it was Frederick who was to be heavily involved in the Co-operative society both in Stoke-on-Trent and nationally.

Sir Frederick Hayward
James Hayward and Letty Bennett were married on 3rd May 1873 at the Burslem Sunday School 'according to the rites and ceremonies of the Methodist Free Churches". James was a potter and Letty a warehouse woman at the time. His father was John Hayward (deceased at the time) and her father William Bennett a carter.
1881 census:
Dwelling: 30 Henry Street
Census Place: Wolstanton, Staffordshire, England
| | | | | |
| --- | --- | --- | --- | --- |
| Name | Marr | Age | Sex | | Birthplace | Occupation |
| James HAYWARD | M 32 M | Head | Burslem | Potter Dishmaker |
| Letty HAYWARD | M 32 F | Wife | Mucclestone, Staffordshire | |
| William A. HAYWARD | 7 M | Son | Burslem | Scholar |
| Fred HAYWARD | 5 M | Son | Burslem | Scholar |
| Harry HAYWARD | 3 M | Son | Tunstall | Scholar |
1901 census:

In the 1901 census the family were recorded as Haywood and not Hayward.
At that stage Fred Hayward and his wife Mary (nee Hudson) were just married and living in Gibson Street.

James Hayward and his wife Lettie (Letty) were at 20 Market Place, Burslem with their remaining three children - Harry (23), Mary (18) and Albert James (10)
Dwelling: 20 Market Place, Burslem
| | | | | |
| --- | --- | --- | --- | --- |
| Name | Age | | Birthplace | Occupation |
| James HAYWARD | 52 | Head | Burslem | |
| Lettie HAYWARD | 52 | Wife | Mucclestone, Salop | |
| Harry HAYWARD | 23 | Son | Tunstall | shopkeeper/tobacconist |
| Mary E HAYWARD | 18 | Daughter | Tunstall | dressmaker |
| Albert J HAYWARD | 10 | Son | Tunstall | |