Washing day
(Alan Chell's memories)
Monday was always traditionally washing day. It started early in the morning. The first job was to fill the big iron boiler with water; this was located in the back kitchen. It was brick built with a fire hole at the base and a small iron door. After filling the boiler the fire hole was cleaned out and the fire kindled.
The washing was put into the boiler and, when it had been boiled other utensils used in washing were used : dolly peg, dolly tub, and last, but not least, the mangle with its large wooden rollers and a very large iron wheel with which to turn it - no automatic washers in the days; and of course, Robin starch for the shirt collars. When wearing the collars, one took great care not to turn one's head quickly as this may have caused decapitation!

Robin Starch


dolly tub and peg
washing laundry using a dolly peg and tub.

photo: © Alstonefield Local History Society
Staffordshire Past Tracks

Domestic life
Of course the domestic scene in those days was vastly different from today. There were no fully automatic waning machines which could be switched on and left to complete the task, The first thing that was required was to get up early on a Monday morning, go into the back kitchen, get a quantity of coal and sticks and light a fire under the brick built boiler which was situated in one corner. While the fire was kindling, we would get a bucket and fill the boiler with several buckets of cold water from the tap over the sink as that was the only supply available.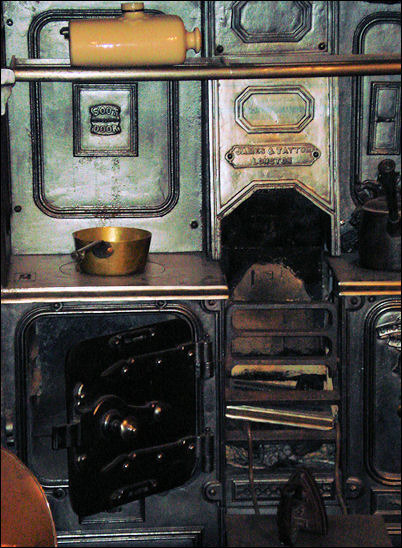 Back kitchen range - James & Tatton, Longton
There was no hot water tap or immersion heater to be seen. Usually other items used in the washing day chores could be seen standing around; items such as a dolly peg which was the forerunner of today's washing machine agitator.