| | | |
| --- | --- | --- |
| | Stoke-on-Trent - photo of the week | |
Advert of the Week
Potworks of the Week

Breaking the Mould - at Berryhill Greenway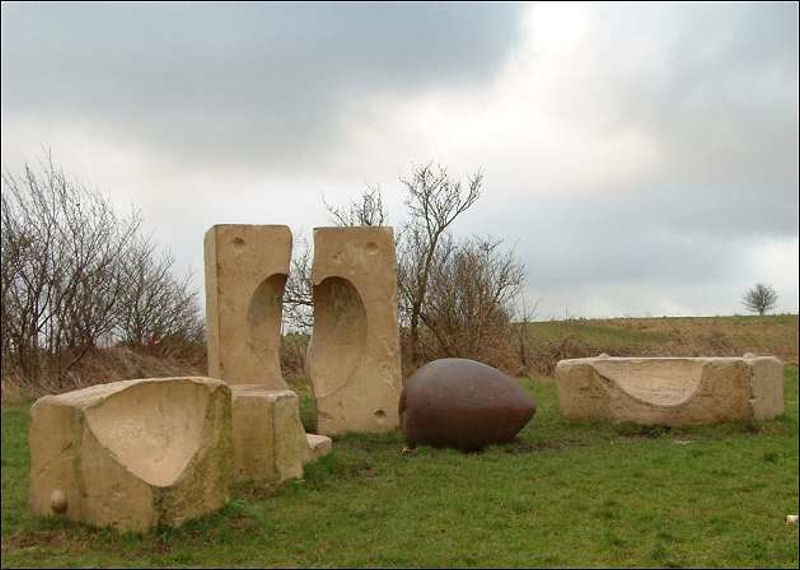 Breaking the Mould - at Berryhill Greenway
Sculpture by Andrew McKeown
The Millennium Commission programme, launched in 1995, was to transform 'underused, often dangerous and neglected wastelands into new recreational facilities for the benefit of local communities.' And beyond that, to give hope and confidence to individuals whose talents and skills were underdeveloped or underused.
The sculpture was part of the restoration of the Berryhill fields after they had been saved from opencast mining.

There was a strong emphasis on community involvement throughout the project, and the Berryhill Friends Group played a key role in its management.
The sculpture consists of five concrete blocks with concave inner surfaces surround an ovoid in Corten steel with leaf veining on its upper surface and carving suggesting the joining of a fruit to its stem on the left hand side.
Two blocks standing upright behind the 'fruit' and the left hand block lying on its side also have leaf veining on their inner surfaces.
Rivets and rivet holes are moulded onto the surface of four of the blocks - holes on the upright ones; rivets on the ones on their sides to the right and left of the 'fruit'.
One interpretation is that, by showing the 'fruit' breaking free of the rivets, it suggests the area, a former mining site reclaimed for leisure use, is breaking away from its industrial past. However, this interpretation cannot explain why the 'fruit' is made from Corten steel, with all its obvious industrial associations.
CHANGING PLACES - 2000 A.D.
BREAKING THE MOULD - 1 OF 21.
(GROUNDWORK logo)
ARTIST - ANDREW MCKEOWN
M