Advert of the Week
Potworks of the Week

Havergal Brian, composer, and his association with Stoke-on-Trent
The most important composer to originate from the Potteries.

Born William Brian in 1876 at Ricardo Street, Dresdon, Longton.

He took for himself a middle name 'Havergal', probably after the surname of Frances Ridley Havergal - a hymn writer from Worcestershire. Her brother Henry Havergal was a church organist (as was William Brian). William Havergal Brian often dropped his first name and was mostly known as Havergal.
---
Brian's Gothic Symphony
- part of the BBC Proms 2011 programme,
broadcast live from the Royal Albert Hall on BBC Radio 3 on Sunday 16th July.
"The first Choral Sunday of the season boasts the grandest statement of British choral music, Havergal Brian's Gothic Symphony.
Two BBC orchestras, four brass bands, six choruses, four youth choruses and four star soloists join together for the Proms debut of this epic English "Symphony of a Thousand".

According to conductor Martyn Brabbins it is the biggest classical undertakings ever mounted - "It's going to be a fantastic sonic spectacle, Gothic in the sense of architecture, detail, grandeur and mystery".
Written in 1920, it's only been performed in concert five times since. The Gothic Symphony won a place in the Guinness Book of Records for being the longest symphony, requiring the largest forces."
---

Bust of Havergal Brian in the Potteries Museum and Art Gallery
This bronze of the composer was produced by the sculptor Richard Thomas
photo: Calotype64

---

Born William Brian - he lived in one of the houses on the left of Ricardo Street, Dresdem, Longton
born in 1876 - the Brian family lived at 35 Ricardo Street
photo: The Blake Collection at The Potteries Museum and Art Galley / Staffordshire Past Track
---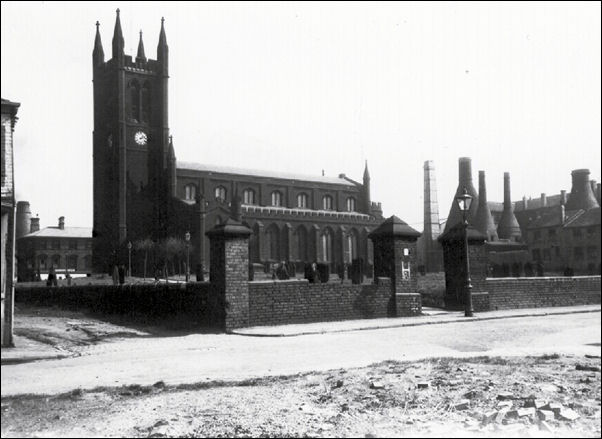 The church of St. James-the-Less, Normcot Road, Longton
photo: c.1950's - Lovatt Collection
Havergal Brian attended St. James Parish School and was a choirboy at St. James' Church Longton and at other choirs.

At the age of 13 he became the deputy organist at St. James's - he also played the organ at Holy Trinity Church, Meir and the Church of the Good Shepherd, Rode Heath, near Mow Cop in Cheshire.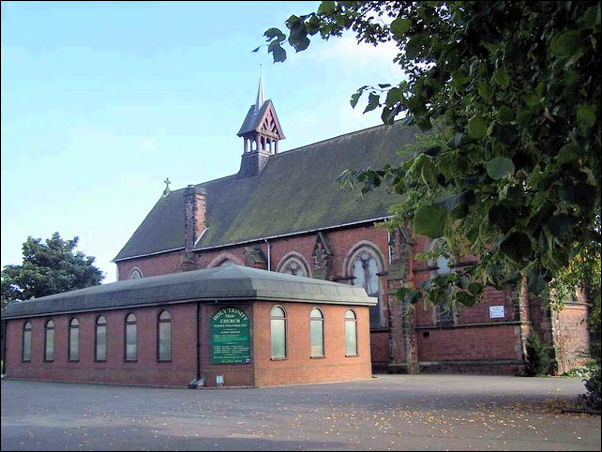 Holy Trinity, Meir
---

Havergal married Isobel Priestley in 1899 - they had five children -
the family lived at this house 11 Gordon Street, Hartshill

One of their sons was named Sterndale after the English composer Sir William Sterndale Bennett.
Here, in 1903 when aged 27, Havergal wrote his setting of the Shakesperian sonnet 'Shall I compare thee to a summer's day'
Google Street View
(in the mid 1950's Gordon Street was renamed Dominic Street)

---
from: 1907 Staffordshire Sentinel 'Business Reference Guide to The Potteries, Newcastle & District'

Gordon Street

(18, Clifton Street)

1 Huson, Henry

3 Akers, Albert, telegraphist

5 Frost, Samuel, joiner

7 Wright, Wm.,engine man

9 Potts, Reuben, messenger,N.S.R.

11 Brian, William H., traveller

13 Toft, Arthur, modeller 1

5 Burgess, Jas., guard, N.S.R.

17 Willock, Horatio E., chemist

19 Hayes, George, potter's foreman

21 Mather, Phillip, schoolmaster



At the date (1907) of this directory William H Brian was working as a traveller for a timber business.
It was not until a couple of years later, when Herbert Minton Robinson became his patron, that Brian was able to concentrate full time on his composition.
---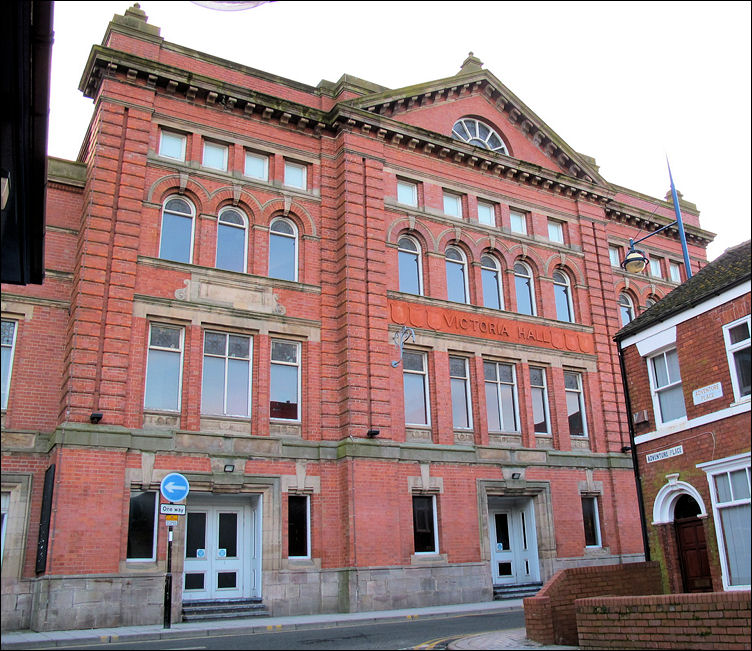 'Victoria Hall, a noble building which is the venue of the leading musical and political fixtures held in the Potteries'
During March and April 1907 a number of Havergal Brian's works are performed at the Victoria Hall in Hanley, including 3 movements of English suite 1 and work for cello and piano.
Brian (by now aged 31) conducts the performance of By the Waters of Babylon.
---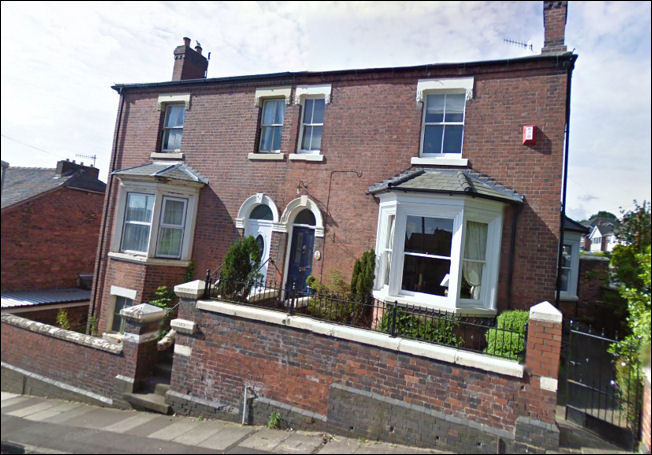 from Hartshill the family moved to Trentham and then to this house at 50 James Street, Stoke
Google Street View
---
For about 14 years Herbert Minton Robinson was patron of Havergal Brian - he financially supported him and his family with an annual sum of £500 (then a good lower-middle-class salary) to enable Brian to devote all his time to composition.
[Herbert Minton Robinson was the managing directory and company secretary of Minton's pottery company from c.1883 to his death in 1923.]
Hevergal began to indulge in fine food and overseas trips; he started to over drink became estranged from his wife and in 1913 is marriage broke up.

He moved to London, remarried and had a further five children.
Although he continued to compose Havergal Brian fell into obscurity - his work was revived whe in 1954 the BBC arranged a production of Brian's 8th Symphony.
In 1966 his Gothic Sympony was performed at the Albert Hall, London - this performance to be repeated 45 years later in 2011.
---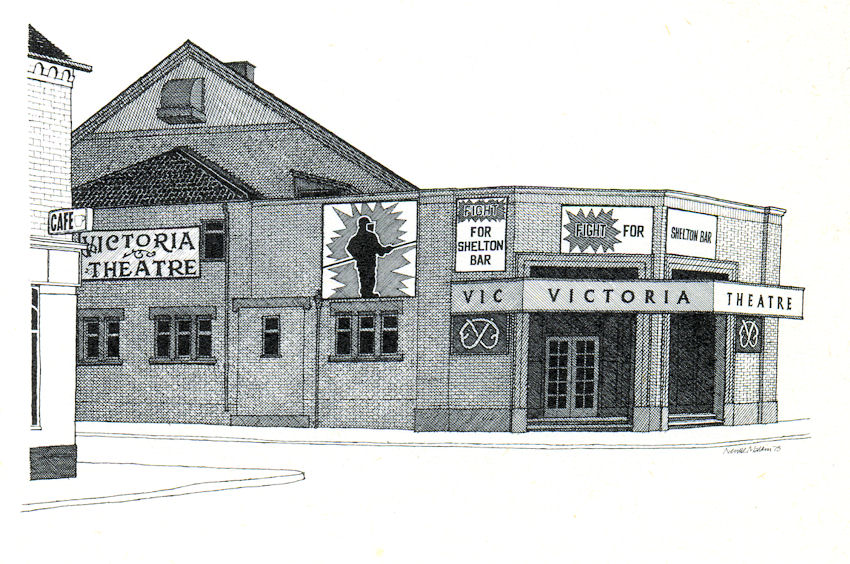 the play 'Awkward Cuss', about Havergal Brian, was produced in the round at the Victoria Theatre, Hartshill
a number of books have been written about the life and musical works of Havergal
drawing: Neville Malkin
---