Advert of the Week
Potworks of the Week
Ceramica, Burslem, Stoke-on-Trent
Ceramica in Burslem, Stoke-on-Trent was one of the Millennium Commissions 222 projects across the country.
Ceramica was designed to be a unique celebration of the ceramic industry of Stoke-on-Trent. Created inside the Victorian town hall of Burslem.
Although the First Day of Issue postmarks were May 2000 it was not until 2003 that Ceramica finally opened to the public.

Dry rot was discovered in the town hall which housed the exhibition and fixing this swallowed up a large portion of the budget.

It was expected to attract 100,000 visitors a year - but it only realised less than a tenth of that figure which meant that it was not viable without local authority funding.

The closure of the Royal Doulton factory in Burslem reduced the number of visitors to the town and an anticipated restoration of the Burslem Port Canal did not happen.

It closed in March 2011 after Stoke-on-Trent City Council withdraw its £150,000 a year funding for the day to day running of Ceramica.
'First Day' of issue (May 2000) - postage stamps and envelopes - celebrating Millennium Projects...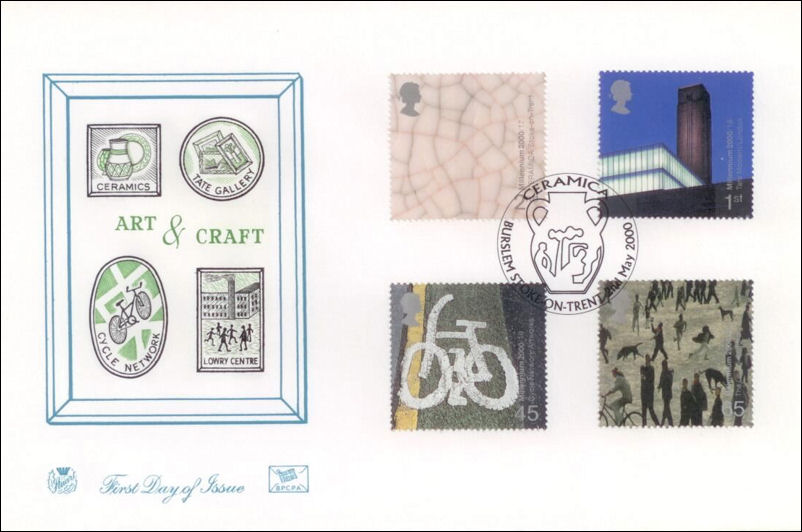 year 2000 commemorative First Day Cover - Ceramica - 2nd May 2000
In the year 2000 a number of commemorative postage stamps were issued - the Ceramica stamp was part of an Art & Craft series which marked Millennium projects and included:

Ceramica, Stoke-on-Trent
Tate Gallery of Modern Art, London
Cycle Networks Artworks
The Lowry, Salford



Ceramica, Stoke-on-Trent

"Ceramica is a visitor centre where the
artistic and industrial heritage of the
Potteries area is brought to life in a
series of interactive displays and
galleries. The product, part of
everyone's daily life, is examined as
much for its part in place-setting
etiquette as in craft and commerce."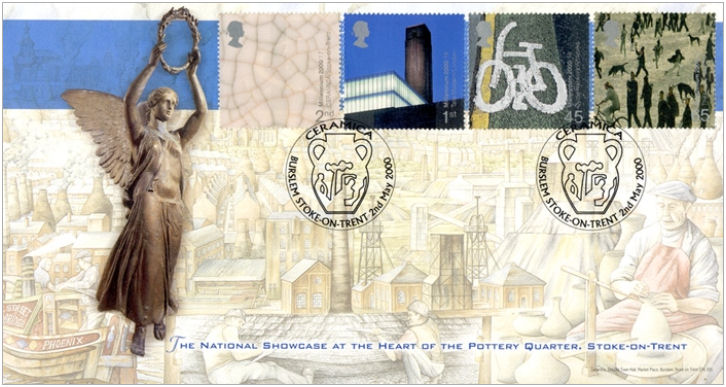 ---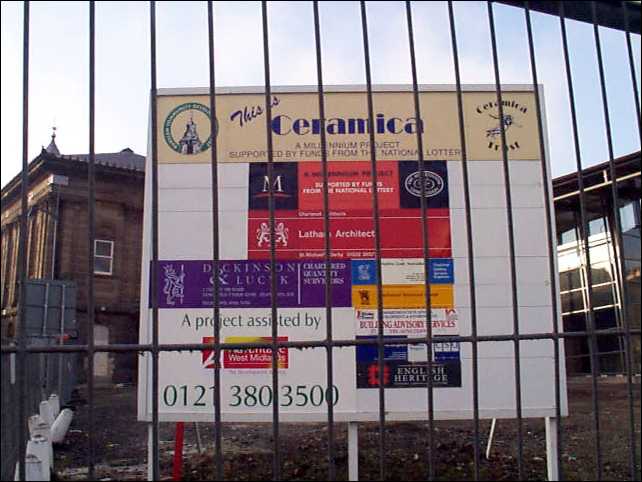 Jan 2001 - Ceramica under construction
---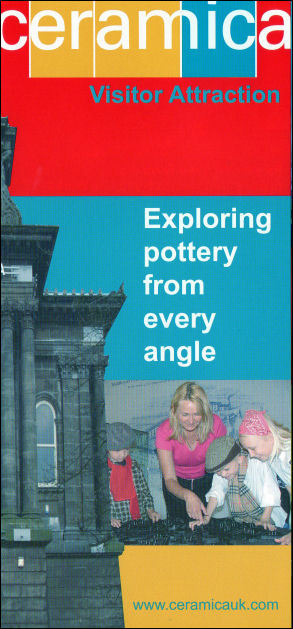 Ceramica advertising leaflet
what was on offer at Ceramica.......

Bizarreland
Time Team - Unearth what the Time Team found of Josiah Wedgwood's kiln and rake up evidence of the past.

The Magic Carpet - Take a ride over the 'Mother Town' of Burslem.

Studio Pottery - Listen to a studio potter's life and have a go at throwing your own pot on a potter's wheel!

What is clay? - Discover what clay is and where it comes from.

The Narrowboat - Find out why narrowboats were used and how they travel through tunnels with no engine!

In the Home - See how many things in our house are made from ceramic.

The Pottery Shop - See how ceramics get to the shop and be your own shop keeper!

The Pavilions

An exploration into the past, present and future of the ceramic industry with specially created video presentations and interactive displays
Wade - Find out what Wade ceramics make from Whimsies to industrial power insulators.

Royal Doulton - Find out about the different things Royal Doulton make from Figures to Dinner Sets.

Sadlers - Learn about tea-pot design from Sadlers top designer and why tea-pot design is so important

Dudson and Steelite - Find out about how Steelite test the strength of plates and the different Hotelware designs Dudson produce

Royal Stafford - Learn about how Royal Stafford design tableware and how they keep up with latest fashion

Moorland - See the wide range of decorative techniques from this innovative company

Inside the Bottle Oven - Feel the heat inside a bottle oven and try not to get fired with the bottle oven challenge.

Burgess, Dorling and Leigh - Learn about how Arnold Bennett wrote about Burleigh pottery in his book "Anna of the Five Towns"

Moorcroft - See the unique skill of slip-trailing ceramics to produce stunning designs

Cobridge Stoneware - Discover the unique process of stoneware production

Hothouse - The Hothouse use computers to design ceramics, here you can have a go at designing ceramic pieces.

Arnold Bennett - Experience the life and works of the locally born novelist, and listen to extracts from his books

Memory Bank - Listen to the life and craft of the pottery workers both old and new, young and old from around the potteries

Video Tower - Watch the breathtaking video that show life in Burslem how it was and how it is today.
---
photos of the interior of Ceramica - taken by Fred Hughes in April 2002....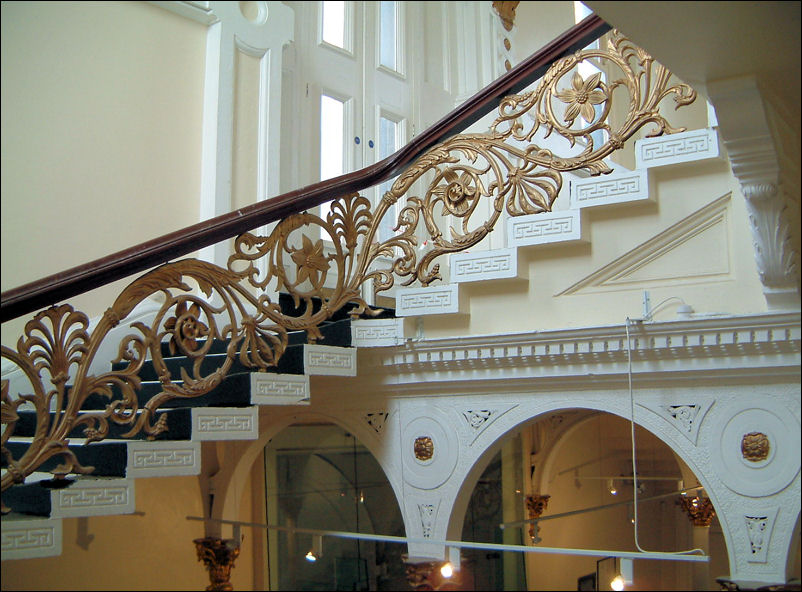 refurbished staircase of the old Burslem Town Hall which housed Ceramica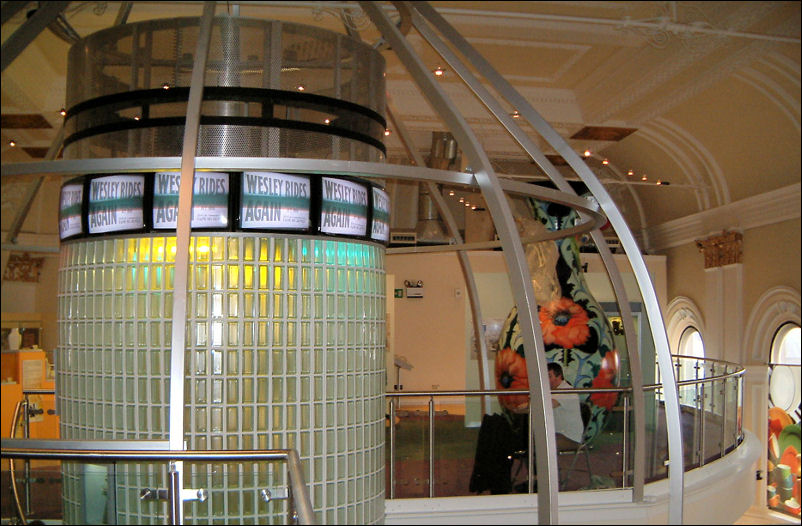 central staircase which mimics a bottle kiln with the outer hovel and the inner kiln
---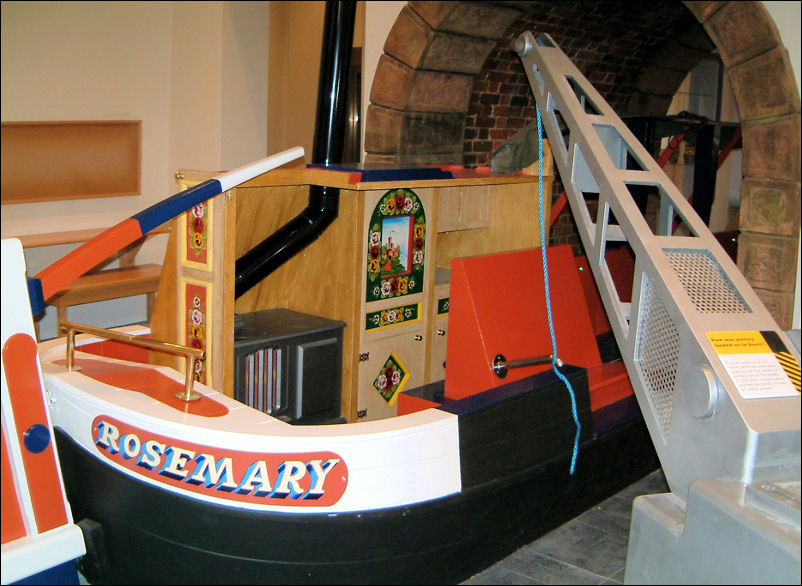 mockup of a canal barge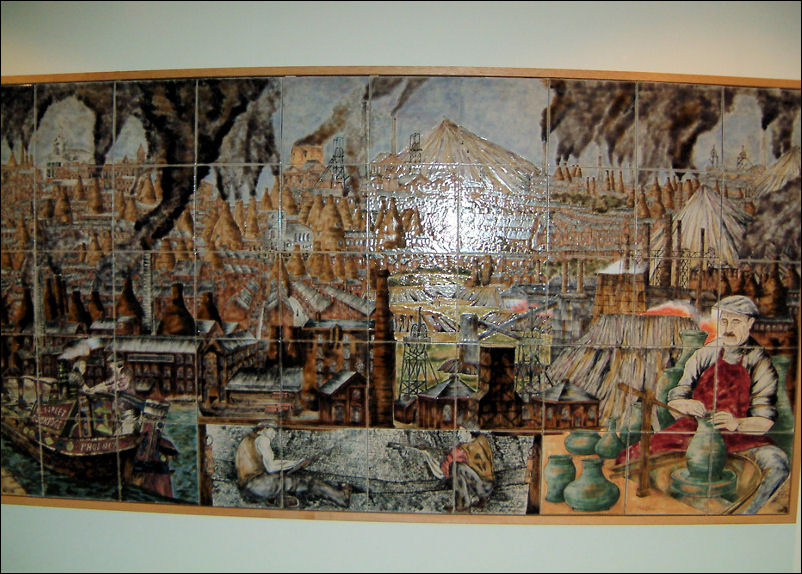 tiled mural showing the canals, coal mines and pottery factories of Stoke-on-Trent
---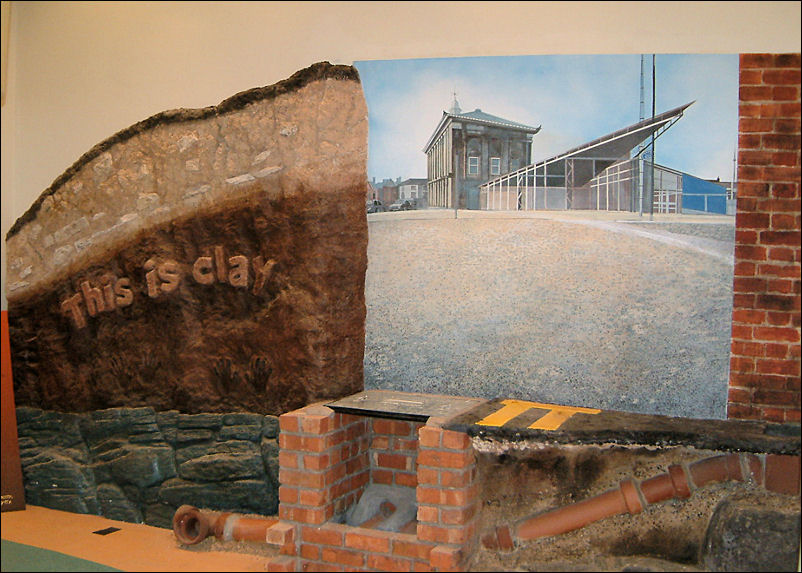 Ceramica - housed in the Old Town Hall - and the clay and coal deposits that made the pottery industry of Stoke-on-Trent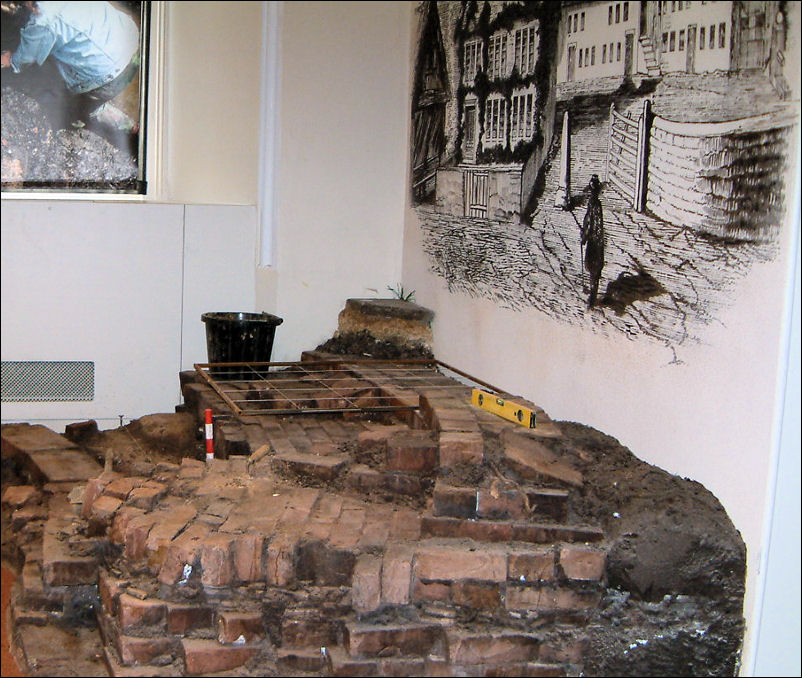 the 'Time Team' dig - the old Town Hall was built near to Josiah Wedgwood's Ivy House Works
---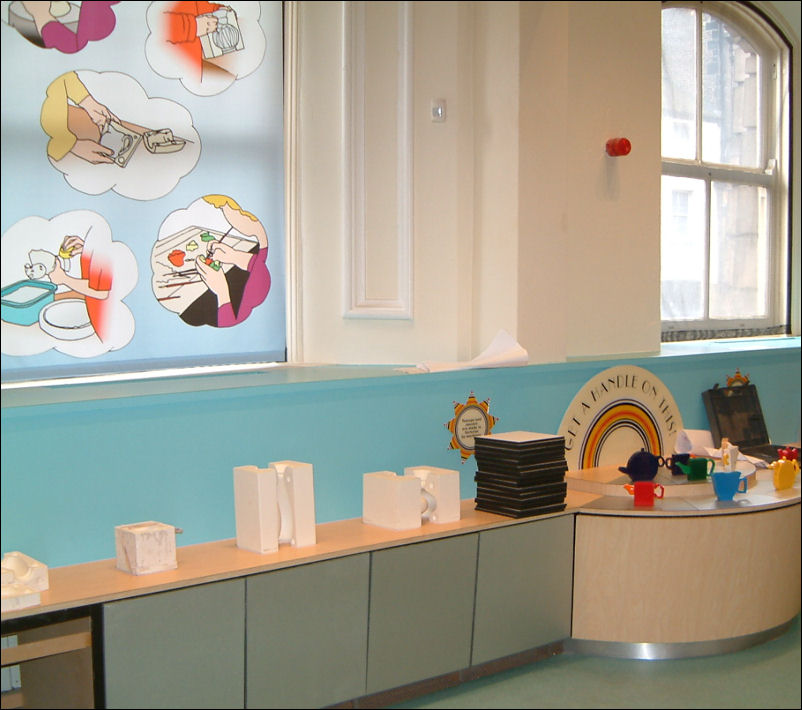 'Get a Handle on This" - how cup handles are made
---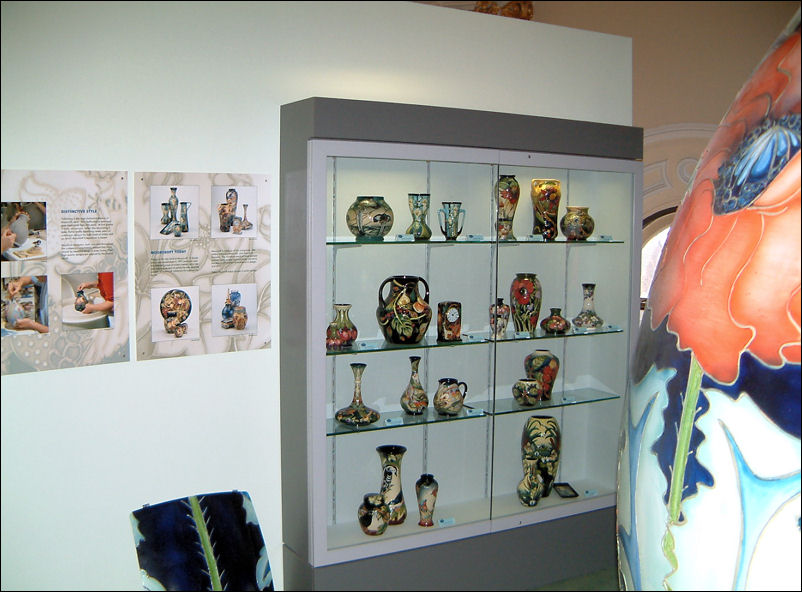 manufacturers exhibition section - Moorcroft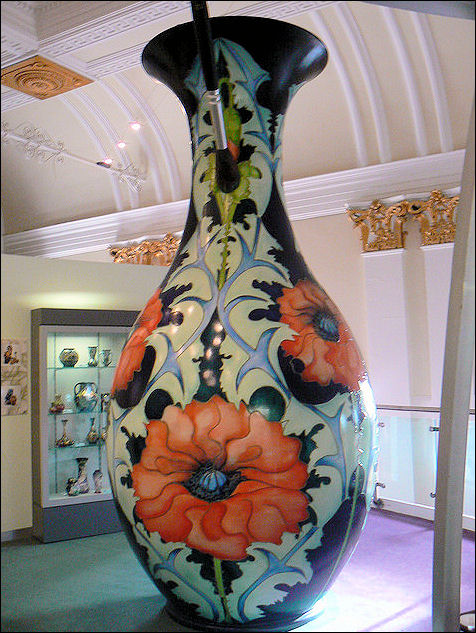 representation of a Moorcroft tube-lined vase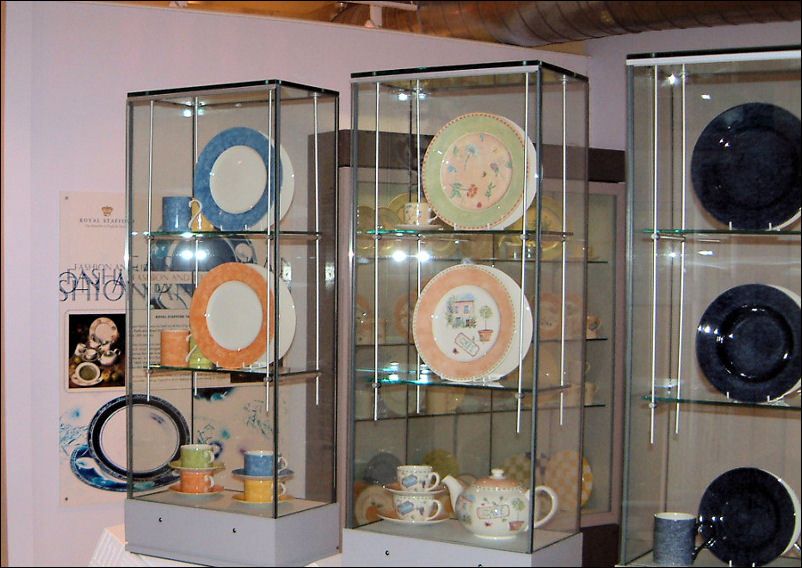 manufacturers exhibition section - Royal Stafford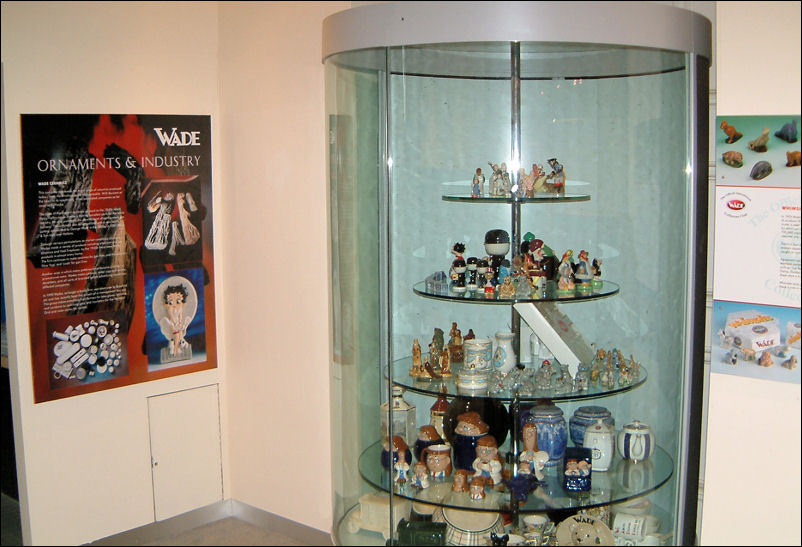 manufacturers exhibition section - Wade