Advert of the Week
Potworks of the Week
T. Sale & Son, General Cooper, Longport, Burslem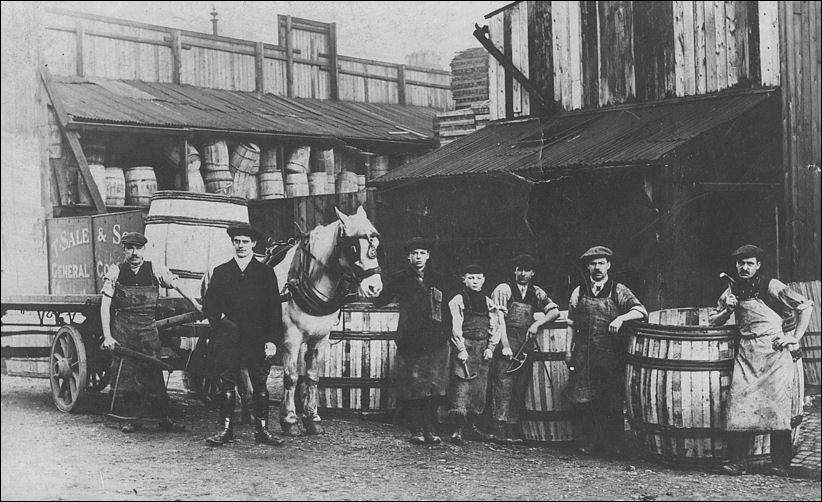 Thomas Sale, General Cooper, Longport, Burslem - c.190's
the works were on the corner of Newcastle Street and Trubshawe Street
The cooperage business was formed by Thomas Sale formerly of Longbridge Hays. The property was built on the former site of the Longport Hall Estate following the sale of the land.
Thomas Sale's son George was born in 1889 at 3 Trubshawe Street became his partner in time and is the '& Son' referred to in the name.
Following the death of Thomas Sale in 1911 George took over control of the business. He ran the business until his early death in 1925. At that time his widow carried on the business until May 1930 when she sold the business to Henry Jackson & Son of Sandbach Road, Burslem. She did however retain ownership of the yard till 1934 .
information and photos supplied by Christine Brumbill and
Helen Sutton who are granddaughters of George Sale
George Sale outside the premises standing in Trubshawe Street with some of the workers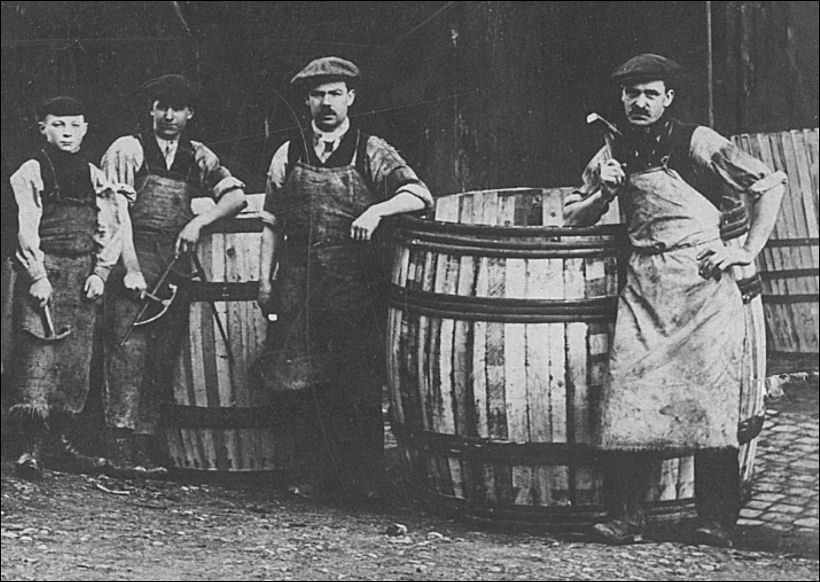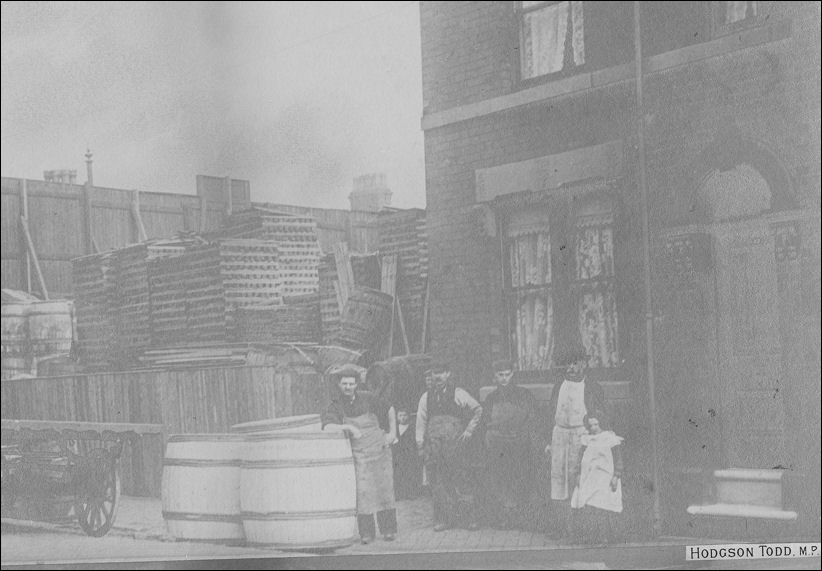 The Sale family outside their house in Trubshawe Street - next to the cooper yard
Thomas Sale, the older gentleman with a moustache with his son George on his left and one of his daughters,
believed to be his youngest. The other gentleman are again workers.
- in the yard are barrels and crates for packing potttery ware -
photos: c.1890's
photos supplied by Christine Brumbill and
Helen Sutton


the photographs were developed by a local chemist
Hodgson Todd who had a shop at 251 Newcastle Lane.
---
Newcastle Street

295 Hurst, Abner, grocer and provision dealer

297 Bairow, James, tobacconist and newsagent

299 Barrow, George, fruiterer & greengrocer

303 Madeley, H., joiner

Sale, Thos., general cooper

—Here is Trubshaw Street—

—Here is Trubehaw Cross—

357 Lockett, Arthur, fried fish dealer

359 Webb, —.

361 Tundley, Sarah, spinster

363 Holdcroft, Edward Wright, newsagent and stationer.
Longport Post Office
Sub-postmaster, E. W. Holdcroft
from: 1907 Staffordshire Sentinel 'Business Reference Guide to The Potteries, Newcastle & District'
---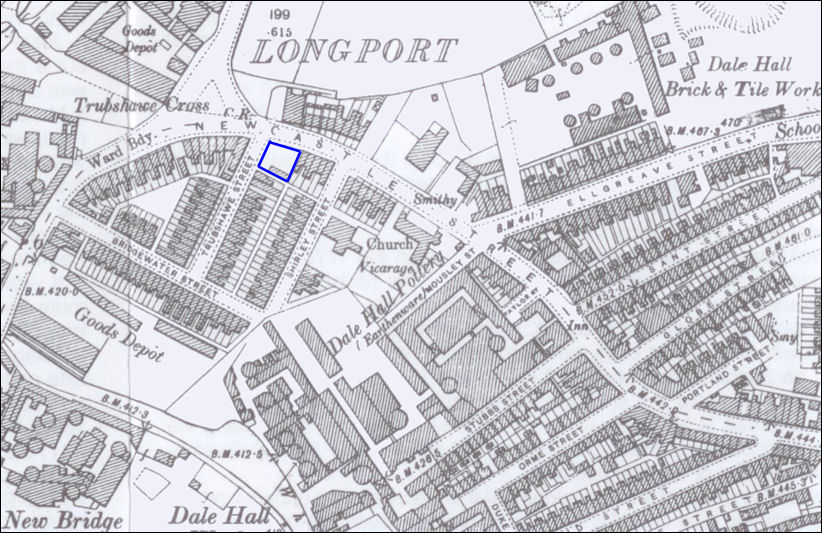 1898 map showing the location of Thomas Sale's Copperage
---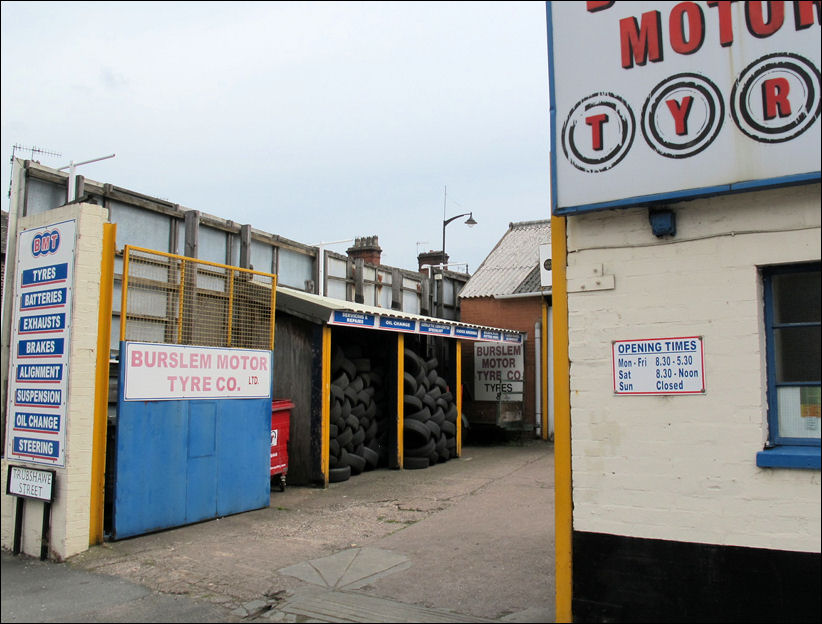 Burslem Motor Tyre Co. Ltd. - on the location of the original Thomas Sale Cooperage
photo: 18 August 2011 - on the following weekend this garage closed for demolition as part of the clearance of the Middleport area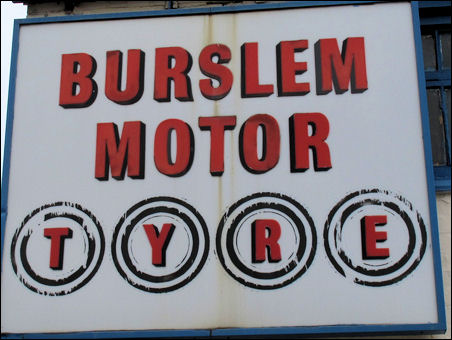 Burslem Motor Tyre Co. Ltd.
---

Trubshaw Street
---
other pages...
The most ubiquitous form of housing in the Potteries, is the traditional two-up, two-down terrace. Stoke-on-Trent boasts some of the finest domestic working-class architecture in the country, with some exceptional streetscapes and some principled, well-detailed housing.
The Regeneration Game - "The grave of Bishop Bell (1883-1958) in Christ Church Cathedral in Oxford states in letters of austere limestone: "Without forgiveness there can be no regeneration."
Stoke-on-Trent needs to reconcile itself with its past before it can renew".
---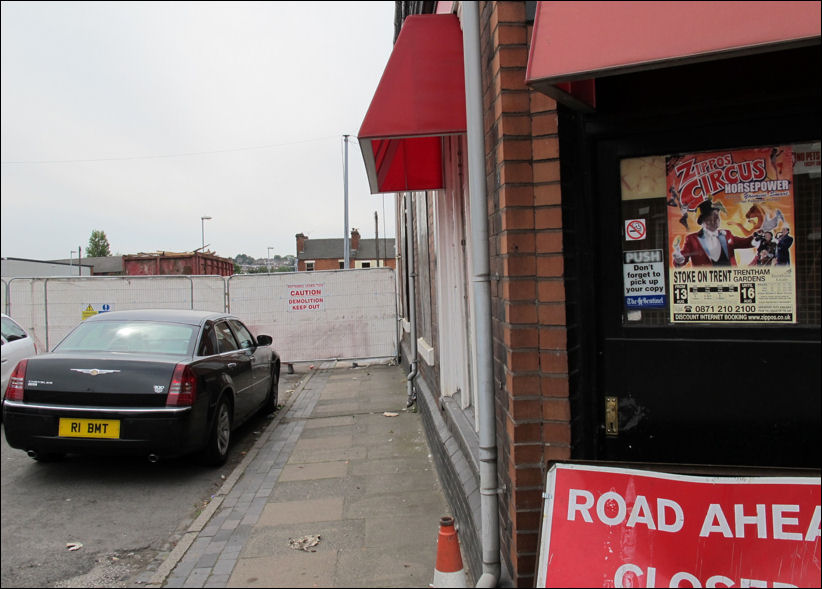 preparing for the demolition of the last properties in Trubshaw Street, Middleport
Photos: August 2011

largely demolished Trubshaw Street - with the remains of Bridgewater Street in the distance
---