Advert of the Week
Potworks of the Week
more Art Deco in Stoke-on-Trent
Art Deco buildings can be found in all of the Potteries towns.
The Lonsdale Chambers in Stoke, built in 1931, is a prime example of a well preserved art deco building.

Sometimes the deco features are overwhelmed by the advertising and name signs - they have to be found by looking at the upper stories.

Unfortunately as buildings grow older and into disuse they are demolished and lost forever. Thistley Hough School in Penkhull and the Bird in Hand pub in Trent Vale are examples which will soon be lost.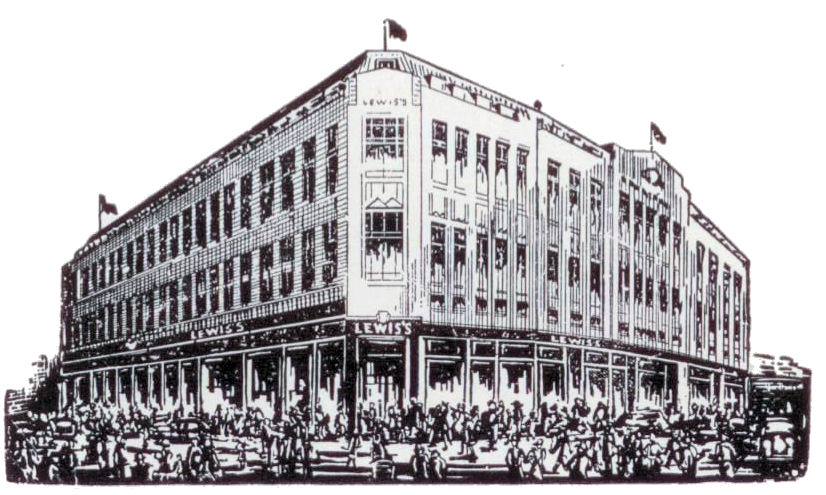 Lewis's Art Deco style store built in Hanley in 1934
'Lewis's chrome and glass arcade is still remembered with affection'
Lewis's was the first store in the Potteries to use an arcade, a very European Art-Deco innovation popularised in Paris in the first half of the 19th century. Arcades were indoor pedestrian shopping alleys that provided comfortable and stylish swish and a safe shopping environment away from the dirt and clutter of the street, away from adverse weather conditions.
In 1963/4 Lewis's built a new store on the opposite corner and this large art deco store was demolished.
---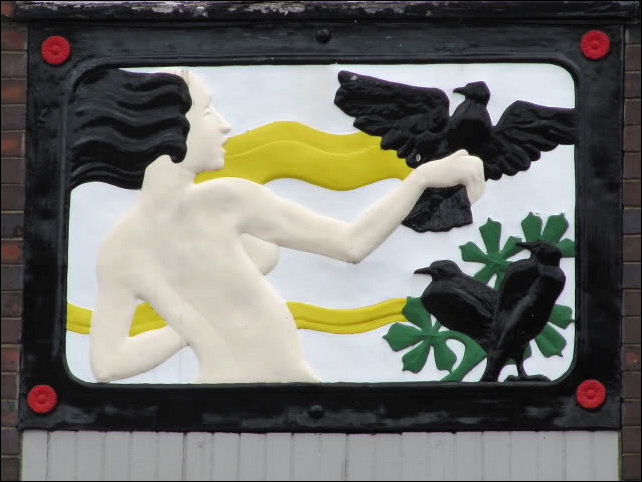 raised sculpted sign for the Bird in Hand

art deco style Bird in Hand pub in Trent Vale, Stoke-on-Trent
photo: September 2011 - this pub is soon to be demolished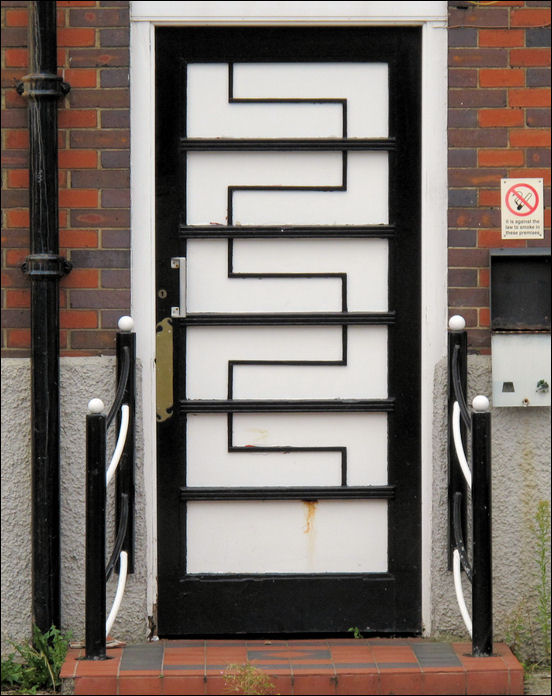 original doors with geometric design and curved handrails
| | | |
| --- | --- | --- |
| set back header bricks with cope stones | geometric ornamentation formed by the orientation of the bricks | styleised window |
---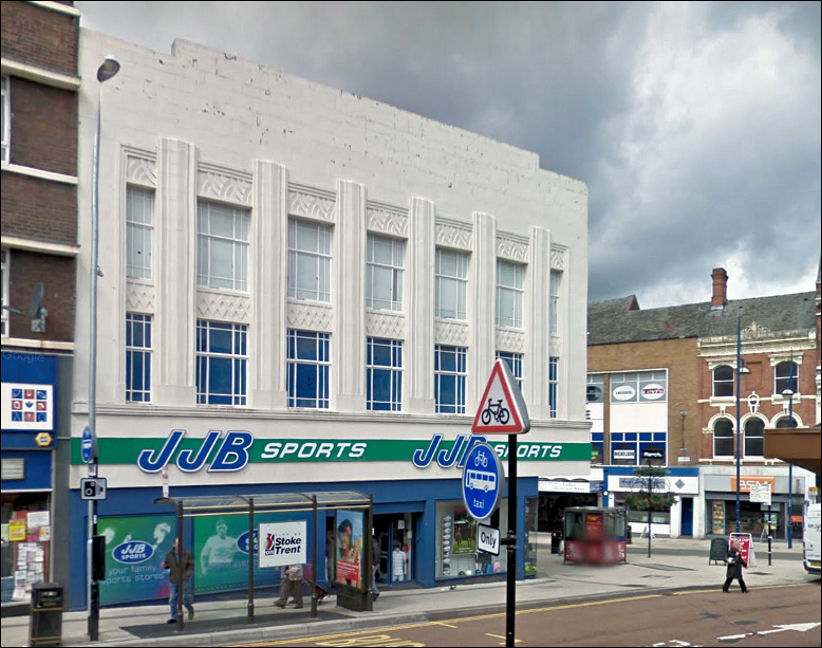 previous Burton tailors shop in Stafford Street, Hanley
many of Burtons shops across the UK were built in an art deco style
photo: Google Street View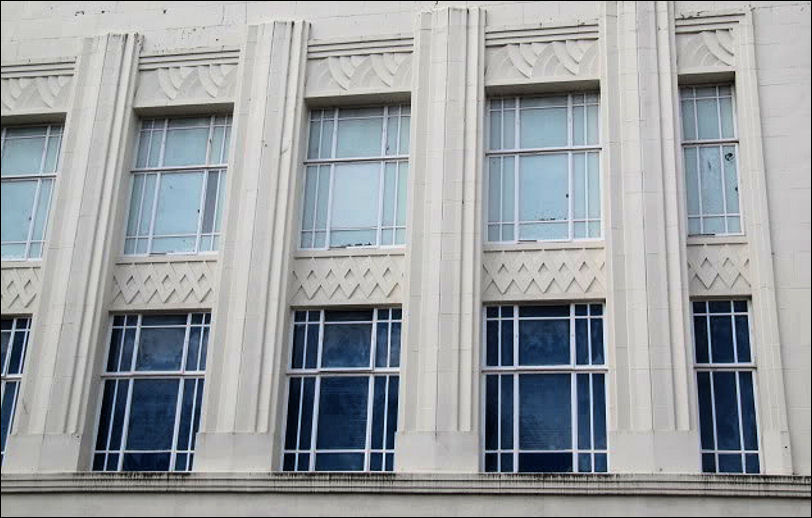 steel frame windows, vertical features and geometric design panels are key art deco features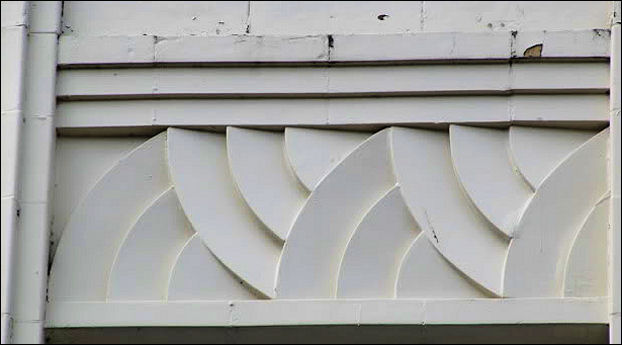 geometric design panels
geometric design panels
---

Lonsdale Chambers built in 1931 on the corner of Church Street and Lonsdale Street, Stoke

intricate art deco detailing with Egyptian influences

paneling with geometric patterns above the ground floor windows
---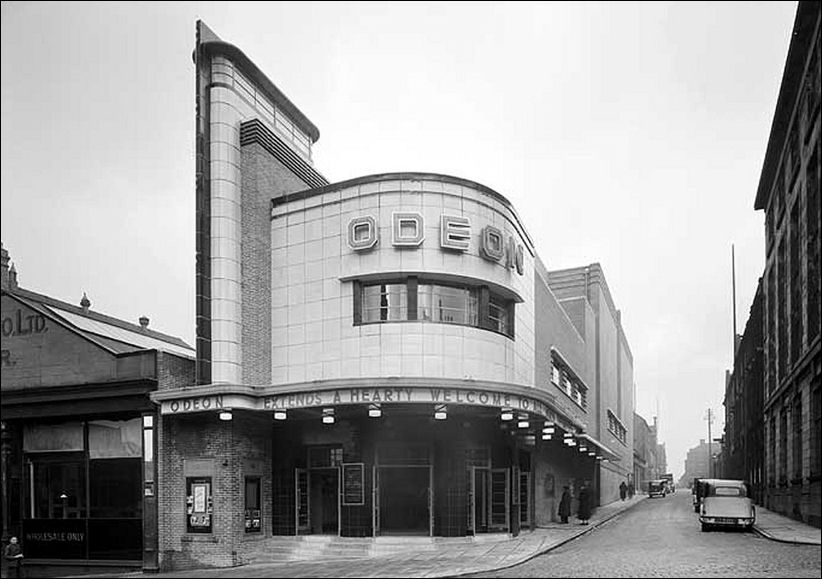 Odeon Theatre, Hanley - built in 1937
Built on the site of the Grand Theatre (architect Frank Matcham, 1898-1932). The Odeon, Hanley was one of the original cinemas in the Oscar Deutsch chain of Odeon Theatres Ltd.

It was opened on 13th February 1938 with Max Miller in "Educated Evans". It had a small entrance at the corner of Trinity Street and Foundry Street; with a slender fin tower in Streamline Moderne style, on the left side.

The bulk of the auditorium was along Foundry Street. Seating the auditorium was provided for 1,036 in the stalls and 544 in the circle. Decoration was in a typical Odeon art deco style, with several troughs across the ceiling containing concealed lighting.

the same building in Sept 2011 - now the bar and nightclub, Revolution
the Streamline Moderne style fin tower has lost its dramatic effect by the building of the shop & offices to the left
The Odeon was closed by the Rank Organisation on 15th November 1975 with Roger Daltry in "Tommy". The auditorium was stripped out in the early 1980's and by 1982 was in use for storage, when on 4th August 1982, it was partially damaged in a fire, although the main shell of the building was not damaged. By 1991, the building was standing derelict.

By 1999, a bar was operating in the former foyer area. By 2003, the former auditorium had been brought back to use as a Chicago Rock Cafe. In 2008, the building had become a bar & nighclub named Revolution.

Ken Row - cinematreasures.org
| | | |
| --- | --- | --- |
| Streamline Moderne style fin tower | inset and vertical detail in the brickwork | steel frame windows with inset brick stringers |
---

simplistic deco Portland House in Church Street, Stoke
---

the art deco Burtons shop in Tunstall high street is still occupied by Burton

steel frame windows with emphasis on the vertical and geometric patterns