| | | |
| --- | --- | --- |
| | Stoke-on-Trent - photo of the week | |
The Rolling Mill at Shelton Steel Works, Etruria, Stoke-on-Trent
The photographs taken prior to the closure of the ingot rolling mills in 1964.

A £18 million scheme was introduced consisting of a Kaldo steel converter and a continuous casting complex and new section rolling mills.

In 1964 Shelton was the worlds first steel plant using 100% continuously cast production.
They are kindly supplied by Tom Scarratt who was a former employee of Shelton Iron and Steel company from 1960 to 1978, to provide a public record of these works.
The photographs were originally provided by the then works photographer, Ken Whitehead, who had inherited them from the previous works photographer Stan Metcalfe.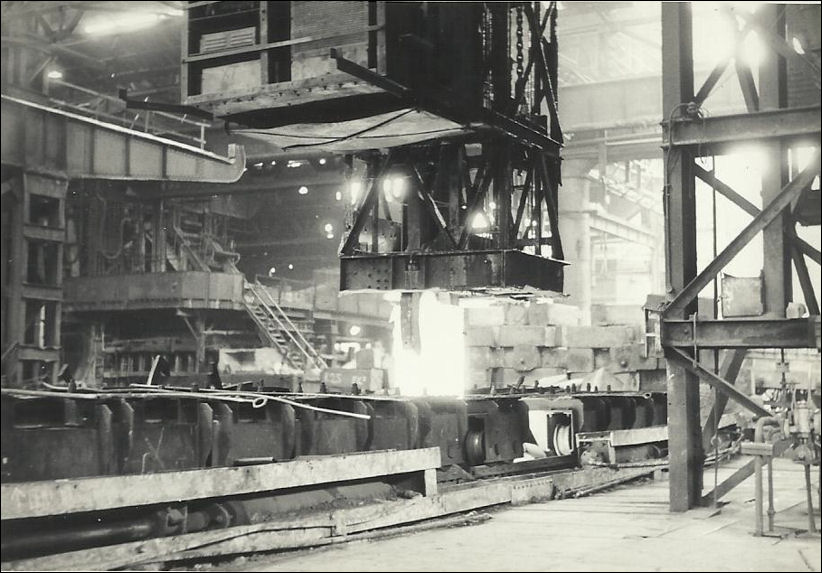 A steel ingot being lifted out of the soaking pit - Shelton Steel Works

A steel ingot being lifted, by the overhead crane, from the Soaking Pit where they have been placed for a few hours. The soaking pit is heated by gas and it is lined with heat resistant brickwork because of the extreme temperatures.
The small metal wheels carry the roof of the pit which is kept closed to retain the heat unless ingots are being placed in or taken out.
In the background is a stockpile of ingots produced in the Melting Shop awaiting the crane lifting them in to the soaking pit when they are required. There were always a few dozen ingots in the pit ready to be lifted and sent to the Rolling Mill.

shows the overhead crane about to place the heated ingot on to a carriage to take it to the Rolling Mill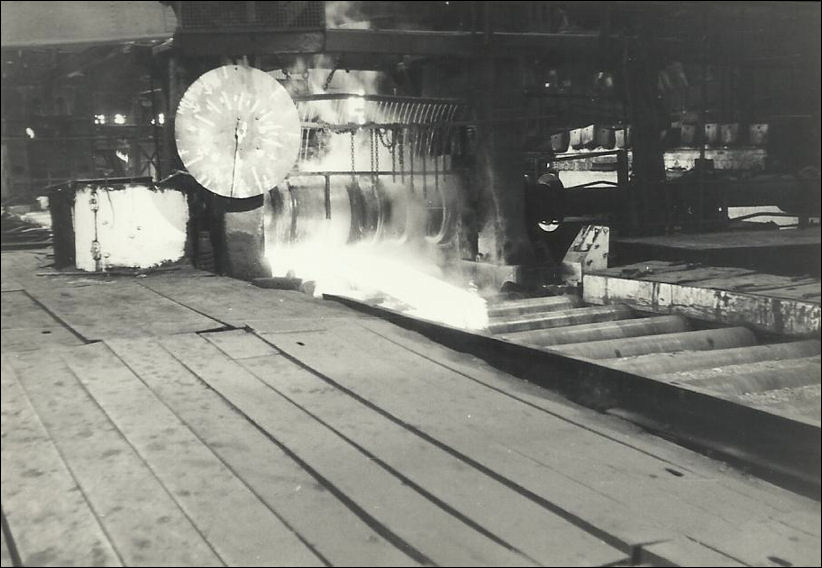 the initial stages of the white hot steel ingots being rolled
The rolling will take several passes through the rolls.This will reduce the dimensions but increase the length prior to the final rolling which produces the finished size.
The large dial on the left hand side records the pressure on the rolls.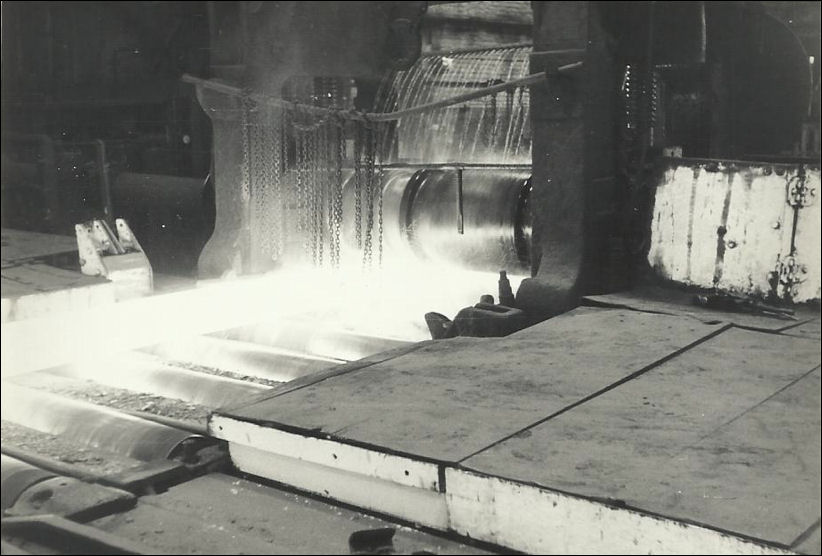 close up of the 'cogging' rolls
Water is sprayed onto the cogging rolls to prevent them from getting overheated by the steel ingot, this water produces some steam which can be seen in the photo.
The chains hanging down in front of the roll drag on the surface of the rolled ingot to remove some of the scale which forms during the rolling process.

---