Cyples Old Pottery, Market Street, Longton
These works were erected in 1881, taking their name from the original Cyples pottery.

"Photograph taken looking down Smithy Lane from across St Martin's Lane.
J.T. Fell & Co were earthenware manufacturers, founded in the early 1920s. The company closed in 1957."

ŠLovatt Collection, Stoke on Trent City Archives
Staffordshire Past track


ŠLovatt Collection, Stoke on Trent City Archives
Staffordshire Past track

Market Street Longton
the top end of the row of old buildings is Smithy Lane

the location of the frontage of the Cyples Pottery
now (2009) occupied by Newbold Opticians
Cyples Family, Lane End

The Cyples family potted in Market Street, Lane End, in the second half of the eighteenth century and first half of the nineteenth century.
Jewitt says the Market Street works was the oldest in Lane End, was coeval with Wedgwoods, and was originally worked by the Cyples family. Joseph Cyples is recorded as manufacturing general earthenware and Egyptian black in 1787. After Joseph's death the factory was worked by Mary Cyples (who is listed in 1796), and after her by Jesse Cyples (born 1772 died 1810).
In 1805 Jesse Cyples was listed as a maker of Egyptian black. After Jesse Cyples' death, the business was continued by his widow, Lydia Cyples (nee Steel, born 1775 died 1845) until her death, her sons, Richard Cyples and William Cyples (born 1804 died 1865) assisting her. They made china and Egyptian black, (or basaltes).
Jewitt gives no information about the family and merely records that the Cyples family worked the Market Street works, were succeeded by the firm of Cyples & Barker, and later by Thomas Barlow. He says also that the High Street Works, Longton, was worked by Cyples & ball until taken over in 1842 by Adams & Cooper.
Chaffers records the mark 'I. C Y P L E S' or 'CYPLES' incised. The impressed mark 'CYPLES' is also known on a basaltes teakettle.
Mankowitz & Haggar Encyclopedia of English Pottery
---

1881 Cyples's Old Pottery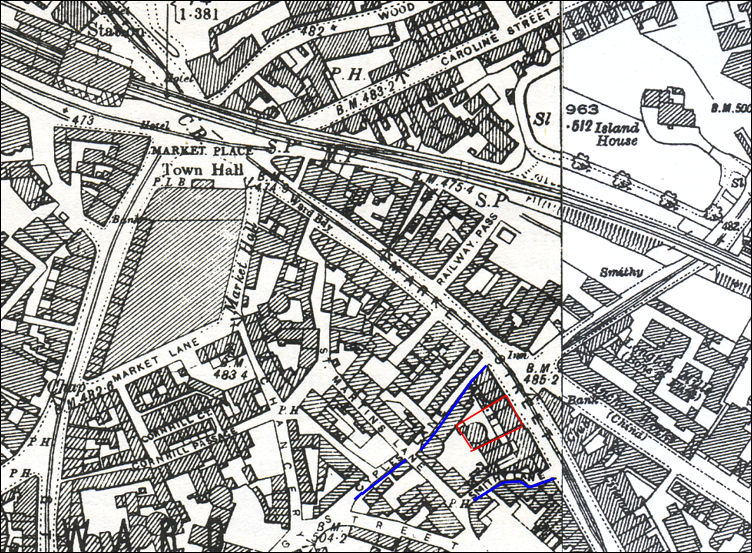 1898 map of Longton showing the location of Cyples Old Pottery on Market Street
note the location of Cyples Lane and Smithy Lane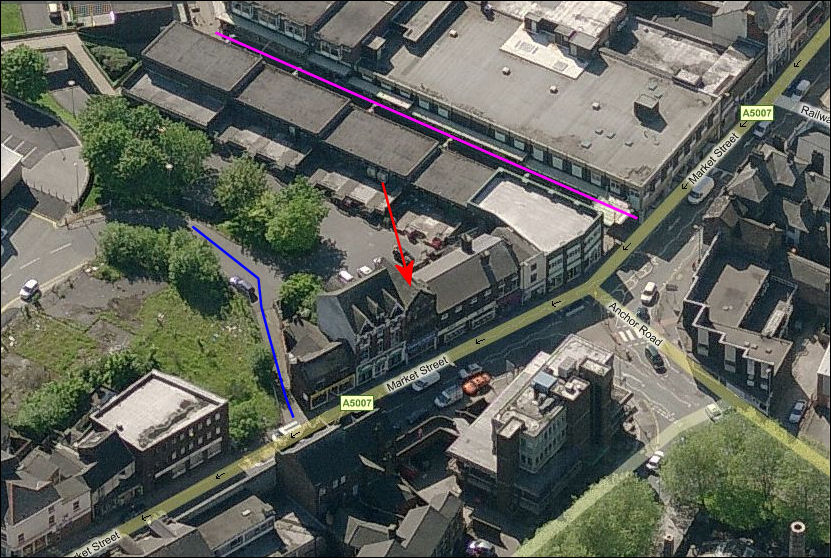 Cyples Lane in purple and Smithy Lane in blue - The 1881 Cyples's Old Pottery shown by the red arrow
---