Advert of the Week
Photo of the Week
Richards Tiles - Adderley Green Works

At the time, still retaining the Pinnox and the Brownhills Works, in Tunstall;
the Adderley Green works were purpose built by Richards Tiles Ltd around 1958.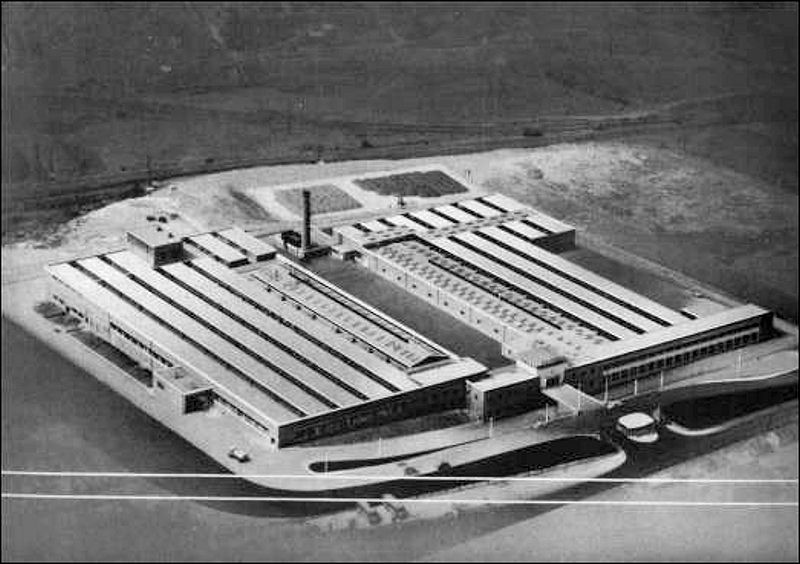 Richards Tiles - Adderley Green Works
a view c.1958
- running behind the works is a mineral rail line and the edgge of the Mossfield Colliery -
from a booklet commemorating the visit of Her Royal Highness The Princess Margaret
to the Adderley Green Factories of Richards Tiles Ltd. on Monday April 14th 1958.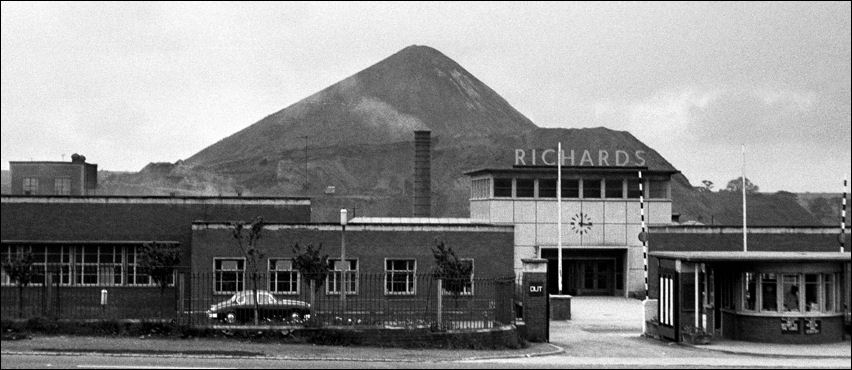 Richards Tiles in 1968

photos: Ken and Joan Davis
- note the waste tip of Mossfield Colliery behind, which was removed from the photo
in the official opening booklet -
In 1954 Richards Tiles began to look around for land on which to build new factory units to replace the old floor tile plants at the Pinnox and Hallfield factories and also to replace wall tile biscuit plant at the Pinnox factory.
Land was purchased adjacent to Dividy Road, Adderley Green.
It was decided to also build a new wall tile factory to help satisfy the ever-increasing demand. Was this to be a single fire or a twice fire factory? There were many pros and cons. We decided on the more technically difficult single fire process and it was for this that we constructed, during 1955, the first new unit, which we called AG1. The unit was commissioned in 1956 and opened by Peter May, Surrey and England Cricket Captain.
Princess Margaret officially opened the Adderley Green factory in 1958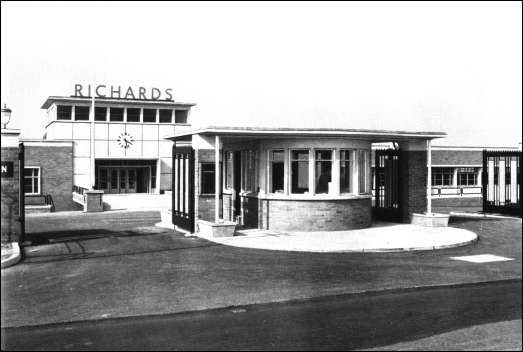 The lodge & entrance to the new Richards factory in 1958
Entrance on Dividy Road
-note the absence of the coal tip behind -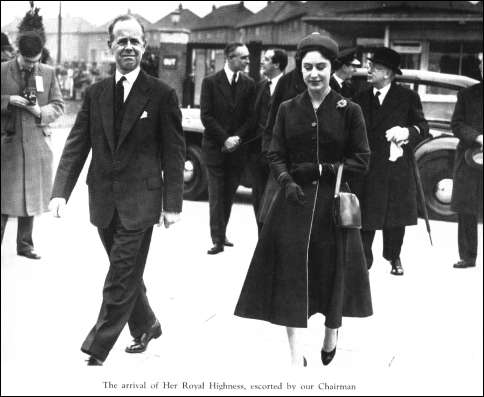 'The arrival of Her Royal Highness, escorted by our Chairman'
(the chairman was E. R. Geoffrey Corn)
In the background can be seen the houses in Calvary Crescent, Bentilee.

Street map showing the Adderley Green factory around 1995
the works is now demolished and replaced by a housing estate