---
Anchor Road runs from Market Street, in Longton town centre, at the bottom to the roundabout at the junction of Dividy Road and Park Hall Road, at the top.
---
A track ran from Lane End (now Longton) to Adderley Green in the 18th C. This track can be seen on a section from 1775 Yates map of Staffordshire. A new road roughly along this line was turnpiked under an Act of 1813.
By 1832 there was some building along the line of this new road (but most was still concentrated along the old road (Wood Street).
Between 1832 and c1865 new building took place ... off the Adderley Green Road (now Anchor Road) in a westerly direction Albert Street, Edgefield Road and Heathcoate Street had been laid out, but no houses had been built there. Just south of these, east of and parallel to the Adderley Green Road, Pitt Street (now Walpole Street) and Lord Street (now Bartlem Street) had been laid out but not built up.
All these streets had been partially built up with terraced houses by 1879.
The road to Adderley Green followed the course of Wood Street originally. Under and Act of 1813 a new turnpike road to Adderley Green, the present Anchor Road, was built. This road was disturnpiked in 1877 and declared a main road under the Highways and Locomotives Act of 1878.
Source: Victoria history of the county of Stafford - Vol VIII
---

Anchor Road, Adderley Green
An old postcard - looking towards Dividy and Park Hall Road.
On the extreme left is the 'Railway Inn' (now the 'Corner Pin') - the road cutting across Anchor Road is Bambury Street to the left and Short Banbury Street to the right.

The 'Railway Inn' was so named because of the 'Longton Adderley Green & Bucknall Railway' line which ran across Anchor Road. (see this on 1890 OS map)
---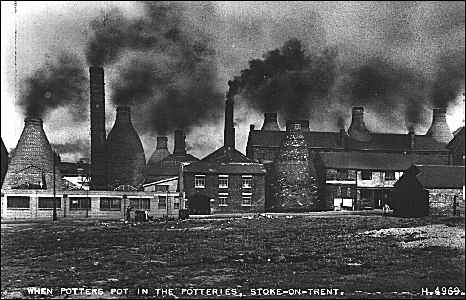 "When Potters Pot in the Potteries, Stoke-on-Trent"
Anchor Road / Amison Street, Longton
---
The Carey Brothers:

"By the late 1820's the Careys had a mill for grinding corn and potters' materials in Anchor Road to the north of the Anchor Works; the steam engine was supplied with water from the reservoir surrounding The Moat, the house on the opposite side of the road which was occupied by John Carey by 1834." .....'The Victoria History of the County of Stafford vol VIII'
"Mr. J. Carey's house is rather elegant, and has its appearance improved by being placed on an island in a large reservoir, that supplies condensing water for the Steam Engine at the Mill, where are ground flour, and the various materials arid colours for the manufactories; and when the engine is working, a single jet fountain throws up warm water several feet high. There are a beautiful small bridge, gates, large canons, &c. but the whole is exposed to the smoke of the manufactories. The proprietor is highly esteemed for many excellencies of character as a master and friend." .... History of the Staffordshire Potteries - Simeon Shaw, 1829.
---
[ 1890 OS map of Adderley Green ]