Waterloo Road, Burslem, Cobridge, Hanley, Stoke-on-Trent



Streets of Stoke-on-Trent | Waterloo Road |
---


| Index of all Burslem Streets |
| Index of all Cobridge Streets |
| Index of all Hanley Streets |
Waterloo Road, Burslem, Cobridge, Hanley, Stoke-on-Trent
Nile Street to Pitt Street is classed as Burslem
Pitt Street to the junction of Elder and Cobridge Road is Cobridge
Elder Road to the Potteries Way and Hope Street is Hanley
---
At the northern end there are a number of small buildings from the end of the eighteenth century. The three-storied, bow-windowed American Hotel is rather like the old Leopard and was build about the same time.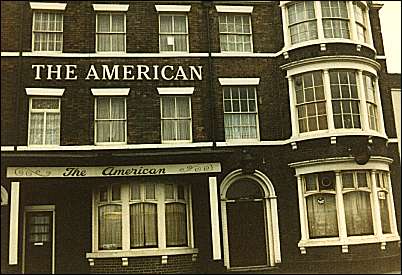 The American
photo: Aug 1987
---
as we go further from Burslem the houses become more recent and much larger. This is the first middle-class area in Burslem and contains a very good example of a mid-nineteenth century terrace in Camoys Terrace. Baron Camoys was a descendant of the Biddulphs of the Grange, and his commemorative terrace is brick mock-Tudor. What is now the Russell Hotel used to be a stuccoed private house in the Italian style.
On the left is number 205 Waterloo Road, one of the many homes of the Bennett family. Arnold Bennet lived in Burslem from 1875 to 1878, first in Dane Street, then in Newport Lane, than at 198 Waterloo Road. Lastly at number 205 which at one time from 1960 was a museum to his achievements. Bennett was, however, born in Hope Street, Hanley.
some details from: 'Portrait of the Potteries' - Bill Morland and 'Six of the Best' by Richard Weir.
---

---
Did you live in this street or area?
questions/comments/contributions? email: Steve Birks