"Swynnerton, or Swinnerton, is a small neat village, in an elevated and healthy situation, four miles NW by W of Stone, giving name to a parish extending upwards of six miles in length from north to south, but only from one to two miles in breadth, and containing 961 inhabitants, and 4825 acres of land. Swynnerton Hall, a handsome stone mansion, stands near the church, on a gentle eminence, and is the seat of Thomas Fitzherbert, Esq, owner of about 3000 acres of fertile land, and lord of the manor, which was held by Roger de Swynnerton in the reign of Edward I. In the reign of of Henry VIII, the daughter of Humphrey Swynnerton carried it in marriage to the Fitzherberts. Sir Anthony Fitzherbert, the celebrated judge and author, was of this family, which has been seated here since the 16th century.
The hamlets of this parish, with their distance and bearings from Swynnerton, are as follows:
Acton, Shutlane Head and Milstone Green, from five to six miles NNW.
Beech, on a lofty eminence, partly in Stone parish, two miles N.
Hatton, two miles NW.
Shelton-under-Airley, and Stableford Bridge, three and a half miles NW.
Yarnfield, two and a half miles S by E."
From History, Gazetteer and Directory of Staffordshire,
William White, Sheffield, 1851



The origin of the church dates from the Norman period, though evidence exists that some stones date back to Saxon times when the manor house in the village was the royal residence of a Saxon prince. Privileges were granted by King Edward I (1272 - 1307) to Sir Roger de Swynnerton permitting a market every Wednesday, and an annual fair on the Feast of the Assumption, August 15th. These privileges have, of course, long since fallen into disuse.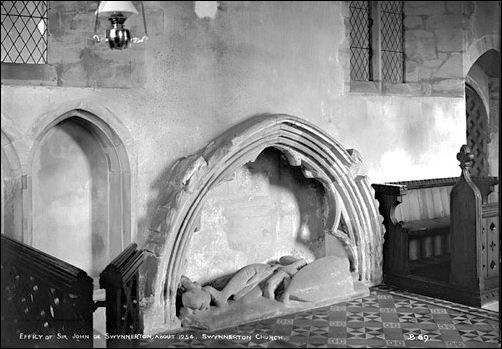 Postcard of the cross-legged effigy of Sir John de Swynnerton
dating from the thirteenth century.
postcard: William Blake (c.1920-30)
© The Potteries Museum & Art Gallery
Staffordshire Past Tracks