"Barlaston, a well-built village, with a railway station, is delightfully seated near the summit of a lofty declivity, on the east side of the vale of the Trent, and three miles N of Stone, and five miles SE by S of Newcastle. Its parish contains 591 inhabitants and 2087 acres of enclosed land, with 60 acres of waste.
RT Adderley, Esq, is owner of a great part of the soil, and lord of the manor, which his father obtained in marriage with one of the co-heiresses of the late Thomas Mills, Esq. His residence is Barlaston Hall, a handsome mansion near the north end of the village, commanding an extensive view of Trent Vale.
Barlaston New Hall is the handsome seat of Francis Wedgwood, Esq, late of Etruria.
Dr Ramage, Mrs Morgan, Mrs Aston, and several smaller owners have estates here. Hartwell is an ancient moated house, one mile north, and Parkfield is a hamlet of pleasant houses, on a terrace above the Trent, on the west side of the parish.

Barlaston Church, dedicated to St John the Baptist, stands near the hall, and is a small Gothic structure. It was rebuilt, except the tower, in 1760, and enlarged on the north side in 1830, when a new gallery was erected. The Duke of Sutherland is patron of the perpetual curacy, in the incumbency of the Rev Wm. Oliver."
From History, Gazetteer and Directory of Staffordshire,
William White, Sheffield, 1851
---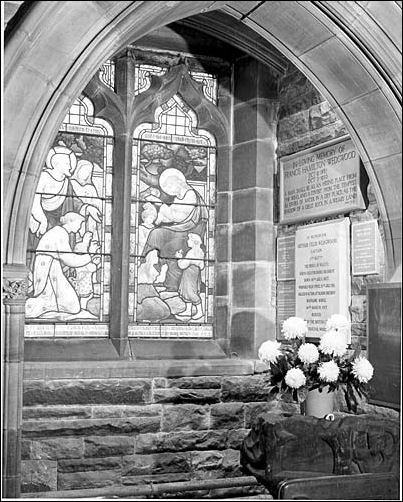 Memorials at St. John's Church

Note the memorials to the Wedgwood family, including Arthur Felix Wedgwood who was killed in World War One, and Francis Hamilton Wedgwood (1867 - 1930) who headed the Wedgwood factory at Etruria throughout the depression years of the 1920s.

The Jasper memorial plaques are to Camilla Hildegarde Wedgwood (right), the anthropologist, and Lord Wedgwood of Barlaston (left).


© Photograph by courtesy of the Trustees of the Wedgwood Museum,
Barlaston, Stoke-on-Trent, Staffordshire.
Staffordshire Past Tracks